Wednesday, August 3rd, 2016

Posted by Jim Thacker
The best new CG software from Siggraph 2016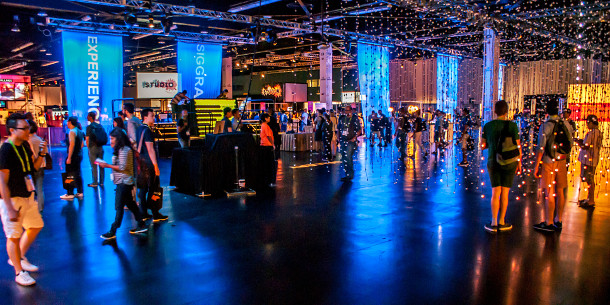 The world's premier CG conference took place in Anaheim last week. Below, we round up the key products to be announced at Siggraph 2016, from full 3D packages to plug-ins and pipeline tools. Main image: Jim Hagarty
Its glory years may be behind it, but Siggraph continues to exert a pull on the movers and shakers of the CG industry, thousands of whom made the annual pilgrimage to attend the show in Anaheim, California last week.
All told, 14,000 artists, scientists, students and academics visited Siggraph 2016: 3,000 fewer than the last time the show came to Anaheim in 2013, but still several times more than any other comparable event.
And with firms like Autodesk, Maxon and Blackmagic Design choosing to announce new products this year, the show's expo floor regained some momentum from NAB: in recent years, the event of choice for such launches.
Below, we've rounded up the key software to be announced at this year's show, along with news of some of the more significant tech demos and technology partnerships.
3D software
Arguably the most significant new product to be released at Siggraph this year was Maya 2017, Autodesk having foregone launching it alongside 3ds Max 2017 at NAB this April, in favour of an extension release.
As it turned out, it was probably worth the wait, with one of the key selling points being the free licence of Arnold provided with the software, following Autodesk's acquisition of original developer Solid Angle earlier this year.
The inclusion of Arnold is a major shift in rendering policy for Autodesk: when we spoke to the company before NAB, they told us that they intended to continue bundling Nvidia's mental ray with the software.
The bundled version of Arnold can only be used for local rendering – if you try to use it as a batch render node, it watermarks the output – which has caused some grumbling on user forums, but that's effectively just the same number of render nodes as you got with mental ray, unless you were on a network licence.
If you run a mental ray pipeline, the renderer will still be available from Nvidia itself, as discussed in Autodesk's FAQs – but for most Maya users, the VFX-and-animation-focused Arnold looks to be a better fit for their needs.
Other new features in Maya 2017 include a new clip-based Time Editor, which is capable of editing any attribute that can be keyframed within Maya, as opposed to just character animation; real-time interactive grooming of hair in the XGen instancing toolset; a new ocean surface system within the built-in Bifrost fluid simulator; and an update to the new MASH motion graphics toolset, first incorporated as part of this spring's extension release.
Read more about the new features in Maya 2017
Maya LT 2017 is a similar but smaller update: the cut-down version of Maya for game artists gets the Time Editor, improved shape editing, support for custom Workspaces, and improvements to Viewport 2.0.
However, not being intended for simulation or rendering, it doesn't get the more eye-catching changes from Maya 2017: the updates to XGen and Bifrost, the bundled version of Arnold, and the motion graphics toolset.
Read more about the new features in Maya LT 2017
Outside of Autodesk, the biggest announcement came from Maxon, which unveiled Cinema 4D R18. The update is currently on pre-order, prior to its expected shipping date early in September.
After last year's R17, felt by many users to be a lacklustre release, R18 was greeted as something of a return to form, with new toolsets for each of Cinema 4D's core user groups.
Motion graphics artists got a lot of enhancements to the MoGraph toolset, the most eye-catching of which is a good-looking new Voronoi fracture system; visual effects professionals get object tracking inside the motion tracker; and anyone building assets for games gets Substance integration.
There are also a lot of general-purpose features, including a set of new interactive knife tools and an interesting 'inverse AO' shader for generating edge wear, which you can read about via the link below.
However, there was little mention – in the initial publicity material, at least – of Maxon's ongoing R&D projects: the overhaul of Cinema 4D's core architecture, and its rewrite of the BodyPaint 3D painting toolset.
Read more about the new features in Cinema 4D R18
Side Effects had a relatively quiet Siggraph, choosing not to announce a new version of Houdini after last year's back-to-back releases of Houdini 14 and 15.
However, it did cut the price of the Houdini Education edition from $325/year to $75/year for universities, colleges and training centres, and make it available to high schools and instructors for free.
Similarly, The Foundry was between releases of Modo, 10.0v1 and 10.1 having shipped earlier this year.
When we spoke to the company, it declined to give a release data for Modo 10.2, the final instalment in the Modo 10 series, but hinted that the feature set might be rather less games-focused than its precursors.
No LightWave, ZBrush or RealFlow
In some ways, Siggraph 2016 was as notable for who didn't have a booth as who did. Neither NewTek or Pixologic had a presence on the show floor, so there was no news of the long-awaited LightWave 2016 – or whatever the next version of the software actually ends up being called – or ZBrush 5.
Next Limit weren't at the show either, so there was no news of the upcoming RealFlow 2016, either – the teaser video above was posted Dyverso R&D lead Ivan Alduan earlier this year – although the developer has recently put out a new product, in the shape of new Cinema 4D integration RealFlow | Cinema 4D.
And in the landscape tools sector, neither e-on software nor Planetside Software had booths, so there was no news of Vue 2016 – suggesting that the product's release schedule may have changed since e-on was acquired by Bentley Systems last year – or of Terragen 4, although the latter is currently in open beta.
Look development
There was more activity in the look development market, with Isotropix releasing Clarisse iFX 3.0, the latest version of its hybrid 2D/3D rendering system, at the show.
The headline feature in the update is the new physically based rendering engine, although there are also a range of other changes, which you can read about via the link below.
The developer has also simplified its licensing policy and introduced new rental pricing: both changes designed to encourage use of Clarisse iFX at small-to-mid-sized facilities as well as early adopters like Double Negative.
Read more about the new features in Clarisse iFX 3.0
The Foundry was also targeting smaller facilities with Katana 2.5, the first version of its heavyweight relighting and look dev tool to be available on Windows as well as Linux.
The new Windows edition removes one obstacle to Katana's adoption outside the major studios – although, at over $8,000 per artist licence, it's still a significant financial investment.
Read more about the new features in Katana 2.5
Compositing and camera tracking
Alongside Katana 2.5, The Foundry's major news for the show was the relesae of Cara VR, its much-anticipated virtual reality plugin toolset for Nuke.
The add-on is designed to address common technical problems in creating VR content, from stitching and colour-correcting footage from multiple camera rigs, through to tracking, painting, rendering and playback.
Read more about the new features in Cara VR
Imagineer Systems was thinking along similar lines with its technology preview of mocha VR, a new toolset in its planar tracking software mocha Pro designed to help "process, track and fix problematic 360 footage".
According to the developer, mocha VR will "complement Adobe and Nuke workflows for 360 tasks such as removing camera rigs, nadir patching [and] stabilising camera jitters".
There doesn't seem to be a video of the demo online, but you can read a little more about the new toolset on Imagineer Systems' website via the link below.
Read more about the new features in mocha VR
The other key player in the compositing market, Blackmagic Design, also had a new release at Siggraph 2016, in the shape of Fusion 8.2, the first version of the software to be available on Linux as well as Windows and Mac.
The update doesn't add new functionality, but with the Mac and Linux ports out of the way, we'd expect Blackmagic to pick up the pace of development on Fusion, as it has done on products like DaVinci Resolve.
Read more about the new features in Fusion 8.2
Rendering
In the rendering market, the main news was Arnold for 3ds Max. While the new MAXtoA integration plugin is still a beta, and lacks key features like support for Max's native light types, it's an impressively quick release.
Although developer Solid Angle had previously laid the groundwork for such new integration releases, the bulk of the actual dev work has beeen done in the three months since the company was acquired by Autodesk.
Read more about the new features in Arnold for 3ds Max
Redshift Rendering Technologies was also demoing a new 3ds Max integration: Redshift 2.0, released earlier this month, makes the GPU-based production renderer available on Max as well as Maya and Softimage.
Houdini and Cinema 4D integrations are already in development, and Redshift tells us that it is also currently considering Katana and Modo.
Katana support, in particular, is an indication of Redshift's growing adoption at large facilities: as well as Blizzard's high-profile use of the renderer on its Overwatch shorts, clients now include Digital Domain.
Read more about the new features in Redshift 2.0
And while it didn't have a booth on the show floor, Pixar also released RenderMan 21, the latest update to its heavyweight production renderer, in the run up to Siggraph 2016.
Described as "the biggest RenderMan release in years", the update gives users access to the shaders and light types used in production at Pixar itself, and adds GPU support to the renderer's Denoise system.
Equally significantly, at least for technology historians, it ditches Pixar's pioneering Reyes rendering architecture and RSL shading language in favour of the newer RIS architecture and OSL.
Read more about the new features in RenderMan 21
Although it also didn't have a booth this year, Chaos Group was promoting V-Ray for Modo, its long-awaited integration with The Foundry's 3D modelling and animation software, at the show.
It currently lacks some of the features of the 3ds Max and Maya versions, like texture baking and V-Ray fur, but it's also significantly cheaper, at $700 per workstation licence.
Read more about the new features in V-Ray for Modo
In private meetings, Chaos Group was also demoing the results of is new technology partnership with Belgian post house Nozon, with the new PresenZ plugin for V-Ray enabling users to render 3D scenes using standard workflows, then experience them in VR using Nozon's positional-tracking-enabled display technology.
Read more about Chaos Group's technology partnership with Nozon
Otoy also announced a new technology partner, in the shape of mobile chip firm Imagination Technologies.
The move will make the upcoming OctaneRender 4.0 compatible with Imagination's PowerVR Ray Tracing technology, with Otoy describing accelerated ray tracing on mobile GPUs as a "game-changer".
However, it's also some way off: according to Otoy's roadmap, version 4.0 isn't due to ship until 2017.
Read more about Otoy's partnership with Imagination Technologies
Elsewhere in the rendering sector, Luxion had a booth at the show, but hasn't announced a new update to KeyShot after version 6.2 shipped in June.
cebas chose not to exhibit this year, so there was no news of moskitoRender, although the firm did announce a subscription update to thinkingParticles, its 3ds Max multiphysics system, adding a new viscoelastic fluid solver.
Read more about the new features in thinkingParticles 6 Subscription Drop 4.
Real-time graphics
Epic Games was also showing a tech demo rather than a new product – albeit a pretty spectacular one.
Winner of Siggraph's award for Best Real-Time Graphics and Interactivity, the firm showed a scene based on Ninja Theory's upcoming game Hellblade: Senua's Sacrifice being shot, edited and rendered to final quality in minutes, using UE4's new Sequencer cinematic editor, which officially rolled out in Unreal Engine 4.12.
Unity Technologies had an actual update out – although given that Unity 5.4 originally came out in public beta in March, the only real news from Siggraph was that it was officially shipping.
The update extends Unity's particle controls and extends the free Cinematic Image Effects add-on – used to great effect on the recent Adam real-time demo (above) – to support motion vectors.
Other under-the-hood changes include GPU instancing and support for OpenVR devices like the HTC Vive.
Read more about the new features in Unity 5.4
Stingray 1.4, Autodesk's latest update to its new game engine, also added HTC Vive support as part of a wider extension of the engine's VR capabilities that also included support for the Oculus Rift.
Other new features include the option to sync complete levels between Stingray and Maya or Maya LT; support for multiple navmeshes for AI pathfinding; and improved UV editing.
So far, no games using Stingray have been announced beyond those released by original creators Fatshark: at Siggraph, Autodesk was equally keen to promote its use in other markets, like architectural visualisation.
Read more about the new features in Stingray 1.4
Finally, Amazon had a prominent Siggraph booth for Lumberyard, its new free AAA engine based on Crytek's CryEngine technology.
The engine didn't get an update at the show itself, but Amazon has been putting out new releases pretty steadily: the latest, Lumberyard 1.3, came out in beta at the end of June.
Again, VR was a key focus of the update, with the Oculus Rift and HTC Vive supported out of the box, along with the new generation of HDR TVs, including both competing HDR display systems: HDR10 and Dolby Vision.
Other changes include improvements to volumetric fog, motion blur and DoF; physically based light emittance for materials; and an "average of 15%" improvement in iOS rendering performance.
Read more about the new features in Lumberyard 1.3
Texturing
With The Foundry not announcing an update to Mari at the show, the main news in the texturing market came from Allegorithmic – not at Siggraph, but at its own Substance Days user event the weekend before.
The main release was Substance Painter 2.2: a sizeable update to the texture-painting software that added a new material layering system, with implementations for both Unity and Unreal Engine.
Read more about the new features in Substance Painter 2.2
However, the developer also previewed the upcoming Substance Designer 5.5, which gives the procedural texture generator a new editor for authoring materials in Nvidia's MDL language, plus a new Linux edition.
Read more about the new features in Substance Designer 5.5
And for anyone in full-time education, Allegorithmic also announced a new free educational licence of Substance Painter, Substance Designer and photographic map-conversion tool Substance B2M.
Crowd simulation
In the plugin market, a key release was the long-awaited Massive for Max, which integrates the Academy Award-winning crowd simulator natively inside 3ds Max as well as Maya.
You don't need separate licences for render nodes, so crowd sims can be batch-rendered using any renderer 3ds Max supports, including V-Ray.
Read more about the features in Massive for Max
The standalone version of the software also got an add-on, in the shape of the new Massive Parts Library, available free to users of the top-of-the-range Massive Prime on maintenance contracts.
Based on functionality introduced in Massive 8.0 last year, and written by Massive creator Stephen Regelous himself, the new library of 40-plus readymade 'brain parts' is designed to enable even non-technical users to build complex AI crowd agents in a matter of minutes.
Each part comprises between 3 and over 100 component nodes – Regelous says that around 20 is typical – with only the key controls exposed by default.
Users wire them together (or in some cases, simply drop them onto the canvas) to create AI systems: a development Reglous describes as "the most significant improvement in Massive since we launched it".
Readymade parts cover collision avoidance, quadruped terrain adaptation, formations, procedural prop animation and lane-following, but Massive hopes that users will share their own custom designs via its forum.
Read more about Massive's new Parts Library
Rival crowd simulation firm Golaem was also demonstrating its software on a pod on the expo floor, but the software hasn't received a major update since the release of Golaem Crowd 5.0 earlier this year.
Hair and fur
Veteran tools developer Joe Alter unveiled his most significant update to Maya hair and fur plugin Shave and a Haircut in years at Siggraph 2016.
The upcoming Shave and a Haircut 10, due for release in November, moves the entire application to the GPU, and adds a range of powerful new real-time grooming and sculpting options.
The update also adds "hierarchical generation types" – one use case for which is controlling the quill and barbs of a feather independently; and new programmable force types, or 'blowers'.
Read more about the new features in Shave and a Haircut 10
Motion capture and data solving
Over in mocap, Faceware Technologies launched a new interactive division to focus on the emerging real-time facial capture market: one key use case the firm cites is real-time avatar-driven chat systems for MMOs.
So far, the firm hasn't released any details of the new technologies that Faceware Interactive is working on, but it has confirmed it will be responsible for the continuing development of the existing Faceware Live system.
Mocap solving and retargeting specialist IKinema was also showing off the latest developments to INTiMATE, its work-in-progress natural-language control system for virtual characters.
Originally shown at Siggraph 2015, the UK government-funded research project now enables users to 'direct' CG characters by issuing simple spoken commands.
Users can map movements from a library of around 250 readymade locomotion animations and 250 martial arts animations to voice input within Maya, with IKinema's technology handling motion blending and retargeting.
It can even retarget the biped data to quadruped characters like the rather adorable CG wolf in the demo above.
Pipeline development and open standards
For anyone aiming to develop their own custom tools, the key release from the show was Fabric Engine 2.3, and its new Blocks functionality.
Built on Fabric Engine's existing Canvas visual programming system, Blocks make it possible to develop even complex visual effects software without writing a single line of code.
The system makes it possible for less technically minded artists to write their own tools; while TDs still get the option to drill down into the guts of a preset, and to choose which inputs to expose to other users.
Read more about the new features in Fabric Engine 2.3
In addition, The Foundry had an interesting pipeline technology demo, in the shape of Pipeline in the Cloud: the result of a two-year joint research project with Industrial Light & Magic.
The project implements a complete virtual Modo-Katana-Nuke pipeline in the cloud, with all the software integration handled online, and the tools' user interfaces streamed to artists' desktops.
Rendering can also be done in the cloud – the system is agnostic when it comes to service vendors – with render management handled by Thinkbox Software's Deadline.
The Foundry describes the project as a proof of concept for the way a solo artist or small facility might work in the near future, with both tools and project data located online, and accessible anywhere in the world.
Read more about The Foundry's Pipeline in the Cloud research project
Both The Foundry and Fabric also enthused about a key open standard to be launched at the show: Pixar's Universal Scene Description, which provides a way for DCC tools or VFX vendors to exchange complex data.
Unlike Alembic, USD provides a format in which to describe the structure of entire scenes rather than just individual assets, supporting layering, file-referencing, geometry and shading variants, and inheritance.
The source code already includes plugins for Maya and Katana, while Fabric is working on support for USD within Fabric Engine.
Read more about the features in Universal Scene Description
Backend technologies and miscellaneous tools
When it comes to management tools, the biggest new release was Shotgun 7.0 and RV 7.0, the latest update to the cloud-based production tracking and shot review system and integrated image viewer and video player.
The major new feature in the update is the ability to make use of the editorial information for a project, enabling artists and supervisors to review shots or assets in the context of the latest cut.
The system supports alternate or overlapping cuts, and what developer Shotgun Software terms 'mini cuts': a user-defined number of shots before and after the one under review.
Read more about the new features in Shotgun 7.0 and RV 7.0
Rival production tracking system ftrack also got a pre-show update, adding a new native integration from within Cinema 4D, with 3ds Max integration also on the way.
The developer tells us that it is also in the process of reworking its older integration plugins, including Maya and Nuke, in the light of its recent work with Cinema 4D and After Effects.
In the longer term, it also plans to add bid-planning and invoicing functionality to ftrack, enabling visual effects vendors to break down a script and estimate the likely cost of the VFX shots required.
Read more about ftrack's new Cinema 4D and 3ds Max integrations
However, in that market sector, first mover status goes to Thinkbox Software, which unveiled Vero, its new cloud-based budgeting and cost-planning system, at Siggraph 2016.
A joint initiative between the company and veteran VFX producer Joyce Cox, whose credits include The Jungle Book and Avatar, Vero is based on Cox's own production methodology.
The system is expected to become available in beta to other VFX producers this fall, with functionality tailored towards visual effects facilities themselves to follow later.
Read more about the features in Vero
Sequoia 1.1, the first update to Thinkbox's standalone point cloud meshing system, intended for processing Lidar or similar large-scale environmental scanning data, was also unveiled at the show.
The update will add new workflows "capable of maintaining geo-referenced data precision", double the speed of meshing operations over the 1.0 release, and add a new Linux edition of the software.
Read more about the new features in Sequoia 1.1
Thinkbox Software also previewed four updates to its other products at Siggraph 2016.
The biggest is Frost MX 2.0: a performance update "nearly doubl[ing] the performance of previous versions" of the 3ds Max particle-meshing plugin, and adding support for V-Ray rendering.
Krakatoa MX 2.6 adds adaptive motion blur and faster depth of field with anamorphic squeeze and customisable bokeh effects to the 3ds Max particle renderer, along with improved cloning.
Stoke MX 2.3 is an update designed to refine user control over particle behaviour within the 3ds Max particle reflow and editing tool.
And finally, Deadline 8.1 adds support for a number of new applications within the renderfarm manager, including Redshift, KeyShot, Clarisse iFX's CNode, and standalone denoising tool Altus.
Read more about the new features in Frost MX 2.0, Krakatoa MX 2.6, Stoke MX 2.3 and Deadline 8.1
Rival renderfarm management system developer PipelineFX was also present at Siggraph – if not on the expo floor itself – discussing the new metered licensing options for Qube!
Qube! users can now elect to be billed by the minute, at a rate equivalent to $0.10/hour per Worker licence of the software: useful for facilities that scale up for deadlines by taking on extra cloud render nodes.
Read more about the new metered licensing options for Qube!
And finally, remote shot review specialist Cospective was also demo-ing its products on the show floor, although neither CineSync or Frankie actually received updates at Siggraph this year.
And that, we think, is that – although with a show as large as Siggraph, it's hard to be sure. If we've missed any other new products from Siggraph 2016, you can add them via the comments below.