Thinkbox Software has announced Vero, an interesting new cloud-based application designed to manage budgeting and cost-tracking for visual effects projects.
The system, which is still in alpha development, went on display at Siggraph 2016 last week.
Co-developed with veteran VFX producer Joyce Cox
Vero is a joint initiative between Thinkbox and veteran VFX Producer Joyce Cox, whose credits include The Jungle Book and Avatar, and arises from her own frustration with the costing process.
"When I first started producing visual effects in the mid-1990s, the first thing I realised was that there was no system in place for tracking costs," she told CG Channel. "There still isn't a uniform way of doing it."
Based on the system used on Avatar
At the minute, visual effects producers estimate costs for a movie manually, entering the script into an Excel or FileMaker database, and breaking down the expected costs scene by scene.
Vero is based around Cox's own personal system – a "huge Excel database" of supporting information, developed for use on movies including The Dark Knight and Avatar.
"It worked for me but it's not something I could hand to anyone else," she said. "I wanted to build a piece of software anyone could use."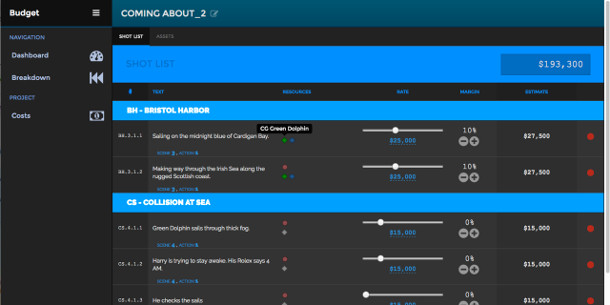 The four stages of cost management in Vero
Thinkbox Software describes the cost-management workflow in Vero as a four-stage process. The company's press release includes a clear summary, which we've reproduced in full here:
Script Breakdown
Allows users to import a screenplay file, and the app automatically breaks down the screenplay into scenes and actions. Scenes can then be manually grouped into sequences, and VFX shots can be added to actions manually, or automatically based on action descriptions.
Budget Room
Enables users to manually rate VFX shots based on the level of complexity. The producer can then more accurately estimate generic shot costs and begin to layout the VFX production crew and equipment needs.
Market Place
Empowers users to create custom bid packages that can easily be shared with interested VFX vendors. Receive and compare preliminary and secondary bids, evaluate designation scenarios, narrow list of potential vendors and apply costs to a VFX budget.
Contract Room
Acts as a central hub where bids are awarded and accepted, changes to scope are managed and communicated to vendors and studios, and contracts are archived.
Cox says that another important aspect of Vero will be cost projection: the power to revise estimates between the initial bids and the live shoot, where "pretty much everything we've theorised changes".
"I've been hired to rescue two or three movies that got into trouble, and the problem came with them not being able to forecast down the road how the movie was evolving," she says.
For VFX facilities as well as producers
While the initial build of Vero will be targeted at VFX producers and studio executives, its creators expect subsequent updates to adapt the system to the needs of the VFX facilities themselves.
Cox describes the potential benefits of the system to visual effects vendors as a more streamlined, more transparent bidding process, with less scope for error.
"VFX facilities will get a package of information that is complete and detailed," she said. "At the minute, they have to interpret individual VFX producers' ways of laying out the request."
Further down the line, Cox hopes to integrate Vero with other standard project-management and scheduling tools, including Shotgun, 5th Kind and Movie Magic Scheduling.
A new industry-standard platform for VFX cost management?
Cox describes Vero as simplifying "a massive challenge for film-makers and visual effects facilities".
"VFX is often one of the largest chunks of a film budget [yet] the current methods for predicting and tracking the costs of VFX shots vary wildly across the industry," she said.
"Vero standardises and streamlines an otherwise overly complicated process, to project and manage the bottom line throughout production."
However, Cox notes that even with a standard platform for projecting and tracking costs, the decision as to which VFX facilities to award a job will still come down to experience and judgement.
"There isn't going to be a button that says, 'This is the VFX vendor you should use.'," she said. "It's still going to take a VFX producer with knowledge [to interpret the results]."
Pricing and availability
Vero is expected to become available in beta to VFX producers this fall, with the other functionality rolling out in future updates. Pricing for the service has yet to be announced.
Read more about Vero on Thinbox Software's blog
Tags: 5th Kind, Avatar, budgeting, cost breakdown, cost projection, Featured Articles, Joyce Cox, price, Producer, release date, Shotgun, SIggraph 2016, The Dark Knight, The Jungle Book, Thinkbox Software, Vero, vfx, visual effects