Thursday, December 3rd, 2015

Posted by Jim Thacker
Thinkbox Software releases Sequoia
Originally posted on 23 February 2015. Scroll down for news of the commercial release.
Thinkbox Software has previewed Sequoia, its upcoming standalone tool for converting point cloud data into 3D meshes, showcasing its ability to process very large production data sets.
What is Sequioa?
Announced at Siggraph last year, Sequoia is intended to convert Lidar or similar scan data into a single continuous mesh. Smoothing and decimation tools help process the resulting mesh for export or 3D printing.
The software is tailored for "the architecture, engineering and construction markets", but has obvious applications for set or prop reconstruction in visual effects; or for anyone working with dense CAD files.
Although there isn't a full feature list yet, Thinkbox says that Sequoia can "ingest or export data in nearly any format required, enabling seamless integration within established pipelines and toolsets".
Smart asynchronous meshing of very large point clouds
A key selling point for Sequoia is its ability to return results before all the data has loaded, minimising waiting times when working on very large production data sets.
Thinkbox's latest demo video (above) shows this in practice. Sequoia's Hacksaw feature divides point clouds into smaller spatial regions, meshes each separately, then blends the resulting meshes.
At the minute, processing is done locally, as a background process, but Thinkbox plans to support distributed meshing via its Deadline renderfarm-management software, or in the cloud.
Other new videos show image projection onto a point cloud and the conversion of a dense CAD model to a single unified mesh for 3D printing.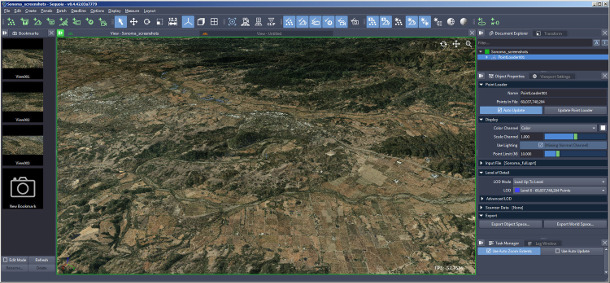 A 60-billion-point data set, navigable in real time on a Surface Pro tablet in Sequoia. See a full feature list here.
Updated 3 December: Sequoia is now shipping for Windows and Mac OS X: there's no mention of Linux support on the product webpage, although it was a feature of beta builds.
A bundle of one floating or node-locked workstation licence and two floating network licences costs $2,995, and additional network licences cost $495.
Designed to navigate very large data sets even on low-end hardware
There aren't any new demo videos, but the product webpage, available via the link below, provides a good overview of the software's key features, and you can find full documentation online here.
As well as the functionality discussed above, the updated product page covers features designed to make Sequoia usable with very large data sets, including region-of-interest filtering and rendering.
According to Thinkbox, the software can adapt to pretty much any hardware, making it possible to navigate multi-billion-point data sets in real time on a Surface Pro tablet, as shown in the image above.