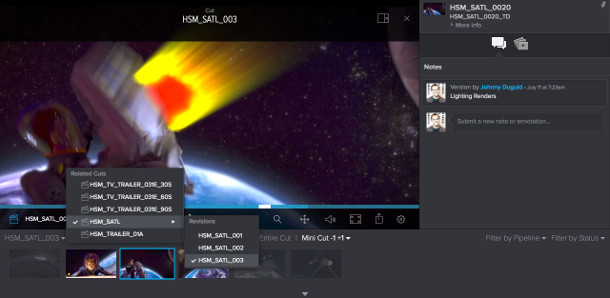 Shotgun Software has announced Shotgun 7.0 and RV 7.0, the latest versions of its industry-standard cloud-based production tracking and shot review system and integrated image viewer and video player.
The update, which was announced at Siggraph 2016, enables Shotgun to make use of current editorial information for a project, meaning that a team can review its work in the context of the latest cut.
"VFX and animation studios need to constantly view their latest work in context of the cut, and yet editorial makes continual changes throughout the project" said Shotgun Software co-founder Don Parker.
"Keeping up with this process manually … can lead to frustrating delays and mistakes. This release [helps] teams understand what has changed and [allows artists] to look at their work in context of the latest cut."
Review shots in the context of the latest cut or 'mini cut'
Shotgun 7.0 enables the software to use the latest Edit Decision List (EDL) for a project, with users then able to view the current cut either in their web browser or the RV desktop player.
As well as seeing a shot as part of the full cut, the system supports what Shotgun terms 'mini cuts': the shot in question plus a user-specified number of other shots immediately before and after.
The implementation also supports overlapping cuts – for example, the :30, :60 and :90 cuts of a broadcast commercial – and alternate edits.
Shotgun's official press release summarises the key features as follows:
Import Cut
Editorial information is quickly published to Shotgun, summarizing changes that can be shared with anyone on the project.
Play Cuts Anywhere
With one click, watch the full cut either in the browser or in the Shotgun RV desktop player. Powerful filtering tools control which shot versions show up in the cut, such as "latest," "latest animation" or "latest approved."
View any Shot in a Review Session in Context of the Cut
Teams working through shot versions in review sessions can seamlessly switch between viewing the shot in the review playlist and viewing the shot in the context of the cut.
Track Overlapping Cuts
Quickly access a full history of all cuts on a project, including overlapping cuts such as :30, :60, :90 cuts on commercial projects, or both sequence and trailer cuts on film projects.
API Ready
A new data model tracking the cut data is fully exposed in Shotgun's API so studios with development resources can integrate with their pipelines.
You can also read a slightly different summary, complete with accompanying screenshots, on Shotgun Software's blog.
In addition, Shotgun tells us that the notes panel within the software has been rebuilt, and that names now autocomplete when tagging in other artists on a review.
In other news, the developer has announced the winners of its Pipeline Awards, designed to recognise innovative new pipeline tools and the unsung heroes who create them. You can see the winners here.
Pricing and availability
Shotgun 7.0 and RV 7.0 are due for release on 31 July 2016.
RV is now included free with Shotgun, with pricing depending on the level of customer support: 'Awesome' support costs $30/account/month; 'Super Awesome' support costs $50/account/month.
Read more about the new features in Shotgun 7.0 and RV 7.0 on Shotgun Software's blog
Tags: alternate cut, asset management, autodesk, current cut, edit decision list, EDL, mini cut, new features, Pipleline Award winners 2016, playback, price, production tracking, RV, RV 7.0, shot review, Shotgun, Shotgun 7.0, Shotgun Pipeline Awards, Shotgun Software