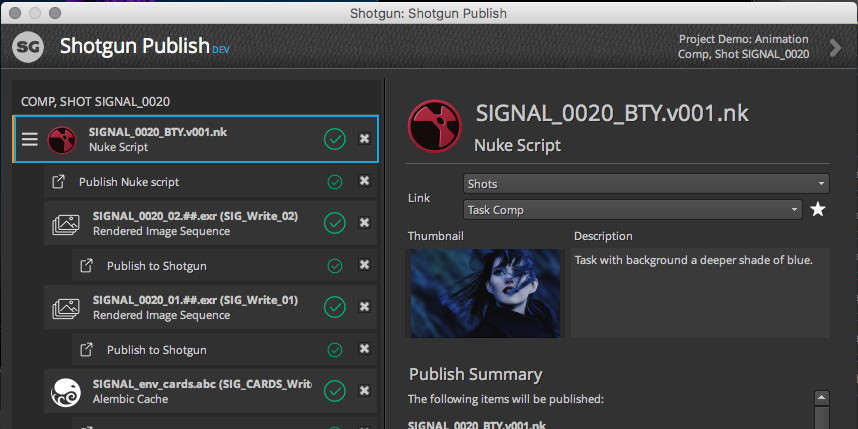 Shotgun Software has released Shotgun 7.2, the latest version of its cloud-based production tracking system, adding new 'plug-and-play' integrations for standard DCC tools, plus a new standalone publishing app.
New automated integration system links Shotgun to common DCC applications
The biggest change in Shotgun 7.2 is the new integrations system, which automatically detects and integrates itself with installations of 3ds Max, Houdini, Maya, Nuke and Photoshop on artists' machines.
The process makes it possible to use the Shotgun panel, loader and publisher tools from directly within the host DCC application, with no manual set-up required.
The publisher itself enables users to publish the contents of a scene to Shotgun, and can also run as a standalone app, with users simply dragging and dropping the files they want to publish.
New single sign-in option, better integration with RV, GitHub-style markdown support
Other changes include single sign-in: a permissions-management feature targeted at IT departments at large studios, which makes it possible to log into multiple accounts using a single login and password.
The feature is currently only available with 'Super Awesome Support' subscriptions.
It is also now possible to preview shots in image sequence player RV, Shotgun's sister tool, when the files aren't available locally, with Shotgun automatically streaming the data in from the cloud.
In addition, output from RV through SDI hardware – which enables studios to play back dailies through digital cinema projectors and broadcast monitors – is now available to all tiers of subscriptions.
The update also implements GitHub-style markdown text formatting, making it easier to format text on review notes attached to shots, or on job tickets, including image embedding, lists, tables and checkboxes.
Pricing and availability
Shotgun 7.2 is available now, with pricing depending on the level of customer support: 'Awesome' support costs $30/account/month; 'Super Awesome' support costs $50/account/month.
Both subscription tiers include RV for free.
Read more about the new features in Shotgun 7.2 on Shotgun Software's blog
Tags: asset management, automatic installation, cloud-based, markdown, new features, price, production tracking, Publish app, publishing app, RV, SDI, sequence viewer, shot review, Shotgun, Shotgun 7.2, Shotgun Software, single login, SSO, video player