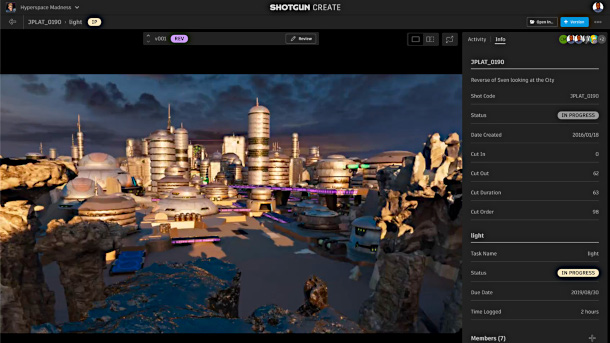 Shotgun Software has launched Shotgun Create, its new desktop application, intended as a more artist-friendly way to use Shotgun's cloud-based production-tracking system than the existing web interface.
The software was first announced alongside Shotgun 8.0 last year, and has been in beta ever since.
A more visual, artist-friendly way to use Shotgun's review tools
Shotgun Create is a new "cloud-connected desktop experience" that enables users to access Shotgun's playback and review tools via a standalone app rather than a web browser.
It is intended to be a more intuitive way to use Shotgun, replacing "complex tables [with] visual thumbnails", particularly in the My Tasks view: an overview of an artist's current work.
All of the notes attached to a task are collected in a single interface pane, making it easier to see requests for changes in context, and to refer back to previous versions.
Selecting any task in an artist's queue automatically opens the relevant file in any of the DCC applications with which Shotgun integrates, including 3ds Max, Maya, Houdini, Photoshop and Nuke.
My Reviews is designed along similar principles, although it retains a more conventional table format.
Features new to the desktop app include a Compare mode, which displays versions of a shot side by side, overlaid or in a split-screen view, and – on Windows and macOS, at least – screen-recording capabilities.
In addition, annotations are now displayed in context on the Shotgun timeline, including those generated in RV, the desktop media viewer included with Shotgun subscriptions.
Playback is based on technology from RV and Flame, parent company Autodesk's compositing and finishing software, and can handle both local and remotely streamed videos and image sequences.
Pricing and availability
Shotgun Create is available for Windows 10, RHEL/CentOS 7.2 Linux and Mac OS X 10.11+. The software comes as part of a Shotgun subscription.
The current version of Shotgun, Shotgun 8.4, costs $30/account/month for an 'Awesome' account and $50/account/month for a 'Super Awesome' account, which provides extra security and support options.

Read an overview of Shotgun Create on Shotgun Software's blog
Read a full list of features in Shotgun Create in the online documentation
Tags: annotation, autodesk, browser based, cloud-based, compare versions, desktop application, Flame, media viewer, new features, notes, price, production management, production tracking, RV, screen recording, shot playback, shot review, Shotgun, Shotgun 8.4, Shotgun Create, Shotgun Software, standalone app, system requirements