Autodesk has released 3ds Max 2017, the latest update to its industry-standard 3D modelling, animation and rendering software, and the first since switching to subscription-only licensing earlier this year.
The update adds a number of new features, including the new Autodesk Raytracer (ART) renderer; overhauls the UI, modelling and UV tools; improves raw performance, and addresses a number of workflow issues.
The release is one of several announcements made by Autodesk at NAB 2016, along with the release of Flame 2017 and Maya 2016 Extension 2, and its acquisition of Solid Angle, developer of the Arnold renderer.
New user interface scales to high display resolutions
The most obvious change in 3ds Max 2017 is the new UI, first seen in leaked screenshots last month.
Taking its cue from the UI overhaul introduced in Maya 2016 last year, the new interface is designed to streamline common tasks, and to scale better to the resolutions permitted by new high-definition displays.
Autodesk Raytracer: a new CPU-based photorealistic render engine
The other major addition is a new built-in render engine, Autodesk Raytracer (ART): a physically accurate CPU-based renderer first previewed on Autodesk Labs last year.
Already integrated in Autodesk's industrial design tools like Revit and Inventor, ART is targeted primarily at the kind of artists who might also use those tools, rather than for entertainment work.
The workflow is designed to achieve usable results with minimal adjustment to settings – there is an overall quality slider, supplemented by a fairly minimal set of parameters – with use cases suggested in the demo video above including industrial and product design and architectural exteriors.
ART can be used as an ActiveShade renderer, meaning updates can be seen in real time in a viewport.
Interestingly, there's an Altus-style noise filtering option, intended as a quicker way of reducing noise than allowing a render to resolve normally, also available as a separate render element for compositing.
New Physical material supersedes the old Arch & Design options
3ds Max 2017 also introduces a new Physical material, with 36 presets designed to replicate common real-world material types like metal, glass, wood, stone and plastics.
It adopts a "modern layered approach", with a diffuse base layer with a 'metalness' option; support for subsurface scattering and translucency; and a Clear Coat top layer to simulate coatings.
Autodesk describes the new material as a "modern successor" to the existing Arch & Design material – although one probably added as much out of necessity as a desire to introduce new features.
Arch & Design is based on mental ray which, in keeping with Autodesk's new 'open rendering policy', is no longer installed by default with 3ds Max, although both it and Iray continue to ship with the software.
The new Physical material is currently compatible with all of 3ds Max's internal render engines, plus mental ray and V-Ray, and Autodesk says that it wants "all render engines to support it" in future.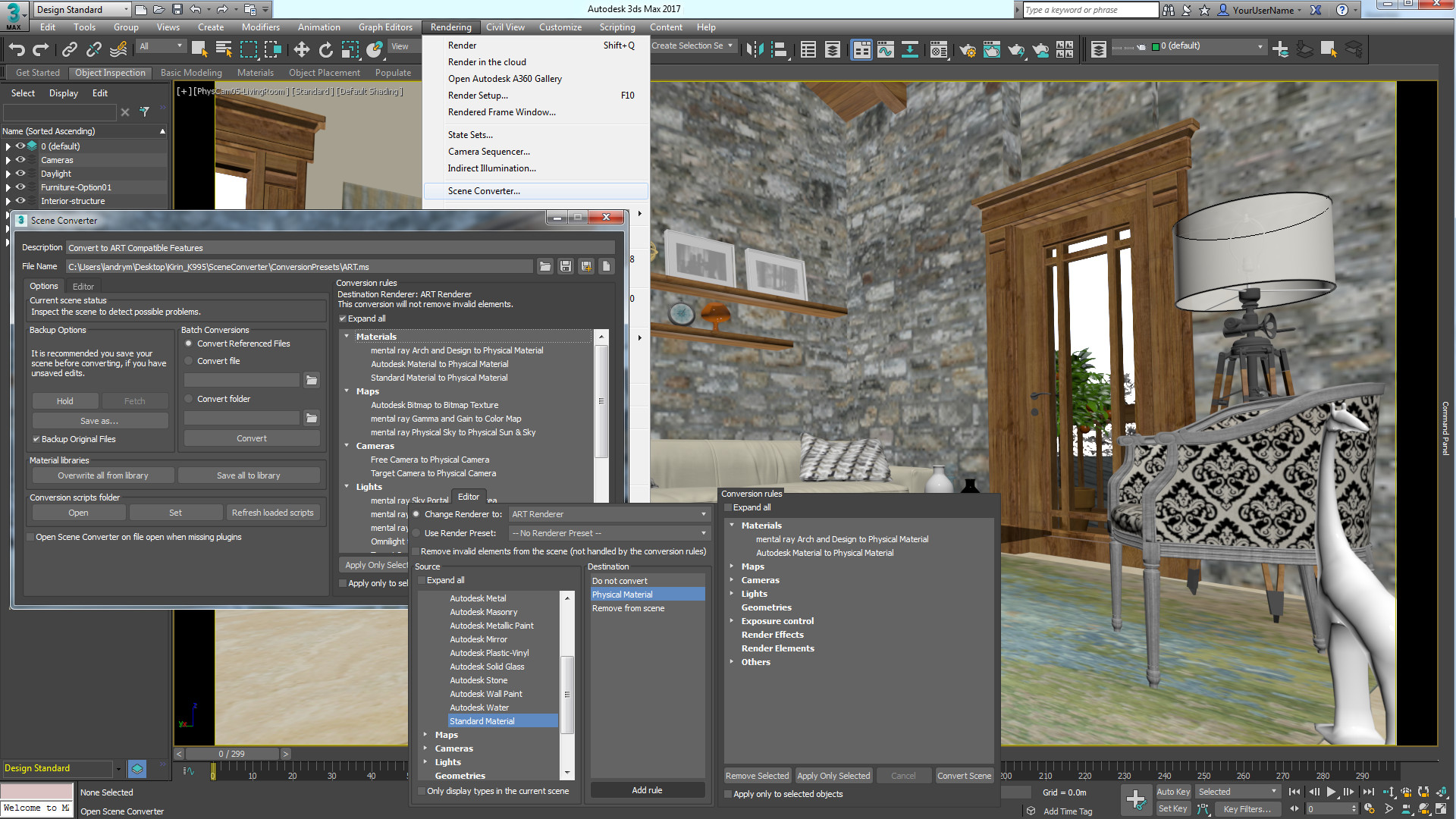 Convert assets between render engines with the new Scene Converter
Another new renderer-agnostic feature is the new Scene Converter (shown above), designed as a "fast, easy way to upgrade legacy scenes to new features, or to convert scenes to use with different renderers".
It includes automatic backup, batch conversion and the option to save or load materials from libraries.
The Scene Converter is detailed in this blog post on Autodesk's AREA site, along with 3ds Max 2017's other rendering features, including the new Sun Positioner: a replacement for the old mental ray Daylight system.
An overhauled UV unwrapping toolset
Of the existing toolsets, UV unwrapping receives the biggest overhaul, including support for multi-tile UV layouts such as those used in tools like Mari and Mudbox; and support for Mari's UDIM tile naming conventions.
Overall performance has been improved, with new algorithms for peeling geometry and for packing the resulting unwrapped UVs more efficiently.
There are also a number of nice workflow features: UV selection now follows the same keyboard conventions as selecting geometry; and isolating a UV region also isolates the corresponding geometry in the viewport.
Workflow for eliminating texture distortion also looks to have been greatly streamlined, including the addition of a new checkermap that – unlike the old black-and-white map – includes both colours and numbers.
Areas of high distortion are shown through colour coding in the UV layout, and can be reduced by new Transform and Relax brushes: a workflow that will be familiar to users of third-party tools like Unfold3D.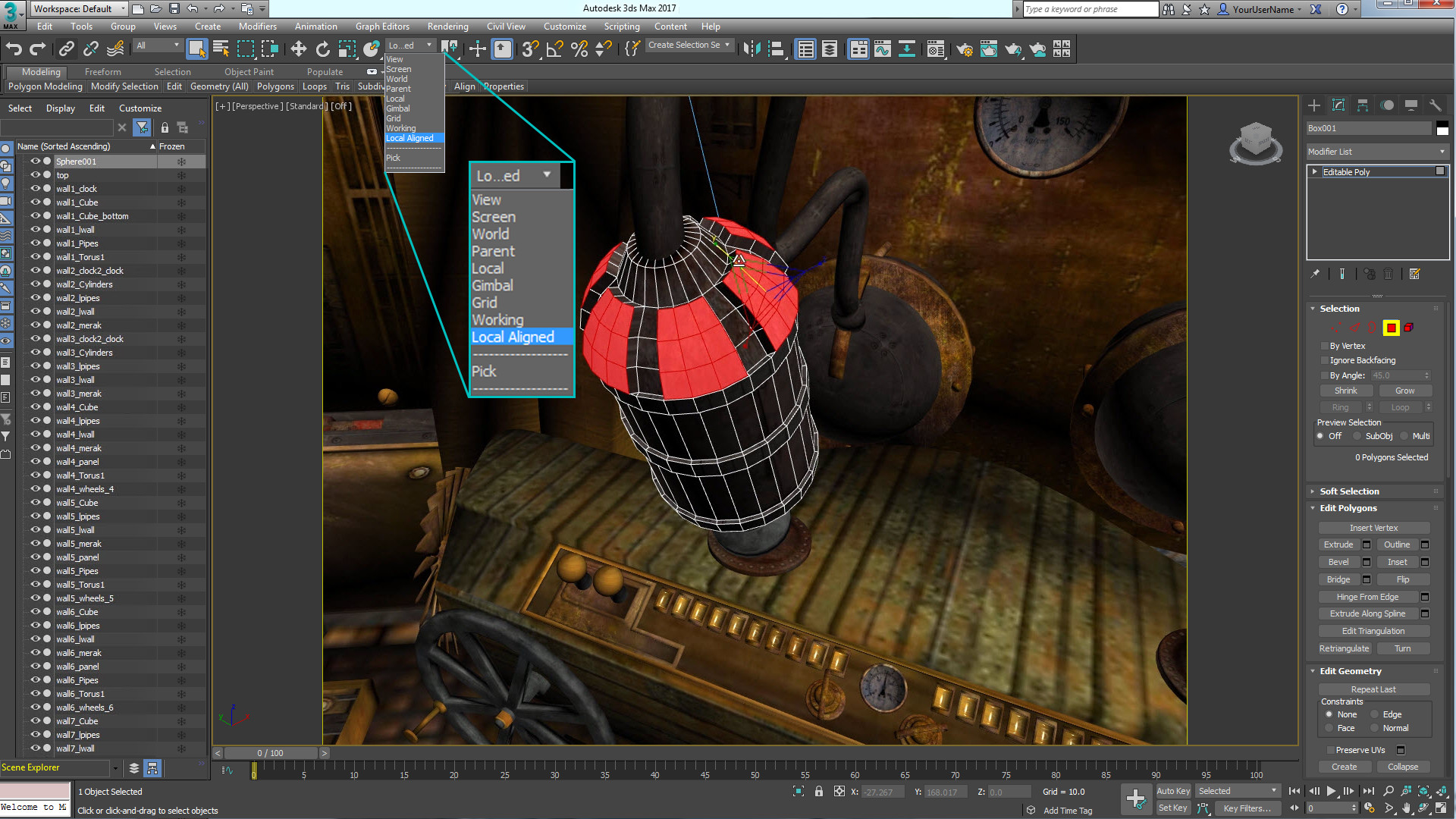 Workflow improvements to modelling and animation
Changes to the modelling toolset include updates to the Boolean tools designed to simplify the process of working with operands and nested Boolean operations, and to increase the accuracy of the results.
There are also a number of useful-but-hard-to-summarise workflow changes for both modelling and animation, discussed in more detail in this blog post from 3ds Max product manager Eddie Perlberg.
Performance boosts and Python integration
However, for many users, one of the most significant changes in 3ds Max 2017 may not be a new feature at all, but the increase in viewport performance when working with complex scenes.
In his blog post, Perlberg claims a 300-500% performance improvement in navigating "tens of thousands" of objects; while selecting and manipulating sub-objects is now 200-300% faster.
Performance of the Viewport Material Override and shadow caching have also been improved, and there is a new DirectX 11 preset.
For anyone needing to integrate 3ds Max into a pipeline, Python integration has been extended, with the software gaining "complete MaxScript exposure to Python".
The script editor now imports Python scripts, and there are a number of UI-related changes, discussed in more detail in Perlberg's blog post, including "full native support for parenting and docking Python tools".
Heavy on small features but light on large ones?
As the first annual update available only to those signing up for subscription contracts, as opposed to through a one-off upgrade payment, 3ds Max 2017 has been under particular scrutiny from the user community.
So far, user feedback on sites like CGPress has been sharply polarised.
On one hand, 3ds Max 2017 isn't a release with a lot of major new features: of the 15 listed in the summary video at the top of this story, only half are actually new in 2017 itself.
The remainder were added in last year's 3ds Max 2016 Extension 1 and Extension 2 releases.
Those cover quite a range of ground, from the new TextPlus tool to improved character skinning and game export – but if you have them already, the 2017 release is unlikely to provide a single killer feature, particularly if you don't work in design visualisation, and will get less mileage out of the ART renderer.
On the other hand, supporters argue that 3ds Max 2017 includes a lot of small workflow and performance enhancements that cumulatively make a big difference to the day-to-day experience of working with the software.
It's a point that Autodesk itself has been keen to get across: both Perlberg's blog post and the demo videos reference the number of user requests from its Uservoice poll that have been addressed.
That's something of a double-edged sword, since many of the most popular requests are major features that haven't yet been implemented, like fluid simulation, multi-threading for Particle Flow sims and OS X support.
However, it does suggest that as it transitions to its new rental-only licensing, Autodesk is actively listening to its users' needs – even if there's a limit to the development time it can or will devote in response.
Pricing and availability
3ds Max 2017 is available now for Windows 7 and above on a rental-only basis. Subscription prices are up by around 17% from the time of the release of 3ds Max 2016, to $225/month or $1,785/year.
Read a full list of new features in 3ds Max 2017 in Eddie Perlberg's blog post
Visit the 3ds Max product website
Tags: 3ds max, 3ds Max 2017, animation, art, autodesk, Autodesk Raytracer, Booleans, checkermap, CPU-based, Eddie Perlberg, HiDPI, iray, mental ray, modeling, NAB 2016, new features, open rendering policy, peeling, performance, Physical material, physically accurate, price, Python, render engine, rental-only, Scene Converter, speed boost, subscription only, UDIM, UI, user interface, uv mapping, UV unwrapping