Tuesday, April 19th, 2016

Posted by Jim Thacker
Autodesk releases Maya 2016 Extension 2
Autodesk has released its annual spring update to Maya – but in a break with convention, the new release it announced at NAB this year was not Maya 2017, but Maya 2016 Extension 2.
The subscriber-only update adds a complete new motion graphics toolset derived from Mainframe North's old Mash add-on, new render management and character rigging options, and updates to Bifrost and XGen.
The Extension release is one of several announcements made by Autodesk at NAB 2016, along with Flame 2017 and 3ds Max 2017, and its acquisition of Solid Angle, developer of the Arnold renderer.
New motion graphics toolset
The biggest single addition in Maya 2016 Extension 2 is the new motion graphics toolset, derived from Mainframe North's Mash add-on, which Autodesk acquired last September.
Mash provided a set of 27 nodes that could be 'daisy chained' together to generate a huge range of customisable motion graphics effects, controllable from both Maya's Attribute and Node Editors.
Autodesk's initial integration makes a number of UI changes, but doesn't add any new functionality.
Updated 27 April: Mainframe North MD Chris Hardcastle has been in touch to say that there are new features in the integrated version of the toolset. See them in action here, or watch the video in the comments below.
The company's director of industry marketing, Marc Hamaker, described the toolset as a "pretty nice start-to-finish workflow" suitable for "motion graphics and a whole lot more", including titles and UI design.
According to Hamaker, the tools are intended to be accessible to artists who don't primarily work in 3D.
"We tried to look at what people do in motion graphics and reflect that," he said. "[The toolset] isn't as deep as some out there for motion graphics, but it's a sign of where we're taking this."
Better shot-based render management for VFX artists
Another significant new feature in Extension 2 is the new render-management system, designed to simplify the process of setting up shot-based overrides for the lighting and shading in a scene during VFX work.
Artists can group scene assets into Collections, either manually or by writing expressions based on asset names. Collections can then be assigned to render layers and toggled on and off at will
A templating system enables users to export complex scene setups as JSON files that can be shared with other artists, or reused between productions.
Improved character rigging workflow
In addition, the update adds a number of character rigging features previously rolled out in Maya LT, the cut-down version of Maya intended for indie game artists.
Those include a new blendshape workflow and a semi-automated Quick Rig tool based on the HumanIK solver. We discussed them in our original story on Maya LT 2016 Extension 3, so we won't cover them here.
There's also a new Pose Space Deformer, used to set up full-body corrective shapes to fix rigging artefacts in character animations, which you can see in action at around 03:10 in the video above.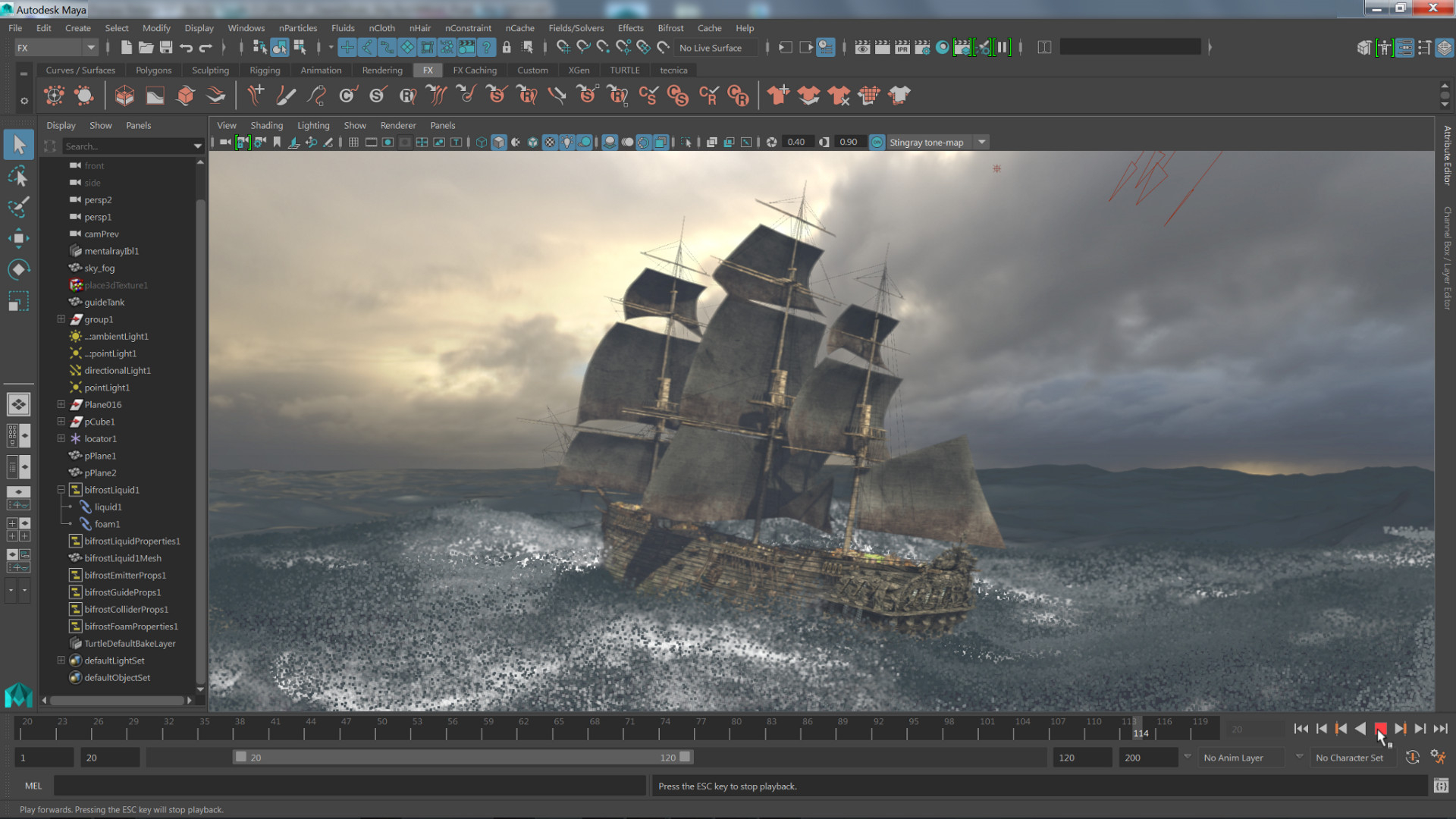 Updates to Bifrost and XGen
Other changes in Maya 2016 Extension 2 include updates to two of the software's key effects toolsets: the Bifrost fluid simulator and the XGen instancing system.
Bifrost's new adaptive solver (shown above) enables the level of detail in a simulation to vary, enabling artists to choose which parts of a sim are calculated in high detail.
This new 'deep adaptive fluid simulation' workflow should help reduce the computational resources required for a sim while preserving visual quality: for example, by only simulating the surface of a body of water in detail.
In addition, XGen can now handle hair as cards rather than individual strands, also reducing the computational resources required: useful for background characters in videogames, for example.
Sadly, there don't seem to be videos of either new feature in action, although you can read a bit more about them, plus the new "high-accuracy viscosity" in Bifrost, on the Maya product website.
Further improvements to viewport rig evaluation and symmetry operations
Evaluation of complex character rigs in the viewport – a focus of the original Maya 2016 release – has been further improved in Extension 2.
Again, there doesn't seem to be a video, but the product website lists the key features, including improved draw performance on models composed of multiple meshes, and GPU-accelerated deformation being on by default.
Parallel rig evaluation also now supports dynamics generated procedurally by Maya's Nucleus framework.
The update also enhances symmetry modelling and UV workflow. The website doesn't go into detail about how, but we assume they're the same changes made in Maya LT 2016 Extension 3.
A lot for an Extension release, less so for an annual update
All in all, there's a lot in Maya 2016 Extension 2 for an interim release: the motion graphics tools alone used to sell for nearly $150 when they were a third-party add-on.
However, the fact that this is the first time in many years that Maya hasn't received a full annual update in the spring may worry some users.
According to Marc Hamaker, Autodesk is "transitioning away" from a rigid annual release schedule, which suggests that there may still be a bigger update coming later this year.
However, it probably won't reassure anyone who worries that the firm's move to subscription-only licensing will reduce the pace of innovation, given that users can now no longer skip updates they feel don't benefit them.
Pricing and availability
Maya 2016 Extension 2 is available now for Windows 7+, Mac OS X 10.9.5+ and RHEL 6.5 WS and CentOS 6.5 Linux. Subscription pricing remains unchanged at $185/month, $460/quarter or $1,470/year.
Read more about the new features in Maya 2016 Extension 2 on the product website