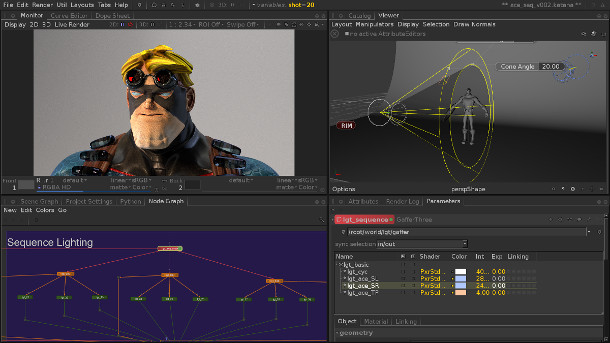 Originally posted on 15 July 2016. Scroll down for news of the official release.
The Foundry has released a beta of Katana 2.5, the latest update to its look development and lighting tool – and the first to make the software available to Windows users.
Other new features in the previously Linux-only application include a new performance profiling mode, and support for light filters within lighting rigs.
A heavyweight look dev toolset for heavyweight studios
Originally developed in-house by Sony Pictures Imageworks, Katana was released commercially in 2011.
Designed for lighting and look development work on very heavy visual effects and animation data sets, Katana supports key production renderers including RenderMan, Arnold, V-Ray – and most recently, 3delight.
The software is now in use at studios including Industrial Light & Magic, Pixar and Atomic Fiction, although less so at smaller facilities, due to its relatively high price and lack of a non-Linux edition.
New Windows edition, plus new performance profiling mode for TDs
Katana 2.5 changes one of those things, with the software becoming available on Windows for the first time.
The new Windows edition is definitely the headline feature of the update – it's the only one mentioned in The Foundry's press release – but it does also add a few new tools for Linux users.
Those include a new performance profiling mode that records the time taken in processing every step in a scene, enabling TDs to identify performance bottlenecks.
GafferThree nodes, used to create multi-light rigs, get support for light filters like barn doors and gobos; and new colour and float ramp widgets make the process of selecting input values for shaders more artist-friendly.

Updated 3 August 2016: Katana 2.5 is now shipping for 64-bit Windows 7 and RHEL/CentOS 6 Linux. You can read the release notes for Katana 2.5v1 here.
The software costs $8,144 for an artist licence, and $468 per render licence.

Read more about the new features in Katana 2.5 on The Foundry's website
(Includes link to request a trial version)
Tags: 3Delight, Arnold, beta, debug mode, GafferThree, Katana, Katana 2.5, light filter, lighting, Linux, look dev, look development, new features, performance profiling, price, release date, RenderMan, The Foundry, V-Ray, Windows