Originally posted on 10 August 2020. Katana 4.0 is now shipping: you can find more details here.
Foundry has unveiled Katana 4.0, a major update to its lighting and look development toolset.
Key changes include a new "artist-focused" lighting mode inspired by traditional cinematography, and support for multiple simultaneous renders and interactive network rendering within the software.
The features were announced last month as part of the firm's Foundry Live streams during what would normally have been Siggraph 2020 week. More details will be announced before Katana 4.0 ships this fall.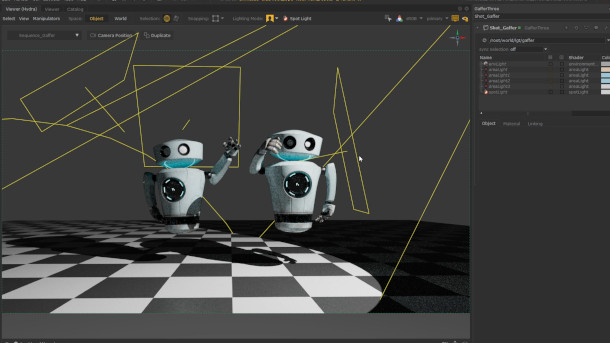 New artist-friendly lighting mode based on real-world cinematography workflows
Major changes in Katana 4.0 include a new "artist-focused lighting mode" that enables users to light CG scenes via workflows more like traditional cinematography.
As with Solaris, the new layout and look dev system introduced in Houdini 18, users can choose where highlights or shadows should fall in a scene by selecting points on the geometry directly.
Katana then creates a light in the scene with corresponding properties.
Users can also place lights based on the current camera position – for example, to create fill lights.
Once created, lights can be adjusted through their viewport manipulators, which have been redesigned to make them more artist-friendly, or via a floating spreadsheet UI.
From the floating view, users can edit numerical parameters, change light colours – as well as RGB and HSV, Katana now supports TML (Temperature Magenta Luminance) adjustments – and bookmark or solo lights.
The new mode works with the native light types of all the renderers that Katana supports: 3Delight, Arnold, RenderMan, V-Ray and, as of version 4.0, Redshift.
According to Foundry, the new lighting mode is "not designed as an all-or-nothing workflow", and can be used in conjunction with Katana's GafferThree nodes.
The GafferThree node itself hasn't received any major under-the-hood changes in Katana 4.0, although Foundry says that it plans improvements to its UI that should speed up workflow.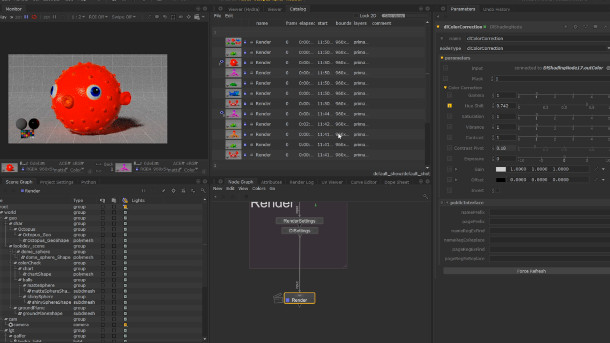 Support for multiple simultaneous renders speeds up look development
Another key change in Katana 4.0 is support for multiple simultaneous renders, enabling users to launch new test renders – or entire sets of renders – on their local machine without waiting for existing renders to finish.
The functionality is intended to speed up the process of testing variant materials and lighting for a scene; or testing lighting and camera changes across a sequence.
Foundry describes it as useful for "anything that needs multiple angles of feedback".
That includes wedging: Katana 4.0 will ship with an example script that automatically renders variations of a scene with different permutations of values for key parameters.
The livestream showed variant renders being compared using traditional A/B wipes, but Foundry says that it is also working towards a contact-sheet-style UI similar to that in 3Delight, due for release next year.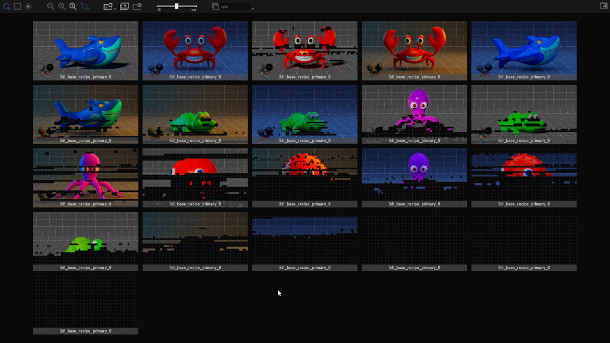 Perform interactive rendering on a render farm, as well as your local machine
For scenes too heavy to process on a single machine, Katana 4.0 will also support interactive network rendering, enabling users to generate their test renders on a render farm.
Rather than waiting for an entire frame to complete, then import the rendered image, the rendered pixels are streamed back to Katana as they are generated.
If the changes made to a scene are obviously not working, users can cancel the renders in progress and launch new ones, reducing iteration times on a shot.
The functionality should be compatible with standard render farm management software like Deadline, OpenCue, Qube! and Royal Render, via extensions to Katana's API.
"We're multiplying the work that you as an artist can do," said Foundry director of product Jordan Thistlewood. "It's cheaper to get a few more render farm licences than it is to hire another artist."
Updates to the Hydra viewer and to USD support
Other changes in Katana 4.0 include updates to the software's Hydra Viewer, making it possible to interact directly with the render ID buffer.
Rather than having to wait for an entire scene to load before beginning work, users can begin with an image from a previous work session, then make selections within it to determine which geometry Katana loads.
According to Foundry, this works with "all standard selection techniques", including dragging marquees or using modifiers to extend a selection; and can "drive any of the internals inside Katana".
Foundry is also working on updates to the Katana to Hydra bridge technology, enabling more robust GL-based lighting and shading in the Hydra viewport, which means increased support for HD Storm features like VDB volumes within the Hydra viewer, although it describes this as a "stretch goal" for the 4.0 release.
The firm says that it will announce further updates to the viewer and to Katana's support for the USD scene description format closer to the release date.
Pricing and system requirements
Katana 4.0 is due for release in "fall 2020".
The current stable release, Katana 3.6, is available for Windows 7+ and CentOS/RHEL 6 Linux. An interactive licence costs $9,458, including one 3Delight render licence. Extra render licences are priced on demand.
Updated 30 October 2020: Katana 4.0 is now shipping.
Read more about Katana on Foundry's product website
Tags: 3Delight, Arnold, asynchronous geometry loading, cinematography, contact sheet view, Deadline, deferred geometry loading, Foundry, Foundry Live, GafferThree, Houdini, Hydra Viewer, interactive rendering on render farm, Katana, Katana 4.0, lighting, lighting variation, lighting workflow, look dev, look development, material variation, multiple simultaneous renders, new features, OpenCue, position highlight, position shadow, price, Qube!, Redshift, release date, rendering, RenderMan, Royal Render, scalable interactive network rendering, scene layout, sequence override, shot layout, shot override, Siggraph 2020, Solaris, spreadsheet view, system requirements, Temperature Magenta Luminance, test render, TML, Universal Scene Description, USD, V-Ray, VDB, Volume, wedging