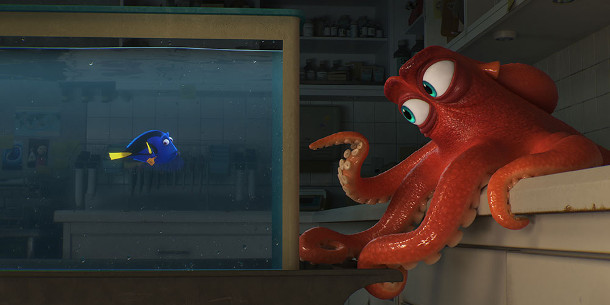 A still from Pixar's Finding Dory, created using Katana. Foundry has announced that future releases of the look development tool will feature a new viewer based on Pixar's Hydra real-time rendering architecture.

Originally posted on 3 May 2017. Scroll down for news of the commercial release.
Foundry has announced Katana 2.6, the next update to its look development and lighting tool.
New API will form foundation of Hydra-based viewer in Katana 3.0
The release, which is due to ship later this month, will feature the initial version of Katana's new viewer API, intended as the "basis of the Hydra-based viewer currently under development".
Hydra, Pixar's OpenSubdiv-based real-time rendering architecture, is used in Pixar's own in-house tools, and forms part of its open-source Universal Scene Description technology.
According to Foundry, the new API will enable studios with their own custom viewers to integrate them with Katana, but its own native Hydra-based viewer will not follow until Katana 3.0.
That's pretty much all the information available, although Foundry's news release does note that the release will also feature "a range of … UI/UX improvements [which] will speed up production workflows".
The software's technical documentation will also be "improved".
Pricing and availability
Updated 26 May 2017: Katana 2.6 is now shipping for 64-bit Windows 7 and RHEL/CentOS 6 Linux.
Foundry's new website doesn't list a price for the software, directing users to contact its sales team, but the previous release cost $8,144 for an artist licence, and $468 per render licence.
Read more about the new features in Katana 2.6 on Foundry's product website
Tags: Foundry, Hydra, Katana, Katana 2.6, lighting, look dev, look development, new features, Pixar, price, real time, real-time rendering, release date, relighting, The Foundry, UI, Universal Scene Description, USD