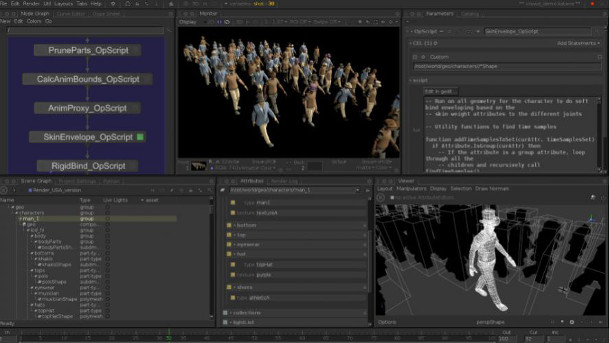 Katana 2 in action. New features in The Foundry's newly updated relighting and look dev tool include Op, a new public C++ API for custom tool development, and support for scripting in Lua as well as Python.
The Foundry has released Katana 2, the first full-point update to the lighting and look dev tool since it was first released commercially in 2011.
The new release promises to improve core performance, and introduces new options for customisation and pipeline integration, plus a more streamlined workflow for creating and editing lights.
A platform for demanding movie work
Originally developed in-house at Sony Pictures Imageworks, Katana provides a platform for relighting and look development for heavyweight visual effects and feature animation work.
The software enables artists to assign lights, materials and overrides for a scene via a standard node-based interface. The 'recipes' the system creates can then be used to generate scene data during rendering.
More responsive UI and Live Rendering; better support for multi-threading
Katana's core engine has been overhauled for the 2.0 release, improving UI responsiveness. The Foundry notes that "in many cases you can now see updates happen interactively as you scrub values".
Live Rendering is also now "faster, more stable and easier to use", including the option to restrict updates to a particular part of the scene graph.
The Katana procedural can also now be run on multiple threads, improving performance with renderers like Arnold and RenderMan that support multi-threaded geometry creation.
New public API, support for Lua scripting
For pipeline integration, the update also introduces Op, a new public C++ API for authoring plugins and manipulating scene data; and support for Lua scripting, on top of the existing Python script node.
It also exposes ILM's Imath library, designed for advanced mathematical operations, for use in OpScripts.
New per-shot and per-sequence workflows
Other new features include Graph State Variables, which enable users to set nodes to change behaviour according to context: for example, between shots in a sequence, or between render passes in a shot.
Artists can also now edit existing lights as well as create new ones in order to define lighting at the sequence level, then modify it on a per-shot basis.
Pricing and availability
Katana 2 is available for 64-bit Linux only, and is compatible with recent releases of Arnold and RenderMan. As you might expect of a major-studio tool, it's priced on enquiry.
Read more about the new features in Katana 2 on The Foundry's website
Tags: animation, API, Arnold, C#, Graph State Variables, Katana, Katana 2.0, lighting, look dev, look development, Lua, multihreading, new features, Op, performance, pipeline integration, Python, relighting, RenderMan, scripting, Sony Pictures Imageworks, speed, The Foundry, visual effects, workflow