Wednesday, August 26th, 2015

Posted by Jim Thacker
Massive Software announces Massive 8.0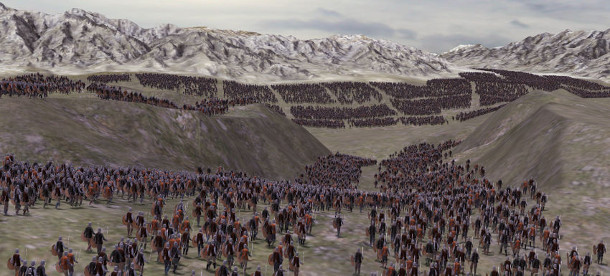 Massive Software has announced Massive 8.0, the latest version of its heavy-duty crowd-simulation system, along with Massive for 3ds Max: a new dedicated 3ds Max plugin.
The announcement was actually made at Siggraph 2015 earlier this month, but we missed it in the flurry of news stories from the show.
Simulate up to 20,000 crowd agents in real time
Originally developed for use at Weta Digital on The Lord Of The Rings trilogy, Massive has since become an industry staple for crowd simulation work throughout the movie and broadcast VFX markets.
However, one of the key advances in the new release harks back to the software's roots at Weta.
Inspired by Weta's Army Manager, used for on-set playback of crowd characters in The Hobbit: The Battle of the Five Armies, Massive 8.0 enables users to run simulations containing 20,000 agents at 24fps on a single PC.
You'll need either a Nvidia Quadro 6000 or Titan X GPU to do so, but the results are true AI-driven simulations: they don't rely on particles to drive characters, or use prerecorded sims
The agents are rendered with "sufficient" detail, so such very large real-time set-ups are really intended for pre-viz, although Massive notes that the results are "truly indicative of the end result".
New Parts system for less technical artists
Other new features include a new Parts system, enabling less technical artists to build AI 'brains' for crowd agents without coding, using a node-based approach to wire together pre-made parts.
Massive's scene page has also been updated, adding new nodes for placement generators, flow field splines and lanes, in addition to the existing nodes for lights, cameras, terrain, agents, and groups.
Improved terrain-following abilities for crowd agents
Response of crowd agents to terrain has also been improved, with the option for agents to walk over other agents – for example, fallen bodies – or to parent agents to individual pieces of a terrain animated in parts.
The lanes agents follow can also be parented to animated terrain; and a new interpolation system for animated terrains imported as sequences of geometry files improves the stability of rigid body dynamics.
Improved agent placement options
Massive's geometry generator, which enables artists to use reference geometry for agent placement, has been updated to allow per-poly placement, enabling a shot of 100,000 agents to be "accurately set up in seconds".
Other new features include the option to insert random gaps between agents during placement; and support for action mirroring in the action editor, quickly generating variants for agent actions.
New rendering options
On the rendering front, Massive now supports separate AOVs for each render pass, improving pipeline integration, and introducing the option to render EXRs containing an agent ID layer to help troubleshoot sims.
The software also now "takes full advantage" of the new RIS architecture introduced in RenderMan 19 last year.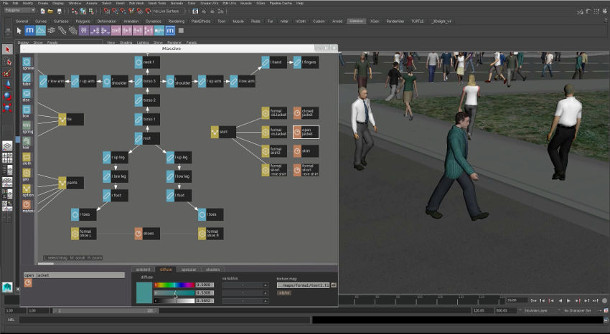 Dedicated integrations with Maya and 3ds Max
Massive for Maya gets a new Massive editor window (shown above) enabling users to edit "every aspect" of agent bodies directly within Maya, including geometry, texture maps, shading and rigid body dynamics.
Massive Software describes this as "basically the same" as a full licence of Massive Jet, the mid-range edition of the software.
In addition, the developer has announced Massive for 3ds Max, a new plugin enabling users to generate crowd simulations and see the agents in the scene just like other 3ds Max objects.
There aren't many more details on the Massive Software website, beyond the fact that V-Ray rendering is "fully integrated", but the plugin is expected to ship alongside Massive 8.0 itself.
Pricing and availability
Massive 8.0 is due to ship "very soon" for Windows and Linux. New licences of Massive for Maya cost $3,500, Massive Jet costs $6,000 and the top-of-the-range Massive Prime costs $16,000.
All prices include one year's maintenance; or there are 30-day rental options available.
Read a full list of new features in Massive 8.0 on Massive Software's website