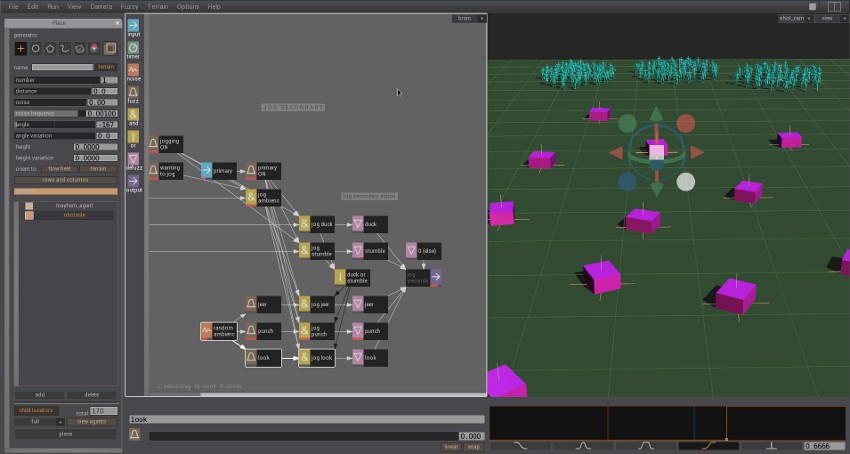 Massive 6.0's new UI. The forthcoming update to the crowd-simulation system also adds the option to place agents in three dimensions, independently of terrain; and support for the Bullet phyics system.
Massive Software has announced Massive 6.0, the latest update to its leading crowd-simulation system, and Massive for Maya, a new dedicated Maya edition.
Features in Massive 6.0 include the option to place crowd agents independently of terrain. The old 2D placement tools become three-dimensional, while the new geometry generator takes any OBJ file and fills it with agents.
The software also now supports the Bullet physics framework.
Other than that, it's largely workflow improvements: a new UI, greater automation when importing actions, and a new channel menu to enable users to construct behaviours with fewer mouse clicks.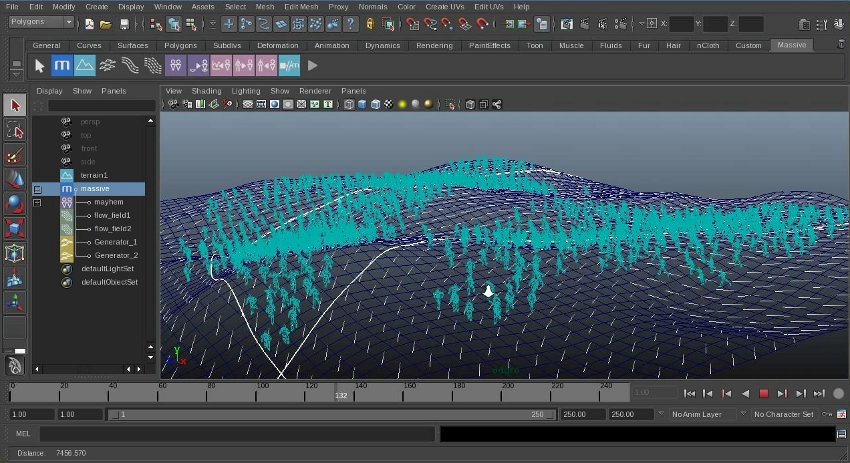 Massive for Maya. The new edition of the software enables artists to create Massive sims directly inside Maya.
The developer has also announced Massive for Maya, a new version of the software that plugs directly into Maya, in the style of newer simulation systems like Miarmy.
The new edition of the software reconstructs all of the standalone edition's scene setup tools, including flow fields, lanes, paint and placement editors, inside Maya.
Simulations can also now be launched directly within Maya, including the option to scrub through sims in the timeline, or edit the movement of individual agents within the graph editor.
The results can be rendered in RenderMan, Air, 3Delight, mental ray or V-Ray.
Massive 6.0 is due to ship in September. The announcement page notes that pricing will be "surprisingly affordable", though as yet, there are no more details on the website.
Read more about Massive 6.0 and Massive for Maya on the Massive Software website
Tags: animation, Bullet physics, crowd simulation, Massive 6.0, Massive for Maya, Massive Jet, Massive Prime, Massive Software, Maya, Miarmy, new features, UI, vfx, visual effects, workflow