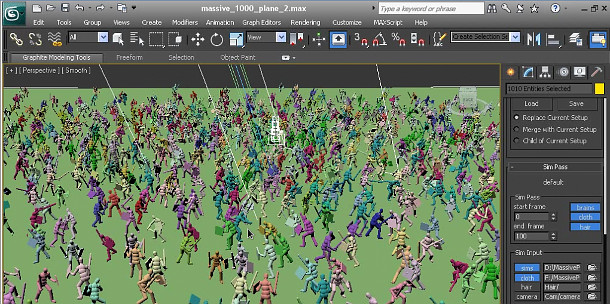 Massive Software is developing a native 3ds Max exporter, to be released shortly after Massive 5.0.
Massive Software has announced Massive 5.0, Bill Desowitz is reporting on his Immersed in Movies blog.
As yet, there is no official announcement on the Massive Software website, so we won't steal too much of Bill's thunder, but apparently, new features in the latest version of the crowd simulator will include "a new modeless manipulator, scrubbing, 3D lanes, and improved Agent Fields".
Performance has been improved by up to 3.9 times on "ordinary PCs", and the developer is working on an importer for 3ds Max, expected to be released "shortly after Massive 5.0 [itself] in the next couple of months".
Read the full story on the Immersed in Movies blog
Read our own story on MassiveImporter from earlier this year
(Domingos Silva's third-party solution for importing Massive crowds into 3ds Max)
Tags: 3D lanes, 3ds max, Agent Fields, crowd simulation, faster, importer, Massive 5.0, Massive Software, MassiveImporter, performance, plugin, speed