Wednesday, February 10th, 2016

Posted by Jim Thacker
Amazon releases free Lumberyard game engine
Amazon has released Lumberyard, a new free AAA game engine. The engine, which is "deeply integrated" with Twitch and Amazon Web Services, is particularly intended for creating multiplayer online games.
Based on the same core technology as CryEngine
Lumberyard, which is capable of deploying to Windows, PlayStation 4 and Xbox One, has pretty much all of the features you'd expect in a modern AAA engine.
That isn't entirely surprising, since it's based on Crytek's CryEngine, used on the developer's own AAA titles, as well as third-party games like Star Citizen.
CryEngine itself remains commercially available, although the news seems certain to further diminish its chances of mass adoption by indie artists – a market in which Unity and UE4 have made most of the running.
Lumberyard is effectively a fork of Crytek's code, with Amazon overhauling some of CryEngine's components, and adding new tools including a new particle editor, a 2D/UI tool, and a cross-platform asset pipeline.
It also adds a new networking layer, GridMate, intended to help build high-player-count multiplayer games.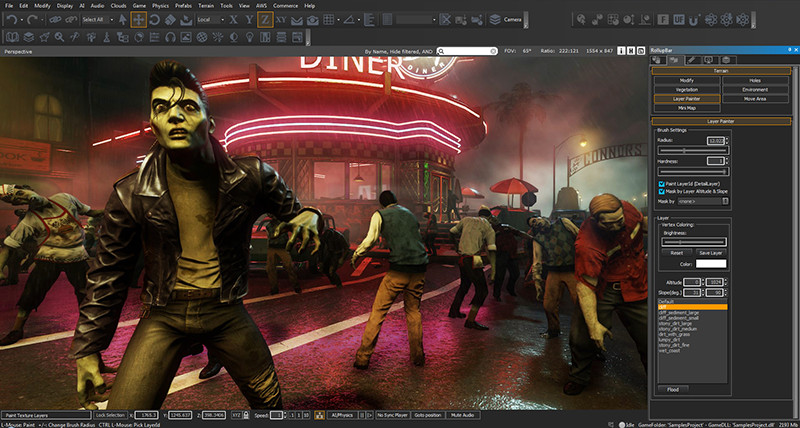 Lumberyard's editor interface. The new engine is based on the same core technology as Crytek's CryEngine, but contains new systems intended to help developers create high-player-count multiplayer online games.
Only licensed for use with Amazon's own web services
That last part is significant, since it's where Amazon hopes to make its money: you can only run Lumberyard games on a local machine, private servers or Amazon's own AWS services.
You can't host online multiplayer games on any rival cloud platform, which includes anything that competes with GameLift, Amazon's new service for deploying and scaling multiplayer games.
Engine-level integration with Twitch
Regardless of your opinion of AWS, a key selling point for Lumberyard looks to be its integration with streaming platform Twitch: an increasingly important promotional outlet for modern games.
Lumberyard enables devs to build games that respond to Twitch chat feedback at an engine level, a system it calls ChatPlay; and will enable viewers to join online games alongside Twitch broadcasters as they stream.
Support for Mac, Linux, VR and mobile platforms in development
Even if you only want to create offline games, Lumberyard looks like a serious rival to Unity and Unreal Engine 4, particularly since it lacks the latter's obligation to pay 5% royalties if a title makes over $3,000 per quarter.
While Lumberyard can't currently deploy to Mac, Linux or mobile platforms, all three are in development, as is support for VR devices.
Pricing and availability
Lumberyard is available for 64-bit Windows 7 and above. It's still officially a public beta. The engine is free to download, including the full C++ source code, although it isn't actually open-source.
Read an overview of Lumberyard on the game engine's website
Read a full list of features in Lumberyard in the PDF release notes
Download Lumberyard
(Inlcludes separate links for demo scenes and asset packs)