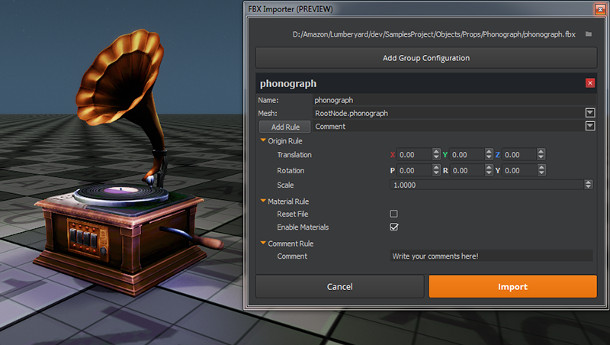 Amazon has released Lumberyard 1.1, the first update to its new free AAA game engine, adding a number of key features, including an FBX importer, integration with Substance Designer and Painter, and mobile support.
The update shipped on Monday, at the start of GDC 2016.
Import assets from DCC tools including Blender in FBX format
Although the news was rather overshadowed by Crytek's announcement that CryEngine, on which Lumberyard is based, is itself now free, Lumberyard 1.1 is actually quite a significant update.
For a start, unless you're a 3ds Max or Maya user, it's the first version you'll be able to test properly.
Whereas the original release required users to export assets from Max or Maya in proprietary file formats before importing them into Lumberyard, Lumberyard 1.1 now includes a proper FBX importer.
At the minute, it only supports single static meshes and single materials – no skinning, skeletons or animation – but it does enable users to import assets created in other software: notably, Blender and Modo.
Integration with Substance Designer and Substance Painter
In addition, Lumberyard is now integrated with Allegorithmic's industry-standard texturing software, Substance Designer and Substance Painter, version 2.0 of which was released at GDC.
Lumberyard's Substance Editor can import procedural materials in Substance format and generate and export static textures for materials. Lumberyard can also modify Substance material properties in real time.
Deploy games to iOS and Android devices
Less directly relevant to artists, but equally crucially for developers, Lumberyard now has intial support for deploying titles to mobile platforms.
Version 1.1 supports iOS devices with an A8 or better processor and the Android-based Nvidia Shield.
The update also introduces a 'component entity system' enabling devs to modify the functionality of the engine without rewriting its core by creating 'slices': assemblies of scene elements and game logic written in C++ or Lua, or scripted visually using Lumberyard's build-in Flow Graph system.
All in all, it's a pretty significant step forward considering that Lumberyard was only released publicly a little over a month ago. Amazon says that it intends to maintain a similar six-to-eight-week update schedule in future.
Pricing and availability
Lumberyard is available for 64-bit Windows 7 and above. It's still officially a public beta. The engine is free to download, including the full C++ source code, although it isn't actually open-source.
Read a full list of features in Lumberyard 1.1
Tags: Allegorithmic, Amazon, Android, CryEngine, crytek, development environment, download, FBX, free, Game Engine, GDC 2016, importer, iOS, Lumberyard, Lumberyard 1.1, mobile, Substance, Substance Designer, Substance Painter