Wednesday, March 16th, 2016

Posted by Jim Thacker
Allegorithmic releases Substance Painter 2
Allegorithmic has released Substance Painter 2, a significant update to its 3D texture painting software, integrating Nvidia's Iray renderer and adding new Smudge and Clone tools.
The company has also launched Substance Store, a new online marketplace for commercial Substance Painter assets. Both the new website and Substance Painter 2 itself were launched to coincide with GDC 2016.
Integrated Iray rendering
The main new features in Substance Painter 2 are designed to minimise the time artists need to spend in other software while creating game assets.
Foremost among those is Iray, Nvidia's GPU-based renderer, which has now been integrated into the software, reducing the need to export assets to third-party tools during look development.
With Iray already integrated into 3ds Max, and available as a Maya plugin, the look of assets should remain consistent between Substance Painter and the software in which they were created.
The trailer video (above) also promises "1:1 game engine export" – presumably a 1:1 correspondence between the appearance of assets within Substance Painter and game engines.
The video namechecks Unreal Engine, Unity and Lumberyard, along with real-time model viewing and rendering toolkit Marmoset Toolbag, although there's no mention of other engines, like Autodesk's Stingray.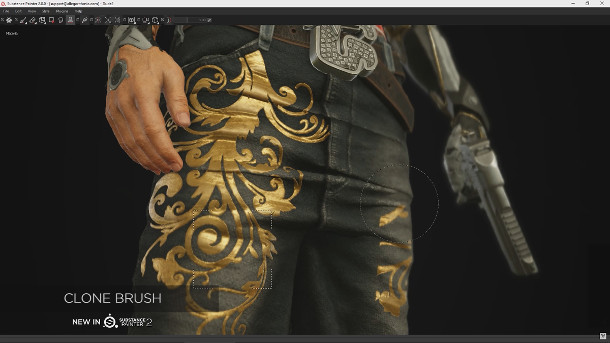 New Clone and Smudge tools, Smart Masks system and viewport updates
Other new features in Substance Painter 2 include fairly self-descriptive Clone and Smudge tools.
There is also a new Smart Masks system for "creating and using your own mesh-adaptive mask presets", which you can see briefly at 00:45 in the video above.
The software can also now "chain and composite substances" to create more complex procedural materials.
In addition, Substance Painter's viewport has been enhanced with new Fullscreen and Orthographic modes and a Perspective Field of View control, plus support for 3D mice when navigating assets.
The software also now links to 3D model sharing platform Sketchfab and portfolio site ArtStation directly through the viewport, "making the portfolio creation process simple".
New Substance Store online marketplace for commercial assets
Outside the software, Allegorthmic has launched Substance Store, a new "curated" online marketplace for assets like materials, brushes, meshes and HDRIs.
As well as individual assets, the site sells themed 'Moodpacks' of models, tools, brushes and lighting rigs, themed around a character type: current examples include an alien, a soldier and a medieval knight.
The new site forms a commercial counterpart to Substance Share, which is intended for free assets.
Pricing and availability
Substance Painter 2 is available now for Windows and Mac OS X. Allegorithmic's press release also lists the software as now being available on Linux, although there's no Linux download on its website yet.
New Indie licences of the software, intended for artists and studios earning less than $100,000 per year, cost $149; full Pro licences cost $590.
Allegorithmic is offering a free Moodpack as sold for $49 to anyone buying Substance Painter 2 before 15 April.
Read a full list of new features in Substance Painter 2 on Allegorithmic's website