Friday, March 7th, 2014

Posted by Jim Thacker
Allegorithmic announces Substance Painter
Originally posted on 5 December 2013. Scroll down for updates.
Allegorithmic has announced Substance Painter, a new texturing tool for games artists that combines the power of its procedural texturing package, Substance Designer, with the 3D painting capabilities of an app like Mari.
As well as enabling artists to create game-ready textures by painting directly onto a 3D model, the software includes a number of innovative features, including the option to edit the shape of any previous brush stroke.
Users can even paint in grime and damage procedurally, using a system of particle brushes.
Bringing VFX workflow to games texturing
Aimed at less technically minded artists who find Substance Designer's node graph offputting, Substance Painter provides a workflow that will be familiar from VFX-focused 3D paint tools like Mari and BodyPaint 3D.
As with the recently released Substance Designer 4, the results are displayed in the viewport with a physically based shader system, enabling users to paint in context, complete with image-based lighting.
Substance Painter will also offer a live link with Substance Designer, which can be used to create procedural brushes for use in the software, supporting "shared asset libraries, deep painting and compositing integration".
Equally importantly for games work, users can opt to unify a set of maps into a single layer and paint on them all simultaneously: a 'paint once, generate multiple maps' philosophy.
Edit existing UVs and brush strokes at any point during painting
Substance Painter also features a couple of interesting toolsets designed to make workflow more flexible.
An automatic UV reprojection system enables users to "modify UVs whenever [they] feel like it" and have the software "reproject everything [they've] already painted".
In addition, every brush stroke an artist makes is stored as an editable curve, enabling its shape to be adjusted by pulling control points, even after other strokes have been applied on top.
Other parameters remain editable, too: in the demo we saw, Allegorithmic edited the shape of a stencil applied at the start of a painting session, radically changing the look of the finished texture.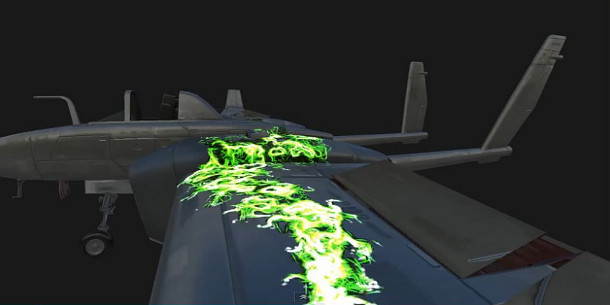 Substance Painter's system of particle brushes enables users to paint procedural effects like dirt, rust and surface wear directly onto a model – or even grow vegetation directly over its surface, as in this example.
Paint in dirt and damage procedurally
But Substance Painter's most innovative feature is its system of particle brushes, based on technology developed for games middleware PopcornFX.
The toolset enables artists to create a wide variety of effects procedurally – including dirt, cracking, corrosion and impact damage – simply by painting them onto the surface of the model.
It's a system we can even imagine appealing to many VFX artists – although, as Allegorithmic points out, Substance Painter's expected maximum 4K texture resolution will probably be the sticking point there.
Pricing and availability
Substance Painter is expected to enter closed alpha later this month, with an open beta in January or February. The software will be released initially for Windows and Mac OS X, with a Linux release to follow.
Updated 7 March: Substance Painter is now in open beta. You can get a free trial from Allegorithmic's site. Pricing has been confirmed at $590 for the commercial edition and $149 for the non-commercial edition.
You can also buy the non-commercial version for half price via Steam during the beta period – which is also relevant to professional artists, since you can then upgrade to the pro edition, effectively saving $74.
And if you buy the Steam edition, you can also unlock a bunch of achievements as you use the software, as if it were a videogame. Cool, or just odd? You decide.
Read more about Substance Painter on Allegorithmic's website