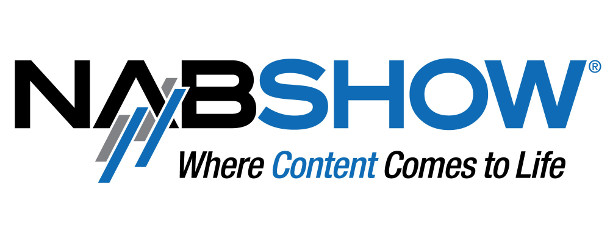 The broadcast industry's premier show took place in Las Vegas from 11-16 April. Below, we round up the key products announced at NAB 2015, from full 3D and compositing packages to plugins and pipeline tools.
Despite its size – around five times that of Siggraph – NAB never used to be as big a deal for CG artists. Our 2013 show round-up namechecks just four products, one of which is a plugin. How times have changed.
This year, both Autodesk and Adobe timed their annual updates to their entertainment products to coincide with NAB 2015, while The Foundry and Blackmagic Design previewed updates to their compositing tools.
Not to be outdone, the developers of plugins and support tools also rolled out new products, and there was even a significant new industry standard, in the shape of AMPAS's ACES colour-management system.
To mark the occasion, we've produced a round-up of the key software products to be announced at the show, including several we didn't manage to cover last week.
We won't be covering editing, transcoding, DI or real-time graphics tools here, but if you want to see what went on in those market sectors, NAB's website has a full list of exhibitors, broken down by product category.
https://www.youtube.com/watch?v=QhVTb7plNNU
3ds Max 2016: a well-rounded release
Autodesk has showed off updates to Flame at NAB in the past, but this year it went the whole hog, timing the announcement of its full range of 2016 Media and Entertainment products to coincide with the show.
Under the stewardship of new product manager Eddie Perlberg, 3ds Max got its strongest update in years, bringing together the old classic and Design editions of the software into a single unified whole.
The headline feature was new visual programming system MCG (Max Creation Graphs) – which, despite everyone's first thought on seeing it, is not actually an implementation of Sofimage's ICE system inside Max.
However, there were also important under-the-hood improvements, including an overhaul of the XRef object-referencing system, and new functionality in the implementations of Alembic and OpenSubdiv.
Throw in a new Chaos Group-developed physical camera, Maya-style dual quaternion skinning, and a few wild cards like multi-touch support, and you have a pretty rounded release.
It wasn't enough to satisfy all the critics, but the comments on sites like CGPress – whose users have been sharply critical of recent previous releases – were overwhelmingly positive.
Read our detailed story on 3ds Max 2016
Maya 2016: extended, deepened and 'humanised'
As Autodesk's de facto games and VFX solution, Maya already had much of the functionality introduced in 3ds Max 2016, but Maya 2016 was another rounded release, extending its strengths and introducing new toolsets.
In the latter category was a new Mudbox-derived brush-based sculpting toolset, tailored towards finalling models and sculpting blendshapes, rather than sculpting complex assets from scratch.
In the former, the Bifrost fluid simulation and XGen instancing systems introduced in previous releases got deeper, less generalist-focused implementations; plus new foam and gasesous fluids systems for Bifrost.
Viewport performance, a consistent focus in recent releases, was improved again, particularly for character animation work: Autodesk now describes performance as good with rigs of up to "TV quality".
And the UI and built-in editors were overhauled: the first fruits of 'Project H', Autodesk's ongoing effort to 'humanise' Maya workflows, in part to appease users being migrated over from the now-defunct Softimage.
Read our detailed story on Maya 2016 and Project H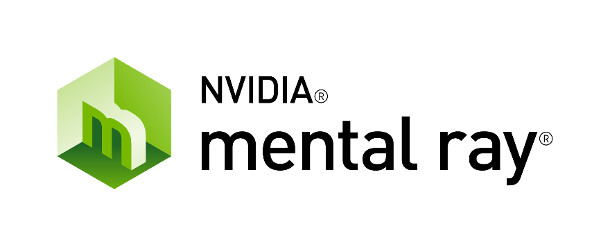 mental ray 3.13: the sign of things to come?
Nvidia's mental ray renderer, included with both 3ds Max and Maya, also got a significant update, including a new GI engine, a one-click AO pass, support for UDIM and deep compositing, and improved Alembic support.
It will be interesting to see if breadth of the new features is typical of future releases: as part of Maya's new 'open rendering policy', mental ray no longer comes installed with the software by default, forcing it to compete on a more even playing field with renderers like V-Ray, Arnold and Redshift.
Read our detailed story on mental ray 3.13
Mudbox and MotionBuilder 2016: little to report
Autodesk's other 3D tools saw far fewer changes. The Mudbox product page lists just three new features: two new falloff types for the sculpting brushes, and new options in the Relax and Grab brushes.
And while MotionBuilder has received updates, primarily to the Story tool, you have to dig into the help pages to find them: none of the changes seem to have been deemed major enough to list on the product page.

New features in Flame 2016: a video posted by fxguide.
Flame 2016 and Flame Premium 2016: new look dev and workflow options
Flame artists fared a bit better, particularly when it came to look development. Lightbox, a new GPU-accelerated GLSL shader-creation toolset, is now available within Action, as are the existing Matchbox shaders.
Along with a list of smaller productivity updates, a new context-based desktop workflow should make the individual toolsets more globally accessible, and interactive performance has been improved.
The new planar tracker and tighter integration with the Shotgun production-tracking platform, introduced in the 2015 Extension release, have also been rolled out to non-subscribers.
Smoke seems to be continuing on the two-year update cycle established over the previous two releases, so there were no other changes in Autodesk's finishing tools at this year's show.
Read a full list of new features in Flame 2016

The Foundry's NAB 2015 livestream. New features in Nuke Studio are covered in the opening presentation; coverage of the company's R&D work in virtual and augmented reality starts at 03:33:30.
Nuke Studio: enhanced layering and audio editing
Elsewhere in the finishing and editorial market, The Foundry announced an 'enhanced' edition of Nuke Studio – that is, a free interim update for existing users – due for release later this summer.
Changes include support for an unlimited number of overlay tracks on the timeline, which should help to open up layer-based workflows for users uncomfortable with Nuke's node-based approach.
Audio editing is being enhanced, with the option to view waveforms and perform simple fades in the timeline. The timeline will also display shot review information; and native support for stereo playback is being added.
Read our detailed story on the new features in Nuke Studio
Nuke Non-Commercial: now available to download
The Foundry also showed off its R&D work for virtual reality – fascinating, but not yet confirmed as part of a commmercial release – and shipped Nuke Non-Commercial: the long-awaited new free edition of the software.
It provides access to all of the toolsets of Nuke Studio – and unlike the PLE edition it replaces, output isn't watermarked – but the fairly lengthy set of restrictions has caused some grumbling on user forums.
Read our detailed story on the new Nuke Non-Commercial edition
Fusion 8: an ongoing program of modernisation
In part, that's due to the competition. Between Nuke Non-Commercial being announced and finally shipping, Blackmagic Design released a free commercial edition of Fusion 7 with a higher maximum output resolution.
Although it didn't announce any actual new features, Blackmagic's NAB announcements hinted at a continuing program of modernisation for Fusion, which it acquired from original developer eyeon Software last year.
Fusion 8 will be available on Mac and Linux as well as Windows when it ships later in 2015.

New features in DaVinci Resolve 12. Video created by No Film School.
DaVinci Resolve 12: a fully fledged NLE as well as a grading system
How quickly Blackmagic Design can develop the products it acquires is illustrated by DaVinci Resolve, version 12 of which was announced at NAB.
Originally a specialist colour grading system, Blackmagic has steadily transformed it into a far more affordable and fully featured product, adding a complete nonlinear editing toolset – now with multicam support.
The update also introduces a new audio engine, a new 3D perspective tracker, and a new 3D keyer; extends the media management tools; and revamps the user interface, improving scalability to HiDPI displays.
Read our detailed story on DaVinci Resolve 12
Premiere Pro CC 2015: a grading system as well as a NLE?
While Blackmagic was busy adding editing tools to a grading system, Adobe was doing the reverse: the upcoming 2015 Creative Cloud release of Premiere Pro will add new colour tools to the nonlinear editor.
Adobe pitches the its Lumetri Color panel as "combining the power of SpeedGrade with the accessibility of Lightroom". It includes a new three-way colour corrector, plus rather nice Curves and Hue/Saturation controls.
Other new features include a new Morph Cut to smooth jump cuts in talking head shots, using facial tracking and frame interpolation; and better interoperability with Audition and the new Premiere Clip mobile app.
Read a full list of features in Premiere Pro CC 2015
After Effects CC 2015: improved interactivity, new preview of Character Animator
Adobe also announced an update to After Effects. The changes divided between new functionality and under-the-hood performance, with the software now rearchitected to perform rendering and UI updates separately.
This makes it possible to make changes to a project in real time without interrupting a preview, and should improve responsiveness all round. Adobe also promises ongoing improvements in subsequent releases.
In terms of new functionality, the 2015 release adds a new automated face tracker; and comes installed with a preview of Character Animator, Adobe's new standalone tool for creating 2D animations.
Previously codenamed 'Project Animal', Character Animator lets users import a character as a 2D source image, rig it, then puppet the animation in real time using the mouse and keyboard shortcuts.
Data from AE's face tracker can be used to automatically generate facial animation, complete with lip-sych.
After Effects product manager Todd Kopriva described it as "an utterly delightful creative application" – and if demos like the one above are representative of the toolset, it's hard to argue.
Read our detailed story on After Effects CC 2015 and Character Animator
Audition CC 2015, Media Encoder CC 2015 and SpeedGrade CC 2015
Adobe also announced updates to its other professional video products: fairly substantial for Audition; smaller in the cases of Media Encoder and SpeedGrade.
At least Media Encoder's new Time Tuner feature, which automatically removes or interpolates frames to change the length of a clip by up to five per cent, looks cool; SpeedGrade users were treated to a 'what's new' announcement that primarily advertised the new grading tools Adobe's other products.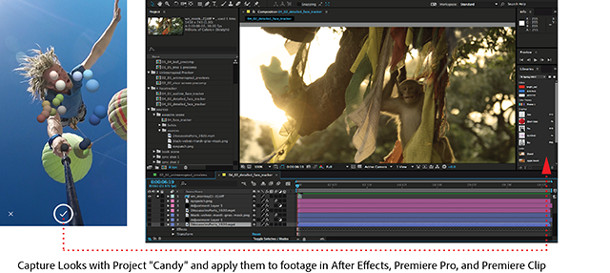 Project Candy: capture grading information on your mobile phone
As well as Premiere Pro's Lumetri panel, that included Project Candy: a new mobile technology that will enable users to capture colour grading Looks to use in Premiere or After Effects using their phone camera.
The midtone and overall light intensity of the look can be edited manually using sliders, with the results previewed as a colour grade on a user-selected reference image or video clip.
Read our detailed story on Project Candy

mocha Pro 5: tighter host integration, improved pipeline support
Imagineer Systems – recently acquired by Boris FX – previewed mocha Pro 5, the latest version of its planar tracking software, at NAB 2015.
We haven't been able to find a video or complete feature list online, but the official news release summarises the feature highlights as follows:
mocha plug-in: New ability to launch mocha Pro directly from the host application timeline. Includes Avid AVX, Adobe After Effects & Premiere, and OFX host support.
New Effects Panel with integrated tools for keying, grain generation, sharpening, skin smoothing, and more.
New tools to improve mocha Pro's planar tracking, rotoscoping, and object removal features.
Python Module: Now Python scripting is fully exposed to provide deep scripting integration for VFX studio pipeline customization.
New Exports: New export formats include Silhouette project support and improved Fusion support.
Boris Continuum Complete 10: now powered by mocha
Boris FX also announced an update to its own flagship product, Boris Continuum Complete: one that integrates it more tightly with its newly acquired sister product.
Included in many of the individual tools within the collection of editing and compositing plugins, the PixelChooser now uses mocha's technology to motion track spline masks and screen inserts.
mocha technology also powers Beauty Studio: a new "skin smoothing algorithm for digital makeup".
Other new tools include Title Studio, an OpenGL-accelerated titling and motion graphics tool; and the self-explanatory Dropout Fixer and Object Remove.
The update will also introduce several new transitions and effects; and support for Nuke and Fusion, alongside the existing Adobe, Apple, Autodesk, Avid and Sony Vegas host platforms.
Read a fuller list of new features in Boris Continuum Complete 10
Shotgun 6 and RV 6: tighter integration
In the world of support tools, Autodesk's recent acquisition of Shotgun Software and Tweak Software brought their respective flagship products closer together.
Users of Shotgun 6 can now launch the RV 6 image viewer directly from within the production-tracking and asset-management system.
A single monthly subscription gets you access to both tools; each of which receives a few individual updates in the version 6 release.
Read our detailed story on Shotgun 6 and RV 6
cineSync Pro: new built-in Shotgun Review portal
Another tool to get tied in more tightly with Shotgun was cineSync, Cospective's remote shot-review system.
Replacing the old separate integration package, the new integration comes bundled with the Pro edition of the cineSync, and builds a dedicated Shotgun Review window (shown above) into the software.
Read more about the new integration between cineSync and Shotgun
CinePlay 1.2: support for image sequences and annotations
Digital Rebellion showed off a sizeable update to its CinePlay professional media player at the show, overhauling the core architecture, and adding support for playing back image sequences.
The 1.2 update also adds support for annotations and integrates CinePlay further with Kollaborate, the fimr's own cloud-based shot-review platform, including the option to host synced sessions on Kollaborate.
Read more about the new features in CinePlay 1.2
ftrack 3.2: tighter Nuke Studio integration and new Actions system
Elsewhere in the world of production management, ftrack announced that version 3.2 of its eponymous cloud-based platform will feature tighter integration with Nuke Studio (shown above) and a new Actions system.
Scriptable in Python, Actions are user-created macros to add custom functionality or automate repetitive tasks.
They're context-sensitive, so users only see Actions appropriate to their job role and current task; and studios will be encouraged to share them publicly online to create a plugin community.
Read more about ftrack on the product website
Deadline 7.1: better job scheduling and reporting, more supported software
Thinkbox Software launched Deadline 7.1 in beta back in February, but the forthcoming update to the renderfarm-management system was also on show at NAB.
New features include improved logic for balanced job scheduling; additional reporting from render slaves; improved font synchronisation; and the option to 'protect' render jobs to restrict who can delete them.
The update also adds support for the latest versions of its supported software – which now includes Media Encoder, V-Ray for Nuke, new open source compositing package Natron, and a range of AEC tools.
Read a full list of new features in Deadline 7.1
ACES 1.0: not launched at NAB, but present in spirit
Also new in Deadline 7.1 – and in many of the other tools in this round-up, including Maya 2016 and Flame 2016 – is support for ACES, AMPAS's new open, device-independent color management system.
Officially launched at the start of the month, ACES is intended to provide a standard for colour reproduction throughout the film production pipeline, from image capture to editing, VFX, mastering, playback and archival.
It includes a standard Color Transformation Language (CTL) and Common LUT Format (CLF), designed to streamline post-production on movies shot in multiple digital formats and worked on by multiple VFX houses.
ACES contributors include all of the leading tools vendors, and many of the major VFX and animation studios.
Read more about the ACES colour-management system on the AMPAS website
Have we missed any other interesting new products from NAB 2015? Nominate them in the comments below.
Tags: 3d, 3ds Max 2016, ACES 1.0, Adobe, After Effects CC 2015, AMPAS, animation, asset management, Audition CC 2015, autodesk, best software, Blackmagic Design, Boris FX, broadcast, Character Animator, CinePlay 1.2, cineSync Pro, color correction, color management, compositing, Continuum Complete 10, Cospective, DaVinci Resolve 12, Deadline 7.1, Digital Rebellion, event round-up, Flame 2016, Flame Premium 2016, ftrack, ftrack 3.2, Fusion 8, grading, Imagineer Systems, iray 4, Maya 2016, Media Encoder CC 2015, mental ray 3.13, mocha Pro 5, MotionBuilder 2016, Mudbox 2016, NAB 2015, new software, new tools, nuke, Nuke Non-Commercial, Nuke Studio enhanced, pipeline tools, playback, plugins, Premiere Pro CC 2015, production tracking, Project Candy, renderfarm management, RV 6, shot review, Shotgun 6, Shotgun Software, show round-up, SpeedGrade CC 2015, The Foundry, Thinkbox Software, visual effects