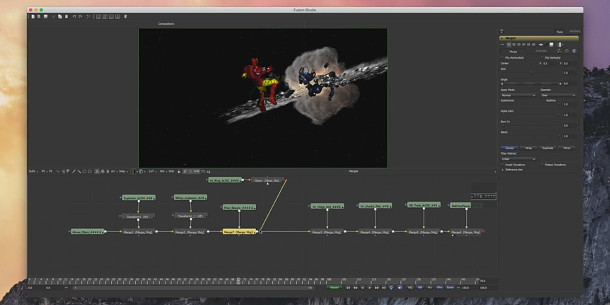 A still from Blackmagic Design's teaser for the OS X version of Fusion, due to go on show at NAB 2015. The video itself is non-embeddable, but you can watch it in full on Blackmagic Design's website.
Originally posted on 2 April. Scroll down for details of Fusion 8.
Blackmagic Design has posted a 30-second teaser of Fusion, its formerly Windows-only compositing package, running on a Mac. According to a title card at the end, the OS X version will be on show at NAB 2015.
The firm acquired Fusion from original developer eyeon Software last year, and has since been marketing it aggressively to a wider market, cutting its price to $995 and releasing a new free edition.
Not an April Fool?
The video was posted yesterday, which was, of course, 1 April, but we see no reason to think it's an April Fool – CEO Grant Petty confirmed that a Mac version is in the works in a forum post last year.
At the time, Petty said: "Our plan is to allow anyone who purchases the Windows version of Fusion 7 Studio to use their dongle on the Mac and to be able to download that Mac OS X version of Fusion free of charge."
The video shows the commercial Studio edition of the software, but we'd assume the free version of Fusion will also be released on OS X. As for a release date, we guess we'll have to wait for NAB later this month.
And for anyone wondering about eyeon's old Linux edition of the software, the issue is discussed in this thread on the Blackmagic Design forum.
Updated 14 April: Blackmagic has announced that Fusion will soon be available for Linux as well as Mac.
With the upcoming release of Fusion 8, both the free and $995 Studio editions will be available for Windows, Mac OS X and Linux. The update is expected to ship in Q3 this year, and will be free to registered users.
Current Fusion 7 Studio customers will be able to use their dongles on the Mac and Linux versions, and projects created with Fusion 8 will be compatible across all three platforms.
Blackmagic's news release doesn't list any of the actual features on Fusion 8. We'll update if we hear more.
Watch Blackmagic Design's teaser for Fusion 7 on OS X
Read more about Fusion on Blackmagic Design's website
Tags: Blackmagic Design, compositing, Fusion, Fusion 7, Fusion 8, Linux, Mac, NAB 2015, OS X, sneak peek, teaser, video