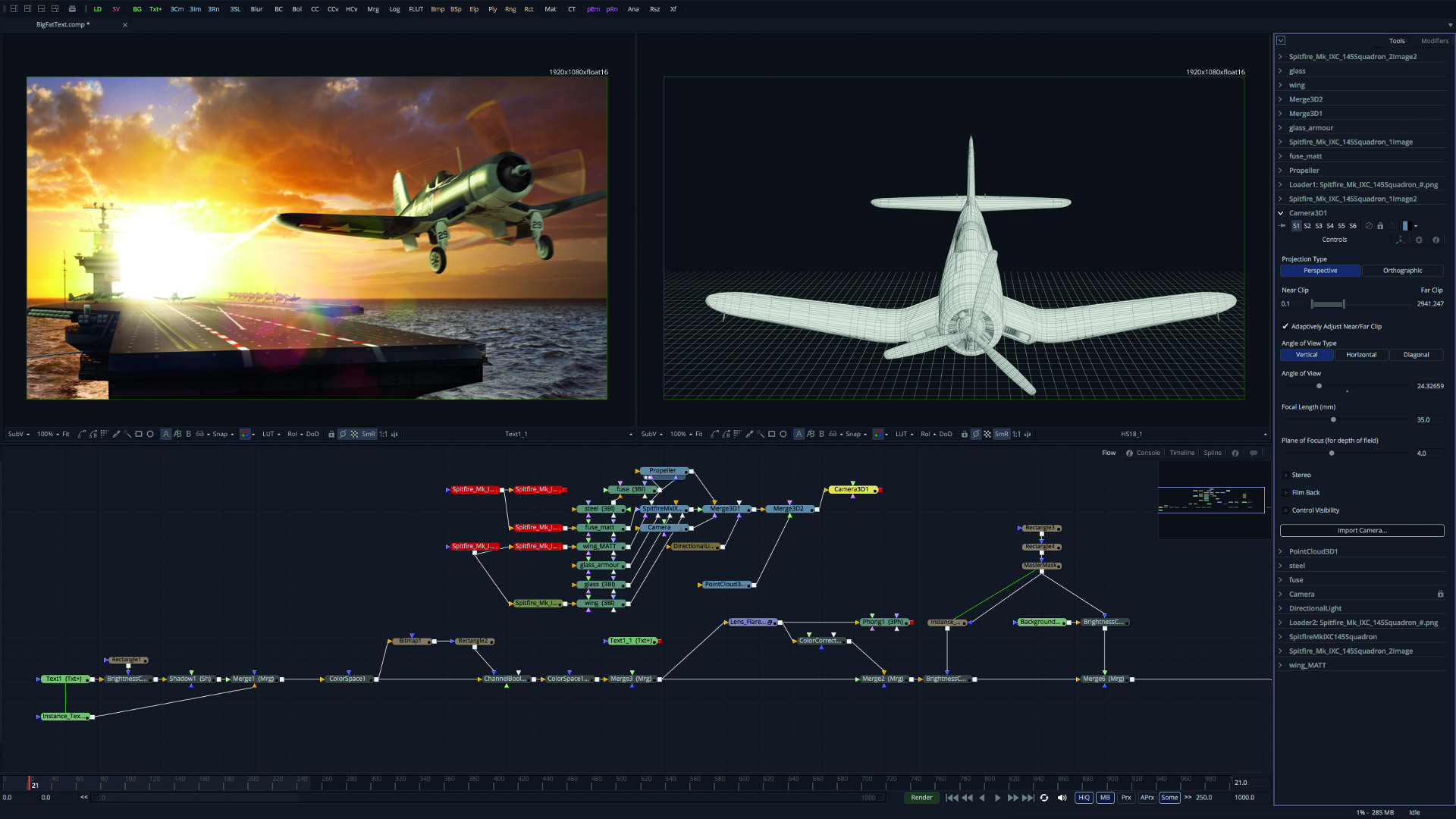 Fusion 8's UI now sports a darker, slightly purplish-grey background. The formerly Windows-only compositor, now available in free public beta, has also been ported to OS X. Click image to view full size.
Blackmagic Design has released a public beta of the free edition of Fusion 8, its first major update to the node-based compositing package since acquiring it from original developer eyeon Software last year.
As well as a true 3D compositing environment, Fusion provides artists with a range of supporting toolsets, including tracking, rotoscoping, keying, titling and particle effects.
Mac support and a new UI, but no major new features this time round
Fusion 8 adds a new OS X edition to the formerly Mac-only application, and reworks the UI slightly – you can see the new design in the image above – including a new darker background colour.
And that's essentially it: as far as we can see, there's no public changelog, but Blackmagic Design has confirmed to us that there are no major new features.
"Because it was written specifically for Windows, bringing Fusion to Mac OS X wasn't just a simple port. Our engineering team has been working tirelessly to rewrite parts of the Fusion code base," said CEO Grant Petty.
Pricing and availability
The free edition of Fusion 8 is available now in public beta, for Windows and Mac OS X.
As you might expect with a first cross-platform release, quite a few bugs are being reported in Blackmagic's Fusion 8 beta forum, so it's worth checking that out before you install.
A beta of the $995 Fusion 8 Studio, which raises the maximum output resolution from Ultra HD and adds optical flow and stereo compositing toolsets – and which will also introduce Linux support – will be available "soon".
Read Blackmagic Design's official news announcement for Fusion 8
Read more about Fusion on Blackmagic Design's website
(Includes download links for Fusion 7 and 8)
Tags: 3D compositing, beta, Blackmagic Design, compositing, download, free, Fusion, Fusion 8, Fusion Studio, keying, Linux, Mac, new features, OS X, price, release date, retiming, rotoscoping, tracking, Windows