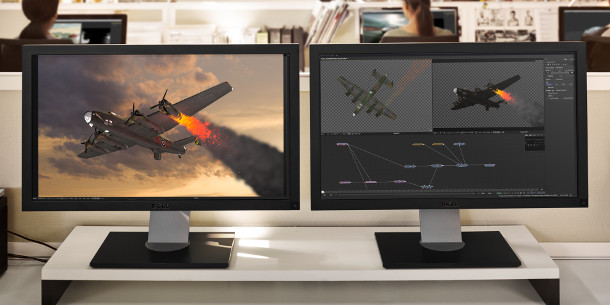 Blackmagic Design has released Fusion 8.2, the latest version of its 3D compositing software. The update doesn't add major new features, but it makes the software available on Linux, as well as Windows and OS X.
The release, which is still officially a public beta, was announced at Siggraph 2016.
Free unlimited render node licence for Fusion 8.2 Studio users
The release of Fusion on Linux removes a critical obstacle to the adoption of the software at larger visual effects facilities with Linux-based render farms.
To sweeten the deal, the full version of Fusion 8.2, Fusion 8.2 Studio, features a free render node license that can be installed on an unlimited number of render nodes.
Targeting new users at studios of all sizes
The announcement continues Blackmagic Design's aggressive promotion of the software, which it acquired when it bought original developer eyeon Software in 2014.
One of the company's first decisions on taking ownership of Fusion was to cut the price of the full version of the software and release a free edition that can be used for commercial work.
"Fusion 8.2 on Linux gives visual effects and motion graphics artists working in facilities of any size a massive tool set," said Grant Petty, CEO of Blackmagic Design CEO.
"The most exciting part is that Linux users can download it today free! Then, once our customers grow, they can then purchase Fusion 8.2 Studio without the cost of ongoing subscriptions or render licensing."
Pricing and availability
Fusion 8.2 is available now as a public beta for Windows, Linux and Mac OS X. You can see installation advice for Linux users in this thread on Blackmagic Design's forum.
The free edition of Fusion 8.2 is limited to UHD-resolution output, and lacks the advanced stereoscopic and production-tracking tools of the paid edition, along with the option to use third-party OpenFX plugins.
The paid edition, Fusion 8.2 Studio, costs $995 per licence. Multiuser licences cost $8,955 for 10 users, $17,895 for 20 users, and $44,495 for 50 users.
The update is free to anyone with a Fusion Studio version 7.7 dongle or higher.

Updated 14 September 2016: Fusion 8.2 and Fusion 8.2 Studio are now officially shipping.

Read more about Fusion 8.2 for Linux in Blackmagic Design's press release
Download Fusion 8.2 for Linux from Blackmagic Design's website
Tags: Blackmagic Design, compositing, effects, free, Fusion, Fusion 8.2, Fusion 8.2 Studio, GPU-accelerated, new features, particle systems, rendering, rotoscoping, SIggraph 2016, unlimited network rendering, unlimited render nodes