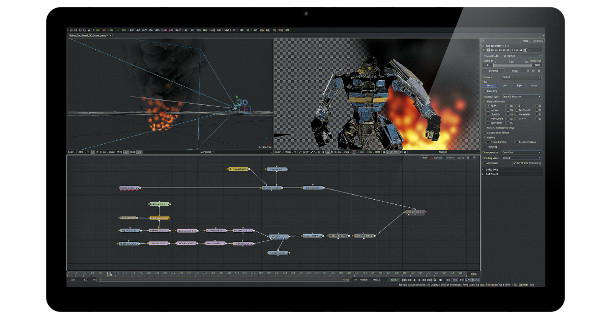 Blackmagic Design has released Fusion 9 Studio, a major update to its compositing software, adding a new VR toolset, new planar and camera trackers, a new delta keyer, and a new multi-user collaboration system.
The firm has also cut the price of Fusion Studio aggressively, from $995 to just $299 – a price that now also includes unlimited network rendering. The news was announced at Siggraph 2017.
Making Fusion a mass-market product?
When Blackmagic Design bought original Fusion developer eyeon Software in 2014, many speculated that it would do the same thing to the product as it had to DaVinci Resolve, which it acquired five years earlier.
Resolve went from being a specialist, highly priced turnkey colour grading system to a disruptive mass-market software product with a much broader feature set.
However, while Blackmagic did almost immediately cut the price of Fusion from $2,495 to under $1,000, and introduce a very capable free edition of the software, after that, things went quiet.
Most of the early development work went into making the software cross-platform – it now runs on Windows and Linux as well as the original Windows – and overhauling the user interface.
Now, however, with the groundwork out of the way, the firm looks ready to make good on that early promise.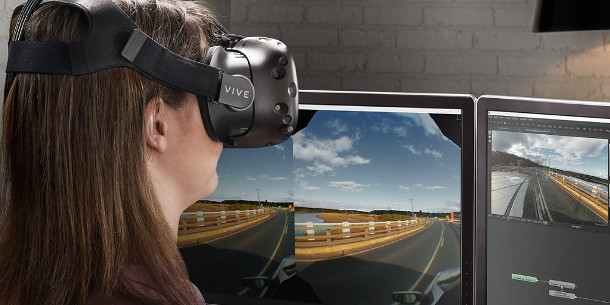 New virtual reality toolset
One key addition in Fusion 9 Studio is the GPU-accelerated new virtual reality toolset, which is geared towards both creating 360-degree video and stereoscopic VR content.
It includes a "full 360-degree true 3D workspace", making it possible to view VR content directly within Fusion while wearing an Oculus Rift or HTC Vive headset.
We don't have a lot of information about which of Fusion's tools can be used on VR content, but when asked how the functionality compares to Nuke's Cara VR or After Effects' new Skybox Suite, Blackmagic told us:
"There are already many tools [for stitching 360-degree footage], but what studio ask for is the fixing and creative tools that are the focus of Fusion 9."
New planar and 3D camera trackers, new delta keyer
The update also introduces two new tracking toolsets, both written from scratch: a planar tracker for simple sign replacement work or driving roto mattes, and a new 3D camera tracker.
The latter supports lens metadata, and automatically calculates lens focal length and distortion.
Supplementing Fusion's existing Primatte and Ultra Keyer colour keying systems, Fusion 9 Studio also introduces a new delta keyer with a "complete set of matte finesse controls".
Designed to create "the cleanest possible keys while preserving fine detail", the toolset is supplemented by a new clean plate tool for smoothing out colour variations on real-world blue and green screens.
Studio Player: a new integrated shot review and collaboration system
Blackmagic Design has also dropped Generation, its legacy standalone asset-management and collaboration system, in favour of Studio Player, a new toolset integrated directly into Fusion Studio.
It includes a playlist, storyboard and timeline for shot playback; a bin server for storing shared assets and tools centrally; version control functionality; and an annotation system for shot review.
For large companies, Studio Player can output via Blackmagic DeckLink and UltraStudio devices for screening in theaters; and supports remote synchronisation for use across multiple locations.
Expanded support for GPU acceleration, support for DNxHR
Other changes include greater support for GPU acceleration. We don't have details of which tools have been added, but the work is still OpenCL-based, meaning that it should support both Nvidia and AMD GPUs.
Fusion 9 Studio also supports a number of new input and output formats: notably DNxHR, Avid's new-ish codec designed for work on footage at 2K resolution and above.
Price cut to just $299, including unlimited network rendering
Last, but not least, the update further reduces the price of Fusion Studio: from $995 to just $299, which Blackmagic Design describes as being "less than most annual cloud-based subscription plans".
While that isn't true of all Fusion's competitors – you can subscribe to After Effects alone for just under $240/year – it's certainly true of subscriptions to Adobe's entire suite of creative tools.
It's also less than even a quarterly rental of Nuke, and less than a tenth of the cost of buying Nuke outright.
On top of that, Blackmagic Design has also just introduced unlimited free network rendering, making it possible for Fusion Studio users to install the render engine on as many nodes as they like.
Pricing and availability
Fusion 9 Studio is available now for Windows, Linux and Mac OS X. New licences cost $299.
The free edition, Fusion 9, is also available for Windows, Linux and Mac OS X. It's restricted to Ultra HD output, and lacks some of the new features of Fusion 9 Studio, including Studio Player, the new planar and camera trackers, and the unlimited network rendering; along with the existing optical flow, stereo and retiming tools, and support for OpenFX plugins. Still a very capable compositor, though.
Read more about the new features in Fusion 9 and Fusion 9 Studio on Blackmagic Design's website
Tags: 3D compositing, After Effects, Blackmagic Design, camera tracker, collaboration, compositing, delta keyer, effects, Fusion, Fusion 9, Fusion Studio, Fusion Studio 9, generation, keyer, motion graphics, multi user, new features, node-based, nuke, planar tracker, price, price cut, price drop, Siggraph 2017, Studio Player, unlimited network rendering, virtual reality, VR