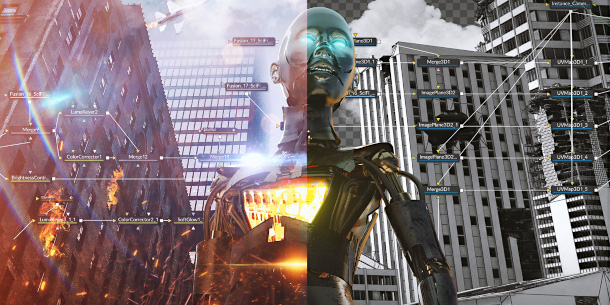 Originally posted on 1 March 2021. Scroll down for news of the 17.1 update.
Blackmagic Design has released Fusion Studio 17.0, the latest version of its node-based compositing app.
The free update adds a new animation curves modifier for retiming animations, a GPU-accelerated 2D shapes toolset for motion graphics work, and the option to bookmark views of complex node graphs.
New animation retiming and motion graphics tools
The new features in Fusion Studio 17.0 are also included in DaVinci Resolve 17.0, the latest version of Blackmagic Design's colour grading, editing and post-production tool, which has also just shipped.
As a result, the feature descriptions on the What's New page on Blackmagic's website are written for the integrated version of the Fusion toolset within DaVinci Resolve, and include changes unique to it.
However, changes common to both editions include a new set of animation curve modifiers, making it possible to set up Fusion to retime animations automatically when the duration of a composition changes.
The update also adds a waveform display for audio playback, helping to time animations more precisely.
Motion graphics artists get "initial support" for a 2D vector shape toolset, with a range of base shapes, Boolean operators for combining shapes, and grid, jitter, offset and combine controls.
The shapes are GPU-accelerated, and can also be used as particle sources.
Workflow improvements include the option to bookmark views in the node editor, helping to navigate large node graphs; support for vertical editor layouts; and the option to customise the toolbar above the editor.
Updated 10 March 2021: Blackmagic Design has now released Fusion Studio 17.1. The free update adds native support for Apple's M1 processors, available in the latest MacBook and Mac mini systems.
Pricing and system requirements
Fusion Studio 17.1 is available for Windows 10, macOS 10.14.6+ and CentOS 7.3 Linux. It costs $295. The update is free to registered users of the software.
Many of Fusion Studio's key tools are available in the free edition of DaVinci Resolve 17.0.
Unlike Fusion Studio, the free edition of Resolve has a maximum image resolution 16k x 16k and lacks network or background rendering. You can see a detailed feature comparison table here.
Licence keys for DaVinci Resolve Studio, the paid edition of Resolve, also now activate Fusion Studio.

Read a full list of new features in Fusion Studio 17 on Blackmagic Design's forum
Visit the Fusion Studio product website
Tags: 2D vector shape, animation, Blackmagic Design, bookmark, compositing, DaVinci Resolve 17.0, feature comparison, free, free update, Fusion, Fusion Studio, Fusion Studio 17.0, Fusion Studio 17.1, GPU-accelerated, M1, motion graphics, new features, Node Editor, node-based, price, retiming, system requirements, vfx, visual effects