SkyBox Studio V2, Mettle's toolset for creating 360-degree VR content in After Effects and Premiere Pro. Adobe has just bought Mettle's SkyBox Suite tools and made them available to Creative Cloud subscribers.

Adobe has acquired SkyBox Suite, Mettle's set of plugins for creating and editing 360-degree video content in After Effects and Premiere Pro.
The plugins are now available free to current Adobe Creative Cloud paid subscribers, and will be "deeply integrated" into the host software by the end of the year.
The industry standard for creating 360-degree video in Adobe software
On its release in 2015, Mettle's SkyBox Studio – the toolset at the core of SkyBox Suite – quickly became a de facto standard for anyone creating 360-degree VR content in Adobe software.
Now used on projects ranging from shows on Discovery and National Geographic to Invisible, Doug Liman's VR miniseries, the software includes tools for stitching, editing, tracking and titling 360-degree footage.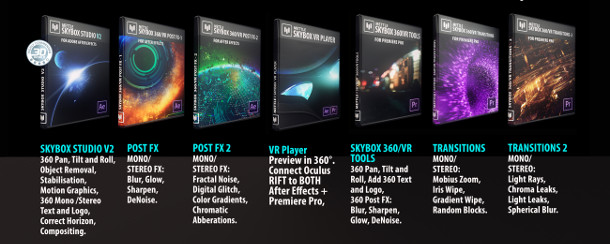 Supporting products handle common effects tasks, provide readymade transitions, and enable artists to preview 360-degree VR content directly inside Adobe software on an Oculus Rift or HTC Vive headset.
Free to anyone with a valid paid Creative Cloud subscription
Adobe has now made SkyBox Suite available for free to anyone with a valid paid subscription to Adobe Creative Cloud: you can find details for getting hold of the software via the link at the foot of this story.
New sales of the Suite through Mettle's website have been suspended, but existing users will get an additional licence of the software for free, plus 10 more activiations of of the product per licence key.
Adobe now plans to incorporate the SkyBox Suite tools directly into After Effects and Premiere Pro, noting that users can expect to see them "deeply integrated … by the end of the year".
Mettle co-founder Chris Bobotis has also joined Adobe as the company's new director for professional video.
Mettle's other After Effects plugins still available as normal
Mettle itself will continue to operate as a standalone company, headed up by its other co-founder, Nancy Eperjesy, and will continue to sell its non-VR-related After Effects plugins.
These include 3D mesh-warping tools FreeForm and FreeForm Pro and 3D logo design tool ShapeShifter AE.

Read Mettle's FAQs about the acquisition on its blog
(Includes details of how existing SkyBox Suite users can get hold of their new free licence)
Read more about the buyout on Adobe's blog
(Includes details of how Creative Cloud subscribers can get the SkyBox Suite tools for free)
Tags: 360-degree video, Adobe, After Effects, Chris Bobotis, compositing, Creative Cloud, editing, effects, free, FreeForm, FreeForm Pro, Mettle, Nancy Eperjesy, object removal, plugins, Premiere Pro, ShapeShifter AE, SkyBox Studio, SkyBox Suite, SkyBox VR Player, titling, tracking, transitions, virtual reality, VR