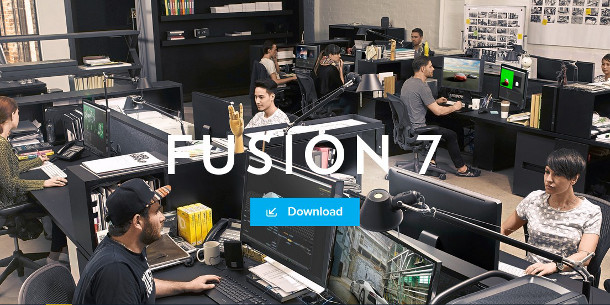 Blackmagic Design has released Fusion 7 – or a version of it, at least – for free.
The broadcast hardware firm, which acquired Fusion from eyeon Software earlier this year, has followed the pattern it established with DaVinci Resolve, and released a free edition of the compositing package.
It lacks some of advanced features like optical flow and the stereoscopic 3D toolset, along with support for OpenFX plugins, but you do get all of the keying, retiming and colour-management tools.
Network rendering is disabled, and output is limited to Ultra HD resolution, but it's still a powerful piece of kit.
Price of the commercial edition slashed
Like DaVinci Resolve, the full version of the software – now renamed Fusion Studio – has itself been repriced at $995: a significant drop from its original $2,495, and a fraction of the cost of Nuke, its principal competitor.
In the past couple of years, Resolve has played a disruptive role in the grading market, with many smaller studios electing to build pipelines around the software instead of more expensive turnkey systems.
The parallels aren't exact: although price is a common complaint for freelancers, Nuke is a fraction of the cost of a Quantel or SGO system, and The Foundry is taking steps to make it more accessible to students.
But still, making a powerful, movie-capable 3D compositing package available for under $1,000 is bound to shake up the market – as is making a version of that package available for free to students and freelancers.
It will be fascinating to see where Blackmagic takes Fusion next – and how The Foundry responds.
See a comparison chart for the free and $995 editions of Fusion 7
Download the free edition of Fusion 7 (Windows only)
Tags: 3D compositor, compositing, download, eyeon, eyeon Software, free, Fusion, Fusion 7, Fusion Studio, grading, keying, network rendering, nuke, optical flow, price cut, price drop, retiming, stereo, stereoscopic, The Foundry, Ultra HD