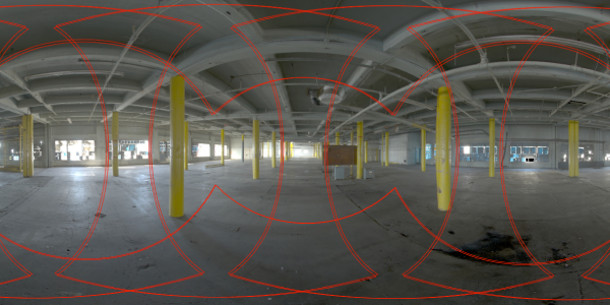 Originally posted on 20 April 2016. Scroll down for details of the commercial release.
The Foundry has launched Cara VR, a new plugin toolset for Nuke designed to streamline common tasks in creating virtual reality content, available as a free public beta.
Early builds of Cara VR are already in use at a number of leading VFX houses, including Luma Pictures. The announcement was made at NAB 2016.
Solving the key problems of VR
If you're a regular reader of CG Channel, you'll probably be aware that The Foundry has been working on VR toolsets for some time.
The company explored the difficulties of creating virtual reality content in a session at last year's NAB conference, which we reported in this article on the five key problems of VR.
Cara VR looks set to address that list of tasks: stitching background images, matching cameras, compositing in a spherical image space, rendering, and previewing completed shots: in this case, on an Oculus Rift headset.
We don't have any other details, but The Foundry's news release summarises Cara VR's features as follows:
Stitch multiple video sequences from multi-camera rigs into an uninterrupted 360° view.
Match exposure and color balance between cameras, stabilise footage to remove horizon roll that can cause motion sickness, and manually correct stitches to create a seamless immersive experience.
Place virtual elements into the real-world environment with tools for tracking, painting for rig removal, and ray-trace rendering that let you composite in a spherical image space.
Evaluate your work on the Oculus Rift directly from within Nuke, including timeline playback in Nuke Studio.
Updated 6 July 2016: Cara VR 1.0 is now officially shipping. The Foundry has also posted more detail about the product's feature set on its updated product website.
Toolsets for solving, stitching, grading, tracking and compositing 360° footage
First up, camera solving. As well as solving custom rigs, the system comes with presets for popular VR camera setups like the Nokia Ozo and Freedom360's products.
There are built-in tools for stitching – shown in the video above, and capable of exporting UV maps and lens distortion ST maps – colour correction and tracking, and support for automating tasks via Python scripting.
Equally importantly, the toolset also makes it possible to use Nuke's "full set of compositing tools directly on 360° material", via built-in node toolsets for roto, paint and tracking operations.
In addition, Cara VR comes with a version of Nuke's new raytrace renderer – added in Nuke 10, but still officially in beta – with "additional support for stereo lens models".
There is also a dedicated slit-scan shader with options to control depth at the poles of 360° footage, "resulting in a more pleasant VR viewing experience when looking up or down".
For playback, Cara VR also now supports the HTC Vive as well as the Oculus Rift.
Pricing and availability
The Cara VR suite of plugins is compatible with Nuke, NukeX or Nuke Studio 9.0v9 and 10.0v2 runnning on Windows, Linux and Mac OS X. A new licence costs $4,295.
Read an overview of the features in Cara VR on The Foundry's website
Read about Cara VR in more detail in the online product documentation
Tags: beta, camera alignment, camera tracking, Cara VR, color correction, free, Freedom360, grading, HTC Vive, image stitching, Nokia OZO, nuke, Oculus Rift, plugin, price, Python, raytrace rendering, release date, rendering, slit scan shader, The Foundry, tracking, virtual reality, VR