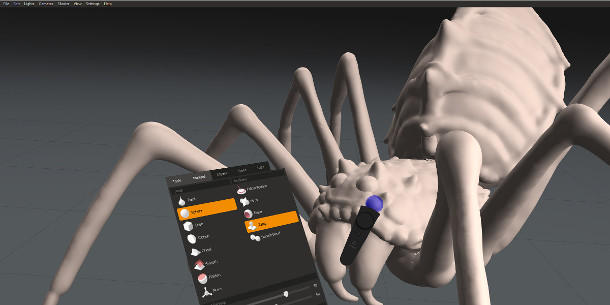 Originally posted on 12 April 2018. Scroll down for details of the early access release.
Foundry has unveiled Kanova, a new volumetric sculpting tool based on the innovative ADF (Adaptively sampled Distance Fields) technology from Mischief, its 2D sketching software.
The new application, which is intended for use in VR, will be available for free on Steam in early access, and Foundry is actively encouraging user feedback on how the product should develop.
A volumetric sculpting tool designed for use in virtual reality
At the minute, Foundry's online documentation for Kanova is almost blank, so most of the information we have comes from the demo on the software's Steam page.
Updated: The information is there: you just need to know where to look. From the link above, click on 'User Guide' at the top right of the screen to find more product documentation.
It's a virtual reality sculpting tool, along the lines of Oculus's Medium, and seems to offer a similar range of features, including a range of 3D brushes with radius and strength sliders.
Follow Surface and Stamp modifiers enable users to to add new geometry to or detail the surface of an existing model, and there is support for 3D layers, plus basic 3D painting and materials.
Once completed, models can be exported to Sketchfab, although there's no mention of other file formats.
Interesting ADF-powered local resolution system powers a claylike sculpting experience
The unique selling point is that Kanova uses the ADF technology from Mischief, the innovative 2D sketching tool that Foundry bought in 2014.
Mischief got good reviews for its ADF-powered 'infinite canvas', but failed to penetrate the market, and now seems to be all-but-defunct: neither its website nor its social media channels have updated since 2016.
In Kanova, ADF is used to power a local resolution system that increases the resolution of a mesh in areas of high detail, in a similar way to the new dynamic tessellation systems in Mudbox and ZBrush.
That should make sculpting in VR – which you can do via an Oculus Rift or HTC Vive headset and its associated controllers – much more like sculpting with real clay.
If you insist, you can even use it outside of virtual reality: although "developed from the ground up to be a VR sculpting tool", Kanova does have a desktop mode, although we imagine that few people will use it.
Pricing and availability
Kanova is now available for 64-bit Windows only. As well as a suitable VR headset, you'll need a machine capable of VR work: Foundry suggests at least 16GB RAM and a GeForce GTX 970 GPU, or equivalent.
The software will be free during its early access period, which Foundry anticipates will last for six months.
After that, the company will decide whether to turn Kanova into a commercial product, or to "go back to the R&D Lab to come up with another more suitable product idea".
Read more about Kanova on the software's Steam page
Visit Kanova's online user guide
Tags: 3D painting, Adaptively Sampled Distance Fields, ADF, digital sculpting, download, dynamic tessellation, early access, Featured Articles, Foundry, free, HTC Vive, Kanova, layers, local resolution, Mischief, modifiers, Mudbox, Oculus Medium, Oculus Rift, price, release date, sculpting, Sketchfab, stamp, Steam, system requirements, virtual reality, volumetric, VR, ZBrush