Tuesday, August 6th, 2013

Posted by Jim Thacker
The best new software from Siggraph 2013



The world's premier CG conference took place in Anaheim, California this week. Below, we round up the key products that were announced at Siggraph 2013, from full 3D packages to plug-ins and pipeline tools.
Originally posted on 27 July. Scroll down to the foot of the story for updates.
Over 17,000 artists, scientists, students and academics passed through the doors of California's Anaheim Convention Center this week to attend Siggraph 2013: still the CG industry's biggest and best conference.
In total, over a thousand more people attended the show than the last time Siggraph ventured outside its spiritual home of Los Angeles, to Vancouver in 2011.
Yet while conference sessions remained packed, there were noticeable absences from Siggraph's expo section. This year was the first in over a decade that Autodesk had no booth on the show floor.
So in the absence of the CG industry's largest player, what news of significance could emerge from Siggraph 2013? As it turned out, quite a lot.
No Autodesk? Not quite
For a start, Autodesk wasn't entirely absent from Siggraph. Its user group from the show was notable for featuring a sneak peek at Bifröst, the new incarnation of the Naiad fluid simulator it acquired last year.
(It was also notable for the waves it caused in the 3ds Max community for the perceived lack of support for the package at the event, prompting a very long thread on Max Underground.)
And Autodesk even had new products to announce – of which, more later.
With two of the major players having announced updates to their products just before the show (ZBrush 4R6, in the case of Pixologic; RenderMan Pro Server 18, in the case of Pixar), the way was clear for other developers.
NewTek took full advantage, with three major product announcements: one expected, two complete surprises.
With NewTek traditionally following longer release cycles than most 3D software developers, the appearance of one more free update to LightWave 11 wasn't a major shock.
However, LightWave 11.6 still served up quite a range of new features, from support for the CgFX shader format, enabling games artists to preview assets more accurately, to support for more types of stereo display.
There was also a nod to the growing popularity of 3D printing, with support for the STL, PLY and VRML file formats.
NevronMotion: a live mocap workflow inside LightWave
More of a suprise was NevronMotion, a new $299 motion-retargeting plugin for LightWave.
With support for the Kinect camera, and enabling users to see captured motion live inside Layout, NevronMotion promises the same kind of workflow that Autodesk users get from tools like IKinema Action or Brekel Kinect.
Reaction on the NewTek forum was split. The general sentiment seemed to be: love the features – but wasn't this promised as part of the core software?
ChronoSculpt: sculpt animation caches by hand
Meanwhile, NewTek's third announcement, ChronoSculpt, came completely out of the blue.
An entirely new tool for sculpting animation caches, ChronoSculpt neatly fills a hole in VFX and animation pipelines for finessing simulation results by hand without having to run the entire sim over again.
With support for OBJ sequences, Autodesk Geometry Cache and Alembic, it should play well in most pipelines, too, although the lack of Linux version may be a stumbling block. Read our full story on ChronoSculpt here.
Not to be outdone, Maxon released Cinema 4D R15, another varied update to its flagship 3D software.
New features in R15 include improved render performance, particularly for GI and ambient occlusion, and the Team Render network-rendering system, including unlimited render nodes in the $3,695 Studio edition of the software.
Character artists get an update to the sculpting toolset introduced in R14, bringing it closer to that of dedicated tools; while motion graphics pros get new typography options. Read our full story on Cinema 4D R15.
Although not an off-the-shelf product, Side Effects Software's Houdini Engine generated a lot of interest among large studios.
The new API extracts Houdini's core technologies into an engine that VFX facilities and game developers can integrate into in-house tools and level editors. Read our full story on Houdini Engine here.
"In essence, we have turned Houdini into the world's most powerful plug-in for any number of DCC apps," commented Side Effects President Kim Davidson.
And if you can't wait for other developers to rise to the challenge, Side Effects is working on its own plugins for Maya and Unity, which will become available in beta via SideFX Labs in coming months.
Let's not forget open-source packages, either. Although arguably, it didn't include a headline feature as big as those in previous releases, Blender 2.68 was another varied update to the software.
Changes included new mesh modelling tools, and updates to the physics system, motion tracker and Cycles renderer, with scenes rendering "often 30% faster" on Windows, and around 10% faster on Mac OS X and Linux.
You can read our full story on Blender 2.68 here.
The Foundry and Pixar team up
Outside the all-round 3D packages, The Foundry made headlines with the announcement of a new development partnership with Pixar to further integrate its Katana relighting toolset with RenderMan.
New features resulting from the partnership should become available in future releases. In the mean time, new licences of Katana come with a $2,000 licence of RenderMan Pro Server thrown in for free.
Although it didn't have a booth at the show, Planetside Software also had an announcement to make: the free version of Terragen 3 was released 'in honor of Siggraph'.
The landscape generator is due to ship commercially on 29 July, with new features including improved GI and support for Linux render nodes. Read our full story on Terragen 3 here.
Not to be outdone, e-on software timed its announcement of the free PLE edition of Vue 11.5 to coincide with the show – although the developer hasn't had a booth on the show floor since 2010.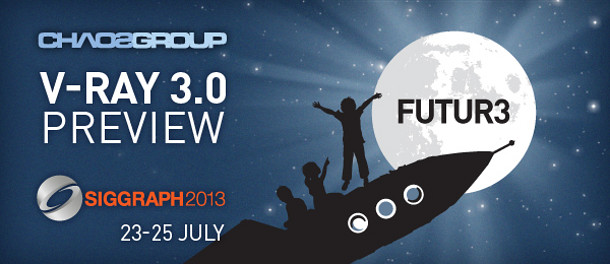 Chaos Group was only one of a number of developers demoing renderers at Siggraph 2013. Other new products on show included iray for Maya, FurryBall 4, and – for the third year running – finalRender 4 GPU.
Several renderers were on display at the show, one of the most notable being Chaos Group's V-Ray 3.0. According to Vray.info, brute-force raytracing is now much faster, with support for Intel's Embree raytracing kernels.
Other new features include a vertex merging algorithm for faster GI, support for Vismat materials in both 3ds Max and Maya versions off the software, and support for V-Ray RT as a viewport renderer inside Maya.
The release is also set to support both OpenEXR 2.0 and Open Shading Language. You can read more in our original story on V-Ray 3.0, posted when it was previewed at End User Event 2013.
Chaos Group has also partnered GreenButton, the cloud rendering provider headed up by former Weta CTO Scott Houston, to provide a plugin enabling users to launch jobs to the cloud from the 3ds Max edition of V-Ray.
Rival cloud rendering provider Render Rocket announced a similar initiative at the show: its LaunchPad plugin enables users to submit jobs to the cloud from within 3ds Max, Maya or Cinema 4D.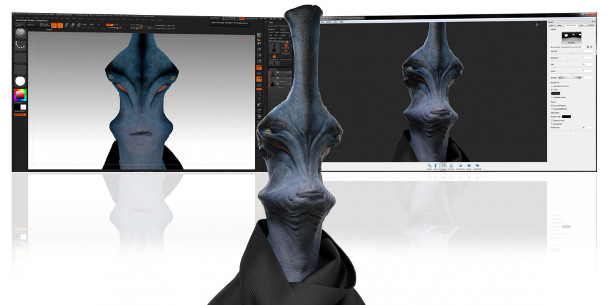 The upcoming GoZ KeyShot plugin will enable users of Luxion's KeyShot renderer to import ZBrush meshes in a single click, complete with textures. This character was created by Blizzard's Dominic Qwek.
Elsewhere, Luxion announced a partnership with Pixologic to integrate KeyShot, its intuitive raytracing renderer, more closely with ZBrush.
Based on Pixologic's GoZ, already supported in most 3D software, the new GoZ KeyShot plugin will enable users to bring a ZBrush mesh and textures into KeyShot with a single click, rather than having to import OBJs.
The plugin should become avaiable via the Plugins section of Luxion's website in "late summer".
iray comes to Maya
In the world of GPU-accelerated rendering, Nvidia's iray renderer looks set to come to Maya – although, unlike the existing 3ds Max implementation, the work isn't being done by Autodesk itself.
Instead, German developer [0x1] is working on IrayForMaya as a separate tool, due for release later this year.
FurryBall for 3ds Max and other 3D packages
AAA Studio was also showing off its own updated GPU-based renderer. FurryBall 4 will feature physically based GI, full raytraced shadows and reflections, and unlimited support for fur and displacement.
The update will add new standalone and 3ds Max editions of the software alongside the existing Maya version.
FinalRender 4 GPU (again)
Finally, cebas was showing finalRender 4 GPU. Intended to provide true production-quality GPU rendering, the tool is now something of a Siggraph veteran, having originally debuted at Siggraph 2011.
The developer also demoed thinkingParticles 6, the forthcoming update to its popular particles-turned-multiphysics system – although, like finalRender 4 GPU, there's no word on when it will actually ship.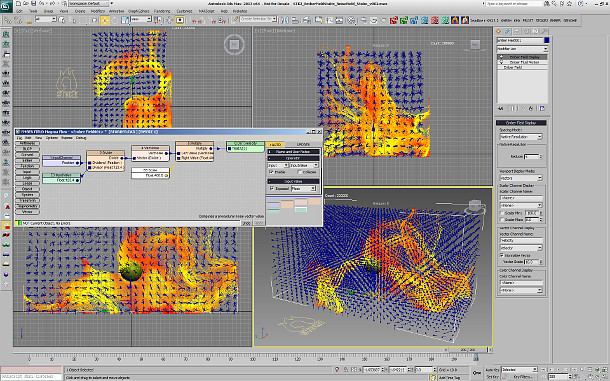 Stoke MX 2.0. The new version of Thinkbox Software's 3ds Max toolset for creating dense particle simulations incorporates the field editing and manipulation capabilities of Ember, orginally pitched as a separate product.
Fellow particle specialist Thinkbox Software also had a few Siggraph announcements of its own – really quite a few, as it turned out. By our count, the developer unveiled four product updates and three new products.
Of the updates, the most significant was Stoke MX 2.0, the next version of its 3ds Max 'particle reflow toolkit'.
Designed to handle dense particle simulations driven by velocity fields, the software lets a low-density simulation drive a high-density one, enabling artists to reach ultra-detailed results more quickly.
Among other new features, the software now includes the field-manipulation capabilities of Ember, originally intended as a more fully featured sister product. You can read our full story on Stoke MX 2.0 here.
Both Krakatoa MX and MY, the 3ds Max and Maya versions of Thinkbox's particle renderer, received smaller point updates for the show. But the bigger story was Thinkbox's expanded Maya product line-up.
The developer is working on Maya versions of its Frost point-cloud meshing system and XMesh geometry-caching system, both originally for 3ds Max only. Read our story on Thinkbox's new Maya products here.



An add-on for Deadline, Thinkbox's Deadline VMX links the renderfarm manager to public and private clouds.
And if that wasn't enough for one show, Thinkbox also announced Deadline 6.1 and Deadline VMX.
A point update to Thinkbox's render-management system, Deadline 6.1 adds some quite important pipeline integration features, including a new job dependency view and a new native Python API.
The developer also announced a new add-on for Deadline. Deadline VMX (Virtual Machine eXtension) enables the system to interact with "nearly any private or public cloud solution", including EC2, Azure and OpenStack.
Over in the world of production management, Shotgun Software officially released Shotgun Pipeline Toolkit, the product formerly known as Tank.
A modular collection of pipeline tools with a consistent interface based on Python and PySide, SPT provides functionality for file management and forking file-system configurations.
It supports key products from Autodesk and The Foundry, plus Photoshop and Houdini. As announced in February, SPT is now available as part of a standard subscription to the Shotgun production-management system.
The Shotgun Pipeline Toolkit source code has also now been released on GitHub.


In addition to the new annotation tools (pictured), 5th Kind's Core 4.0 asset manager will feature more streamlined review tools, a redesigned real-time sockets engine, a new iOS app and a new open API.
Meanwhile, 5th Kind unveiled Core 4.0, the next version of its own asset-management system. The company's website hasn't been updated yet, but according to its email newsletter, new features include:
• Completely redesigned real-time sockets Engine
• New native iOS app
• Transparent integration with the Colorfront transkoding engine, Aspera and Signiant
• Distribution module with integration with social, playback and editorial platforms
• New RESTful open API
• Streamlined review tools, including a faster media player with side-by-side comparisons
• Real-time notifications
• 'Reimagined' comments and annotations
• Drag-and-drop file-management features
Tweak Software announces RV 4.0
Tweak Software's popular image and sequence-viewing tool, RV, is also set for its first major update since the product was first released commercially in 2008.
Based on RVX Core, a new hardware-accelerated architecture, RV 4.0 offers faster IO and floating-point image-processing, and resolution-independent image handling. Read our full story on RV 4.0 here.
Lightmap was also busy at the show, announcing a point update to HDR Light Studio, its innovative tool for designing HDR maps and real-time lighting work.
Licensing for the software, now renamed HDR Light Studio – Complete, has been overhauled: a single licence now enables users to install the product on two machines non-concurrently, on Windows, Mac OS X or Linux.
The software's built-in live connection to 3ds Max has been updated, now supporting mental ray, iray, Octane Render and Thea Render, alongside the existing support for V-Ray.
And finally, Lightmap has released HDR Light Studio 4 for MODO, a new lower-cost edition of the software designed for Modo users. The new edition costs £195 (around $300), as opposed to £295 for the full product.
Although its 2014 entertainment software came out earlier this year, Autodesk did release a new product at the show. FBX Review is a free Windows-only tool for reviewing 3D assets, particularly for games work.
Despite the name, the software actually handles a wide range of standard 3D file formats, including FBX, 3DS, OBJ, Collada, and common mocap data formats.
When opened in the software, assets can be viewed in a DirectX 11-based viewport with an Autodesk Ubershader applied. The viewport display supports dynamic tessellation, image-based lighting and blurry reflections.
Autodesk documentation and training now available via Creative Commons licences
In separate news, Autodesk also made the documentation and learning content for its 2014 product line-up available under Creative Commons licences. You can read the Autodesk Creative Commons FAQs here.
Most of the video content uses a No Derivative Works licence, meaning that you can't edit it, although you can translate it to other languages. Still, a nice gesture towards the burgeoning open-source movement. Now how about making things really interesting by open-sourcing the FBX file format?
The principal open alternative to FBX received an update at Siggraph 2013. Alembic 1.5 adds a new high-performance backend codenamed 'Ogawa' to the data-transfer format.
According to the Alembic website, file sizes are on average 5-15% smaller, single-threaded reads are around four times faster, and multi-threaded reads can improve by as much as 25 times on eight-core systems.
Early adopters include Isotropix, which has announced Alembic 1.5 support in Clarisse iFX 1.5, the forthcoming update to its scene assembly and relighting tool. Read our full story on Clarisse iFX here.
Pixar releases OpenSubdiv 2.0
Meanwhile Pixar released OpenSubdiv 2.0, its collection of open-source libraries for creating high-performance subdivision surface modelling tools.
As well as a new Evaluation API, OpenSubdiv 2.0's Apache License means that the toolset can now be integrated into tools like Blender: a problem under the original Microsoft Public License.
OpenGL 4.4 and OpenCL 2.0
Finally, open-standards body The Khronos Group released the full specification for OpenGL 4.4 and the provisional spec for Open CL 2.0.
The latter adds support for shared virtual memory, dynamic parallelism and improved image handling to the open standard for heterogeneous computing.
The field of facial mocap also saw a lot of activity, with no fewer than three separate product announcements.
Announced at Siggraph 2012, Vicon officially launched its Cara marker-based facial-capture system at the show. Cara uses up to four 720p cameras to record an actor's facial performance.
New markerless systems from Faceware and Dynamixyz
Not to be outdone, Faceware Technologies announced Faceware Live, a new real-time markerless facial motion-capture system intended for use in on-set pre-viz, reference capture, and broadcast work.
The system builds on Faceware's existing offline facial-capture tools. Read our full story on Faceware Live.
Meanwhile, newish French developer Dynamixyz announced Performer 7, the latest version of its own markerless facial-capture system. You can read our story on Performer 7 here.
Updated 6 August: Several people have been in touch to suggest Siggraph announcements we missed first time round, or to provide extra information about products, so it's time for an update.
First, cebas has posted a new demo video of finalRender 4 GPU in action (above). You can read more about its three render modes (CPU, GPU and 'trueHybrid') on the cebas blog.
The developer notes: "This mode is not like the CPU helping the GPU to render – like some GPU renderers claim. The opposite comes much closer to reality, the GPU is helping the CPU to render an image."
Cebas is also calling for artists to participate in its beta testing program. Read more details here.
New crowd-simulation tools for Maya
We didn't touch on crowd simulation in our original article, but two of the key players had new or updated products on show in Anaheim.
Massive Software announced Massive 6.0, a new update to its established standalone crowd-simulation system, providing support for Bullet physics and a revamped UI.
The developer also generated a lot of interest with its upcoming Massive for Maya, a new edition of the software integrated directly into Maya. Pricing is unannounced, but will be "surprisingly affordable".
You can read our full story on both Massive for Maya and Massive 6.0 here.
Newer rival Golaem also had an update to announce. Golaem Crowd 2.5 adds the option to instantiate environment models, not just skinned characters. You can read our story on Golaem Crowd 2.5 here.
City-generation software
Another tool we didn't mention first time out was CityEngine. Although we can't see any information on its website yet, developer Esri tells us that the 2013 edition of the software is due out later this year.
Features include a new SDK, including a Maya plugin; an advanced OSM importer; and better streets and trees.
The 'Napster of 3D'?
Finally the Khronos Group released a draft specification for another standard we didn't spot first time round. glTF is intended as a universal, low-bandwidth format for sharing 3D data online and in runtime formats.
Khronos Group president Neil Trevett describes it as a "shovel ready binary format" for streaming 3D content that matches the capabilities of WebGL.
You can read the original announcement of glTF, which dates from April, on the Khronos Group site; while the draft specfication itself can be found on GitHub.
GFXSpeak has a good story on glTF, proposing it as '3D's Napster moment' in reference to the way the pioneering peer-to-peer file sharing site helped popularise the MP3 audio compression format.
And that, we think, is that – although with a show as large as Siggraph, it's hard to be sure. If we've missed any other new products from Siggraph 2013, you can add them via the comments below.
See our pick of Siggraph 2013's Technical Papers
See our pick of Siggraph 2013's Emerging Technologies
Watch our round-up of the winners from Siggraph 2013's Computer Animation Festival