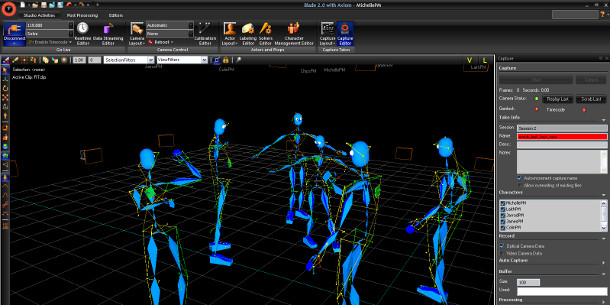 Vicon's updated Blade 2 motion capture processing software: on show at Siggraph 2012 alongside the company's new VR-focused Interaction Device and Cara facial-capture system
Vicon is showcasing three new products at Siggraph 2012, including an update to its Blade mocap data-processing software, and new VR and facial-capture tools.
Reflecting the current growth of real-time capture and mocap-based previz work, Blade 2 has been "completely re-engineered" around Axiom, Vicon's new real-time engine.
Vicon will also be unveiling Cara, a head-mounted facial-capture device: the first commercial product to come out of the company's 'mobile mocap' development program.
The company will also be showing a new haptic hand-held Interaction Device, designed for VR work, and intended to give accurate feedback even when tracked by only two lower-res cameras.
PRESS RELEASE (Excerpts)
Vicon, developer of motion capture systems for the Entertainment, Engineering and Life Science markets, will be showcasing several new products during the Siggraph conference next week in Los Angeles, Calif. Products include the highly anticipated Blade 2 motion capture processing software and the 'Mobile Mocap' concept previewed at Siggraph 2011 dubbed 'Cara' and a new Interaction Device for navigating immersive environments.
Blade has been completely re-engineered with a focus on real-time motion capture workflows. Blade 2, powered by a new real-time engine called Axiom, captures performances effortlessly and delivers robust, reliable data that drives creativity. Axiom faithfully reproduces performances with fast, clean, real-time visualization. It is capable of effortlessly managing multiple characters, complex situations and difficult production conditions.
Since last year, Vicon's Blade Alpha program has had some fantastic results. Ben Guthrie, Motion Capture Supervisor at Framestore, has been using Blade 2 since October 2011. "What we're doing with Blade 2 is ideal for previz. We now have more clients that are not interested in any post processed work, simply because it's so easy to get the raw mocap data – we're literally delivering data to the client before they get back to their desk. I'd pitch Blade 2 against any other system on the market – the real time is awesome."
For the virtual reality market, Vicon will be showcasing a new Interaction Device – a precise, robust hand-held tracking tool. Its ergonomic design and flexible controls enable intuitive interaction with virtual objects in any 3D environment. Unlike other tools available for use in virtual environments, the Interaction Device provides haptic vibration feedback for model collision warning and object identification.
Warren Lester, Engineering Product Manager at Vicon, explained, "We're very pleased to launch the Interaction Device at Siggraph this year. As the demo on our booth will show, it has been designed to reliably track with two Bonita cameras or the largest Vicon T-Series system. The dodecahedron design gives the Vicon cameras an optimal view of the device, which means, given the same space, it can be tracked over a much larger area than any other interaction tool."
The final product on display will be the head mounted facial capture system, Cara – the first commercialized product from the 'Mobile Mocap' concept seen at Siggraph 2011. Visitors to the Vicon booth on Wednesday and Thursday will get the opportunity to see a live demo of Cara and try it out for themselves.
Imogen Moorhouse, COO at Vicon says, "The product line-up we're showing at Siggraph this year is the result of years of research and development. Feedback from customers during our Alpha project for Blade has been invaluable to developing a product that, we think, will set a new industry standard for real time motion capture."
Visit Vicon at booth #729 during Siggraph at the Los Angeles Convention Center from Tuesday 7th – Thursday 9th August 2012.
Tags: Axiom, Blade 2, Cara, facial capture, handheld, haptic, Interaction device, mobile, mocap, motion capture, performance capture, previz, real time, Siggraph 2012, Vicon, virtual reality, VR