Thursday, July 8th, 2010

Posted by CG Channel Administration
Vicon Releases Blade 1.7

Vicon has announced the release of Vicon Blade 1.7, the latest version of its motion capture processing software. Blade is a unified toolset that supports full performance capture and on-set visualization. The new version officially supports Windows 7. New features include support for the new Vicon Bonita cameras and 'a new method for creating 3D reconstructions'. Here's the feature list:
Robust new reconstruction options — Users can now opt to reconstruct motion capture data with 2D tracks, for maximum speed, or 3D predictions, for more precise accuracy.
A Scrub Last tool — Users can cache previous takes and scrub through them on the timeline.
The ability to stream offline data — simplifying workflow and reducing turnaround times.
New pipelines — A series of new scripts simplifying workflows by grouping a series of actions for one-step processing of tasks including actor calibration, production skeleton setup and solve, and other workflows.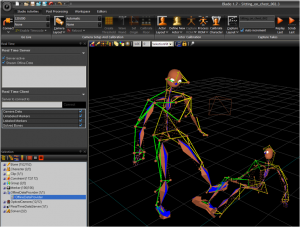 Related Links
Vicon Blade
Vicon