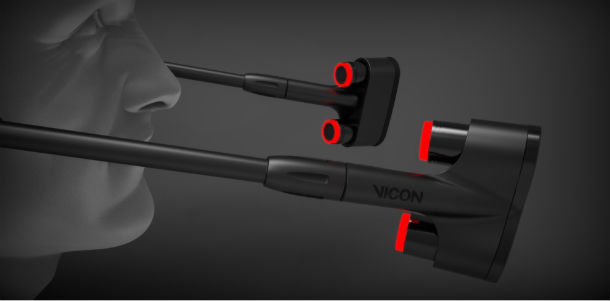 Vicon is demoing its new ultra-small 'Mobile Mocap' cameras at Siggraph 2011.
Small enough to be head-mounted, the cameras capture 720p footage at 60fps and transmit it wirelessly – potentially making facial-capture set-ups as portable and lightweight as those based on markerless technology.
PRESS RELEASE (Excerpts)
Vicon, developer of motion capture systems for the entertainment, life science and engineering industries, will introduce a future technology, 'Mobile Mocap' at SIGGRAPH 2011 being held at the Vancouver Convention Center.
Moving mocap out of the lab and into the field, Vicon's mobile motion capture (Mobile Mocap) solutions tap several new technologies, many years in the making. At the heart of Mobile Mocap is a new, very small lipstick-sized camera that enables solutions applicable to automotive ergonomics testing, the medical industry, eye tracking, military surveillance, and entertainment for less obtrusive, more accurate facial animation data. The small and powerful new cameras capture 720p (1280X720) footage at 60 frames per second. In addition, a powerful processing unit synchronizes, stores, and wirelessly transmits the data, all in a tiny wearable design.
Utilizing a head-mounted camera device (HMC), the technology can also reliably capture both the nuances and contours of facial activity for signature performances applied to digital characters for games, film and television. In development for over four years, prototypes of this technology were used for facial capture with Jim Carrey in Disney's A Christmas Story and for Jeff Bridges' performance in Tron: Legacy.
Tags: camera, facial capture, Mobile Mocap, Siggraph 2011, Vicon