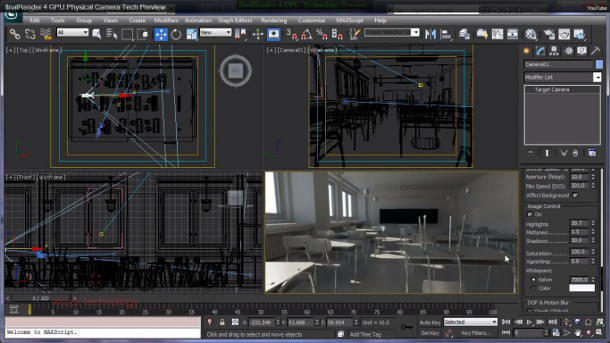 The real-time physical camera system in the upcoming finalRender 4 GPU. See the full video on cebas' blog, along with previews of the physical sky and depth of field system.
Originally posted on 16 October 2012. Scroll down for updates.
Cebas has posted some interesting new work-in-progress videos showing off finalRender 4 GPU, the upcoming GPU-accelerated version of its 3ds Max render engine.
The developer has asked us not to embed videos directly, but you can find them all on its blog via the link below.
The blog is worth checking anyway, since new movies are being added regularly. At time of posting you can see the new real-time physical sky, physical camera and depth of field systems in action.
As yet, there's no confirmed release date for the software itself.
Updated 12 November: cebas has posted another preview video, this time showing the renderer in action on a reasonably complex (417,000-polygon) CAD model, showing blurry reflections and the physical sun and sky.
In a related thread on CG Talk, cebas' Edwin Braun confirms that the company intends to support OpenCL in future, although the initial release of finalRender 4 GPU will be for Nvidia's CUDA cards only.
Updated 20 February 2013: cebas has posted another video demonstrating what it calls its "continuous rendering workflow between CPU and GPU".
In it, the developer claims that finalRender 4 GPU will be the only solution available to permit users to have a GPU-accelerated ActiveShade preview window and a 3ds Max software render window active simultaneously.
If you're thinking, 'What about iray?', the accompanying video addresses that point, and is worth watching in full.
See the new finalRender 4 GPU demo videos on cebas' blog
Tags: 3ds max, cebas, CPU, demo, depth of field, DoF, finalRender, finalRender 4 GPU, GPU, physical camera, physical sky, render engine, renderer, video