Originally posted on 20 September 2017. Updated 22 September with more information from cebas.
Cebas Visual Technology has released finalRender R4, the long-awaited update to its 3ds Max renderer, adding support for hybrid CPU/GPU rendering, physically based spectral rendering, and 360-degree output.
Updated: cebas tells us that the release is officially version-numberless, although early promo materials did refer to it as R4. For the purposes of this story, we've used R4 to denote anything specific to the new release.
Over six years in development
FinalRender R4 has had what must surely be one of the longest development cycles in the history of CG software, cebas having previewed it and its trueHybrid CPU/GPU rendering technology as far back as 2011.
In 2014, some of the technology surfaced in moskitoRender, cebas's separate GPU-based 3ds Max renderer, but it would be another three years before finalRender R4 shipped.
"When we started this journey … the existing GPU hardware and the software was not ready," said cebas CEO Edwin Braun. "It took us a painful amount of time to get where we are right now."
moskitoRender itself has now been discontinued, with cebas describing it as "fully absorbed in finalRender".
Generates identical output on both CPU and GPU
The headline feature in finalRender R4 is that 'trueHybrid' technology, which enables the software to make use of both the CPUs and GPUs in a user's workstation.
Like Chaos Group's V-Ray Hybrid system, which debuted earlier this year in V-Ray 3.6 for 3ds Max and Maya, it's CUDA-based, so it only works with Nvidia GPUs, although it also "performs really well" on the CPU alone.
However, unlike V-Ray Hybrid, which only supports a subset – albeit a significant one – of V-Ray's features, anything that can be rendered natively on the CPU inside finalRender also renders identically on the GPU.
Braun describes the software as offering "the best GPU support of all renderers on the market".
According to cebas's FAQs, you need to reserve at least part of one GPU to drive your display: in multi-GPU set-ups, ideally one card for the display and the others for rendering.
However, if you have the hardware, the trueHybrid technology scales to "unlimited" GPUs, although to use more than two cards for rendering, you need an extra GPU licence, which costs as much as finalRender itself.
Supports physically accurate spectral rendering
As with moskitoRender, finalRender R4 also uses physically accurate spectral rendering.
Cebas describes spectral rendering as "recreating optical effects which are impossible for older ray tracing system", namechecking real-world phenomena like diffraction, dispersion and absorption.
In particular, the release notes single out thin-film interference effects, such as the iridescence caused by the thin layer of grease on the surface of leather.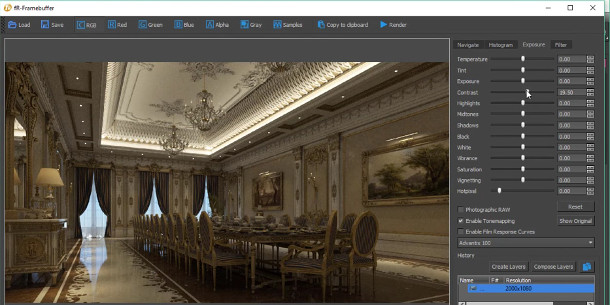 Adjust renders interactively via the frame buffer
FinalRender works as both a final frame renderer or an interactive renderer, the latter either via an ActiveShade window, or the finalRender's frame buffer.
The latter lets users adjust properties like exposure, contrast and colour balance interactively while a render is in progress, or add glare effects. You can see the workflow at 05:40 in the video above.
Render elements can also be viewed individually in the frame buffer, with an interesting option to set denoise levels individually for each one – like most modern renderers, finalRender now features a denoising system.
Support for other key render engines and 3ds Max plugins
For users importing assets created using other render engines, finalRender R4 directly renders "many Mental Ray scenes" and comes with a "robust" converter for Mental Ray and V-Ray scenes.
With Arnold now bundled with 3ds Max in place of Mental Ray, conversion of Arnold materials is "planned for later on", as is support for FumeFX shaders.
The software also provides "full support" for Forest Pack, iToo Software's popular scattering plugin.
Other features: 360-degree output, finalToon rendering
Other new features in finalRender R4 include support for "360 panoramic image output and various video VR formats", although the release notes don't mention any specific VR headsets.
As with previous versions, finalToon, cebas's non-photorealistic renderer, is also included in the software.
Pricing and availability
FinalRender is available for 3ds Max 2016 and above. Since the previous release of the software, cebas has switched to a rental-only model, with subscriptions priced at $24.50/month or $294/year.
An Unlimited GPU subscription, which lets finalRender run on more than two rendering cards, costs a further $294/year; as does an Unlimited Network subscription, which lets it run on unlimited render nodes.
For users outside North America, pricing in Euros is identical to that in US dollars. Users with an active subscription to moskitoRender get a one-year subscription to finalRender free.
Read more about the new features in finalRender on cebas's website
Tags: 360-degree output, 3ds max, Arnold, cebas, cebas Visual Technology, CPU/GPU, CUDA, Featured Articles, finalRender, finalRender GPU, finalRender R4, finalToon, Forest Pack, frame buffer, mental ray, moskitoRender, physically accurate, physically based, plugin, post effect, price, render element, renderer, rendering, spectral rendering, trueHybrid, V-Ray