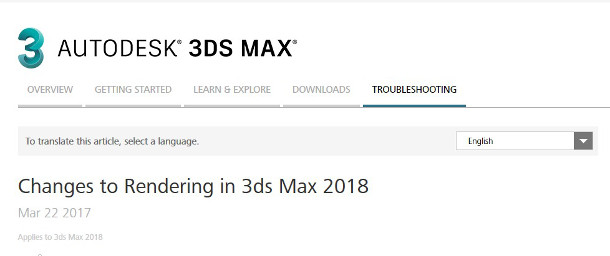 Autodesk will no longer provide the Mental Ray or Iray renderers free of charge with 3ds Max when 3ds Max 2018 ships on 12 April, the company has announced.
Instead, users will get a free licence of Solid Angle's Arnold renderer, which Autodesk acquired in 2016.
Use Arnold free when rendering via the 3ds Max GUI; pay for command line or network renders
For anyone who followed the release of Maya 2017 last year, for which Autodesk also moved from bundling Mental Ray to bundling Arnold, the news will come as little surprise.
As with Maya 2017, the licence of Arnold bundled free with 3ds Max 2018 will be for foreground processing only: that is, rendering from a single machine via the GUI.
For background rendering via the command line, or to use a render farm, you'll need commercial licences of Arnold. Prices currently start at $1,220 for a single licence, with bulk discounts available.
Otherwise, the bundled version of Arnold will watermark offline renders where no valid licence is available.
MAXtoA to be bundled free with 3ds Max 2018
The new 3ds Max integration plugin for Arnold, MAXtoA, will also be bundled free with 3ds Max 2018.
At the time of posting, it's still officially described as a 'preview' release and doesn't support all the features from either 3ds Max or Arnold, so we assume Autodesk expects it to reach a full 1.0 release by April.
Nvidia to offer Mental Ray licences for free, with the same limitations
However, there will be no obligation to use – or even install – the version of Arnold bundled with 3ds Max 2018, and anyone wanting to stick with Mental Ray will be able to get licences free from Nvidia.
As with Mental Ray for Maya, you will be able to use the free version in much the same way as that of the free bundled version of Arnold: for viewport or single-frame production rendering.
To enable sequence rendering, batch rendering and rendering on a network, you'll need full production licences of Mental Ray.
Mental Ray for 3ds Max itself isn't available in Nvidia's online store yet: according to Autodesk, it intends to release it "soon after it completes final testing on the publicly released version of 3ds Max 2018".
However, as a guide to the probable pricing, Mental Ray for Maya is available on a rental-only basis, with prices starting at $95/year for a local licence or $295/year for a network licence.
There is also already a plugin version of Iray for 3ds Max, which is also rental-only, and which costs $295/year for either a local or network licence. You can read our review of Iray for 3ds Max here.
New licences of Mental Ray and Iray needed in order to use legacy scenes
Legacy scenes created using the versions of Mental Ray and Iray bundled with 3ds Max 2017 and earlier will still work in 3ds Max 2018 – but only if you have a compatible version of the renderer in question.
According to Autodesk: "Out of the box, 3ds Max 2018 will not support Mental Ray or Iray features."
No change for users of other render engines
If you use a third-party renderer like V-Ray, Corona or OctaneRender, the changes shouldn't affect you: Autodesk says in its FAQs that it remains "committed to supporting third-party renderers".
The same goes for 3ds Max's native renderers – Scanline, Quicksilver or the new ART renderer introduced in 3ds Max 2017 – all of which will continue to be included in 3ds Max 2018.
Pros and cons for existing Mental Ray users
Early reactions in the Max user community – like this thread on Autodesk's AREA forum – have been mixed.
Most users have welcomed Arnold's feature set, but not the fact that – unlike the previous bundled versions of Mental Ray – it can't be used for free across a render farm.
Although this is also true with Maya, it may be more of an issue in the Max community: we suspect that most people using Maya with a render farm were using a commercial third-party renderer long before Maya 2017.
Pricing and availability
3ds Max 2018 is due to ship on 12 April 2017. Autodesk hasn't announced any pricing changes for 3ds Max itself. Current prices for the Arnold and Mental Ray renderers are listed further up in this story.
Read Autodesk's FAQs for the rendering changes due in 3ds Max 2018
Tags: 3ds max, 3ds Max 2018. rendering, Arnold, art, autodesk, iray, license conditions, licensing, mental ray, Mental Ray for 3ds Max, new features, NVIDIA, price, Quicksilver, release date, Scanline, Solid Angle