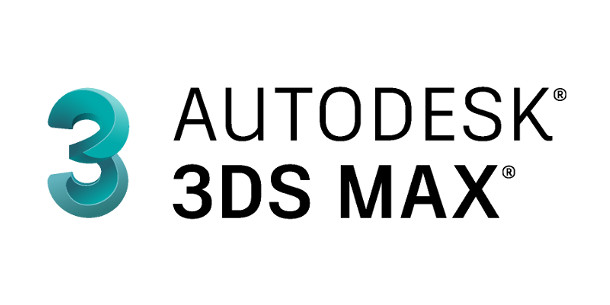 Autodesk has released 3ds Max 2018, the latest update to its 3D modelling and animation software.
The update replaces mental ray with Arnold 5 as 3ds Max's de facto third-party render engine, introduces new options for editing motion paths, and overhauls the user interface and Max Creation Graph.
Ships with Arnold, not mental ray
The biggest change in 3ds Max 2018 is the one we knew about in advance: that Autodesk has switched from bundling Nvidia's mental ray renderer with the software to Solid Angle's Arnold, which it acquired in 2016.
The bundled version can be used to render from a single machine via the viewport, but output generated in other ways is watermarked, so for command-line or network rendering, you need extra commercial licences.
Nvidia will continue to provide mental ray for 3ds Max as a third-party plugin, including a free licence with similar restrictions to the free version of Arnold bundled with 3ds Max.
You can read more about Autodesk's switch from mental ray to Arnold in our original story. At the time, users welcomed Arnold's feature set, but criticised the loss of unlimited network rendering.
MAXtoA integration plugin now includes Arnold 5
However, one change that wasn't announced at the time is the update to MAXtoA, the 3ds Max integration plugin for Arnold.
The plugin has now reached 1.0 status – previously, it was available, but feature-incomplete – and has now been included with the 3ds Max install for the first time.
Solid Angle has also now officially released Arnold 5, a sizeable update to the renderer, and the version included with 3ds Max 2018. You can read more about the new features in Arnold 5 here.
Autodesk's own summary of the new features available to 3ds Max users is as follows:
Volumetric effects with OpenVDB support
Atmospheric Effects
Procedural objects (proxies) allow scene exchange with other Arnold plugins
A comprehensive selection of integrated Arnold shaders and materials
Supports third-party shaders compiled for Windows and Arnold 5
Simplified image-based lighting workflow with separate background and environment capabilities
Arnold Properties modifier controls render-time effects on a per-object basis
Support for Arbitrary Output Variables (AOVs) for compositing and post-processing
Depth of field, motion blur and camera shutter effects
New virtual reality camera
New, more user-friendly layered Standard Surface compatible with Disney models, replacing the Arnold Standard shader
New melanin-based hair shader with artistic controls and simplified parameters for more natural results
Support for photometric lights to facilitate interoperability with Revit
Comprehensive support for 3ds Max physical materials and legacy textures
All-in-one Arnold light supports textured area lights, mesh lights, skydomes and distant light sources
New portal mode for Quad and Skydome light sources for improved sampling of indoor scenes
New Roundness and Soft Edge options for Quad and Spot lights
Scene converter provides scripts and presets for converting legacy scenes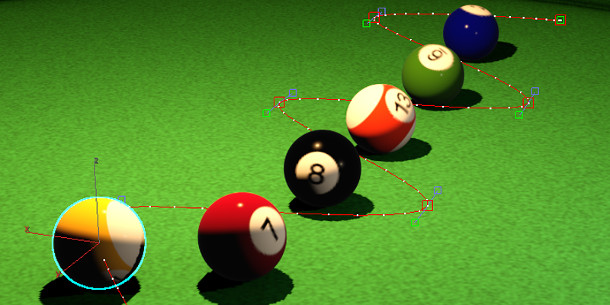 Edit motion paths directly in the viewport
Another new feature is the option to edit the motion paths of animated objects directly in the viewport via Bezier-style controls.
Users can manipulate the form of paths, or add and remove keys, with changes also being reflected in the track view. It is also possible to convert existing spline objects to motion paths, or vice versa.
Updates to the Max Creation Graph
The Max Creation Graph (MCG), the node-based programming environment introduced in 3ds Max 2016, has also been updated.
Although there are 78 new operators, most of the changes seem to be workflow-related, including the option to import graphs in .mcg format simply by dragging them onto the viewport.
Handling of type has been improved, meaning that it is no longer necessary to add extra nodes to graphs to indicate the type system, while a new Live Type option calculates type in the editor on the fly.
There is also a new Node Properties window with better descriptions of operators and compounds, and the compiler has been "significantly improved".


New interface and workflow options
The UI has also been updated to the Qt5 framework, and features the option to tear off and dock many of the interface elements in order to create custom layouts.
Elements that can be rearranged in this way include the timeline and many of the menus, although not the viewport, according to this thread on Autodesk's forum.
Other UI changes include a new, modular design for the main toolbar (shown above), and further progress in the ongoing process of converting existing icons for Hi-DPI displays.
Switching between workspaces is also "faster", although we don't have any more details than that.
There is also a new UI for State Sets based on the Slate Material Editor, providing "a more consistent look and functionality" and offering a node-based workflow for managing render passes.

Updated 13 April: Autodesk has now officially announced 3ds Max 2018 on its AREA community site.
The blog post lists a couple of additional smaller new features, including a new cloud-based translation service for converting MAX files to LMV files for use in the firm's CAD-focused Forge viewer.
As usual with major releases of 3ds Max, user response has been mixed, although we'd say that it's more negative than for the past couple of updates, particularly among people who don't plan to use Arnold.
You can see a fairly representative set of views in the comments in this thread on CGPress, including some interesting responses from Autodesk tech support specialist Jon A. Bell.
However, whatever your take on the new features, this has been one of the lowest-key updates to 3ds Max in recent history from the point of view of marketing and publicity.
At the time of posting, there are still no videos of the new features in Autodesk's YouTube channel. It's also the first time that we can remember that Autodesk hasn't sent us a press release announcing the update.

Pricing and availability
3ds Max 2018 is currently available to existing subscribers. At time of posting, the system requirements and prices for the new release aren't online.
The previous release, 3ds Max 2017, is compatible with Windows 7+, and is available on a rental-only basis, with new subscriptions starting at $1,470/year for basic support or $1,630/year for advanced support.

Read more about new features in 3ds Max 2018 in the online documentation
Visit the 3ds Max product website
Tags: 3ds max, 3ds Max 2018, Arnold, Arnold 5, autodesk, edit motion path in the viewport, interface, Max Creation Graph, MAXtoA, MCG, mental ray, Mental Ray for 3ds Max, motion path, new features, Node Properties, NVIDIA, price, Qt5, rendering, tear-off menu, UI, workflow