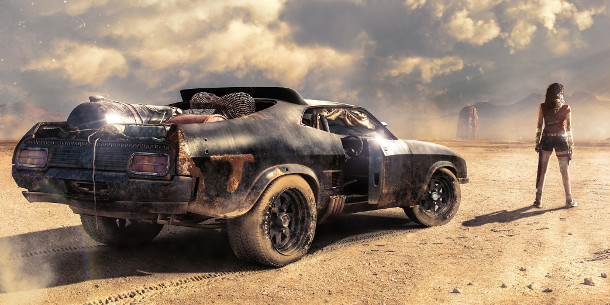 An image rendered in Mental Ray by Amaru Zeas. Nvidia has just announced that the upcoming plugin version of Mental Ray for Maya will be free for viewport and single-frame rendering.

Nvidia is to make Mental Ray for Maya, the new plugin version of its production renderer, available for free on its release on 30 November – at least for viewport and single-frame rendering.
To render animations, or render over a network, users will need commercial licences of the software, for which Nvidia has an interesting pricing scheme that favours users of its professional GPUs.
The news was announced at Autodesk University 2016.
Filling the gap left in Maya 2017
Once many Maya users' de facto renderer, Mental Ray has faced increasing competition in recent years.
Previously installed free with Maya, it was made an optional installation in Maya 2016, and dropped entirely in favour of Arnold in Maya 2017, following Autodesk's purchase of Solid Angle.
That created a real problem for Mental Ray users, since the Maya 2017 update also broke compatibility with previous versions of the renderer.
Instead, Autodesk advised Mental Ray users that they would require Nvidia's new plugin version of the renderer – which, at the time of Maya's 2017 release in August, was still in beta.
Backwards-compatible once more
Nvidia's blog post announcing the release date for the new plugin looks to have been written with those users in mind, emphasising that it will be backwards-compatible with scenes from previous versions of Maya.
Other features singled out by Nvidia include "final-frame rendering in the interactive Maya viewport", progressive rendering, MDL material support and GI-next, its GPU-accelerated global illumination system.
And, of course, the blog post emphasises that the new plugin won't cost anything.
A question of pricing
However, users will only get viewport rendering and final-frame rendering of still images for free.
That puts the free version of Mental Ray for Maya pretty much on a par with the free licence of Arnold you get with Maya 2017, which watermarks batch and network renders.
To render final-frame image sequences – or to enable network rendering – users will need to pay for full production licences. These are available on a rental-only basis, and Nvidia's pricing structure is interesting.
If you're using a gaming card or a GPU from another manufacturer, licences will cost $295/year for one machine or $995/year for five machines.
That isn't especially competitive for a render farm: Chaos Group currently charges $170/year for one machine or $750/year for five machines for render licences of V-Ray.
However, if you're using one of Nvidia's professional graphics cards – a Quadro or a Tesla – the price of Mental Ray for Maya drops to $95/year for one machine or $325/year for five machines.
That's much better, particularly for the big studios that Nvidia will be keen to retain as Mental Ray clients, many of which also use its professional GPUs.
Other factors to take into account
Of course, users don't just choose their renderer on the basis of price: they also take into account image quality, speed, ease of use, and a lot of other factors.
However, today's announcement makes Mental Ray a much more attractive option, particularly if you already use Nvidia's workstation GPUs, and it will be interesting to see how it affects its market share.
Pricing and availability
Mental ray for Maya will be available from 30 November for Maya 2016 and above, running on Windows 7 or 10, Mac OS X 10.10.5 and above, or Red Hat Enterprise or CentOS 6.5 or 7.2 Linux.
The plugin is free for viewport or single-frame rendering; pricing for full production licences, which enable sequence rendering within Maya and production rendering on the network, is given in the story above.
Read Nvidia's blog post announcing the new Mental Ray for Maya plugin
Read a full list of features in Mental Ray for Maya

Editor's note: It's tricky to make price comparisons between the new Mental Ray for Maya plugin and its key competitors, particularly for visual effects and animation work.
Redshift isn't currently available on subscription, and while RenderMan and Arnold are, they're licensed on a per-day basis – essentially for studios that need extra temporary licences over deadlines.
All three renderers can also be used with other DCC packages, not just Maya.
In these cases, a more meaningful comparison might be with the existing Standalone edition of Mental Ray, which is compatible with 3ds Max and Softimage, and for which perpetual licences are available.
Here, a perpetual floating licence of the software plus one year's maintenance costs $600 for Redshift, $695 for RenderMan or Mental Ray, and S1,220 for Arnold.
Tags: 360-degree, animation, Arnold, Autodesk University 2016, backwards compatible, Featured Articles, free, GI-Next, GPU-accelerated, GPU-based, Maya, Maya 2016, Maya 2017, mental ray, Mental Ray 3.14, mental ray for Maya, network rendering, plugin, price, Redshift, release date, RenderMan, sequence rendering, single frame rendering, still image, V-Ray, viewport rendering