Friday, April 10th, 2015

Posted by Jim Thacker
Adobe announces Project Candy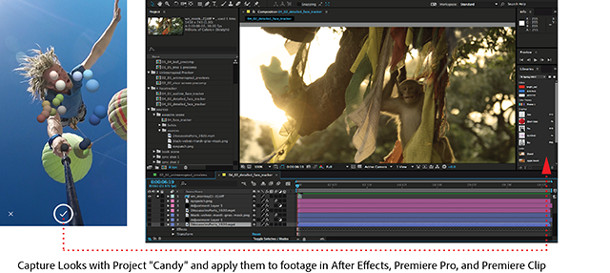 Adobe has announced Project Candy, a new mobile technology that will enable users to capture light and colour information using an ordinary phone camera, and save it as Looks for use in After Effects and Premiere.
The technology will go on show at NAB 2015, as part of a global update to Adobe's professional video tools.
Like SpeedGrade's Shot Matcher on your phone
On its blog, Adobe describes Project Candy as being "like [SpeedGrade's] Shot Matcher on your phone".
Users can use a mobile device's built-in cameras to capture Looks for use in colour grading. Each Look is shown as a 'bubble' in 3D space, representing the lighting and colour information.
The midtone and overall light intensity of the look can be edited manually using sliders, with the results previewed as a colour grade on a user-selected reference image or video clip.
Looks can then be saved to a Creative Cloud library for use in After Effects, Premiere Pro, the new Premiere Clip mobile app, or SpeedGrade itself.
"The brilliant thing about Project Candy is that you don't need to know anything about color grading," said senior product manager Patrick Palmer. "To match the Look of a scene in real life … you just need your phone.
Pricing and availability
So far, Adobe hasn't announced release dates or pricing for Project Candy – or indeed, in what format the technology will be released.