Thursday, June 18th, 2015

Posted by Jim Thacker
Adobe rolls out Creative Cloud 2015 updates
Adobe has made the 2015 updates of the products in its Creative Cloud portfolio, including After Effects CC, Premiere Pro CC and Photoshop CC, available to subscribers, along with a new set of mobile apps.
Check out our original stories on After Effects, Premiere Pro and Project Candy
We covered most of the tools relevant to CG artists back when the update was first announced in April, so rather than repeat the information here, check out our original story on After Effects CC 2015.
The new features in Premiere Pro CC 2015, Audition CC 2015, Media Encoder CC 2015 and SpeedGrade CC 2015 are all covered in our NAB round-up.
In addition, the new mobile colour grading technology known as Project Candy when we originally wrote about has now been rechristened Adobe Hue CC, and is available as an iOS app.
New features in Photoshop CC 2015
However, one application we didn't cover at the time is Photoshop CC 2015. Although a lot of the new features are aimed primarily at print or web designers, there are a few specifically for CG professionals.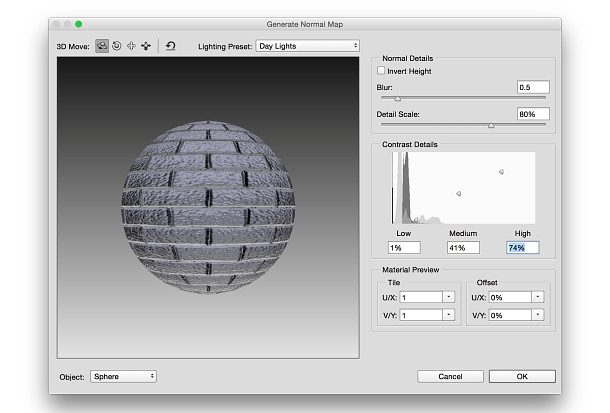 The ability to generate bump and normal maps from source images, introduced in CC 2014, has been extended with a proper 3D preview, plus slider controls for Blur and Detail Scale and a histogram for detail frequency.
There is also a new Simplify Meshes command, which launches a simple, slider-based interface for reducing the poly count of a 3D model. You can read more about both features in the online help document.
There are also a number of more general features that CG artists will find useful, including the option to restore noise and film grain when using the Blur gallery, and to interactively dehaze images in Camera Raw.
The Content Aware Move and Extend options now let you rotate, scale or flip selections before dropping them; and Content Aware Fill can now fill to the edges of stitched panoramas.
In addition, the Healing and Spot Healing brushes and Patch tool are GPU-accelerated via the Mercury Graphics Engine, and are now "up to 120 times faster" than CS6.
You can also now add up to 10 instances of certain layer styles — drop shadow, gradient overlay, color overlay, inner shadow and stroke — to layers or groups, avoiding the need to rasterise and reapply effects.
More graphic-design-focused changes include 'Artboards', the option to create multiple layouts within a single Photoshop document; and new app Preview CC for previewing designs on iOS.
Creative Cloud Libraries and the new Adobe Stock image library are now directly integrated into Photoshop.
Other updates and new Android mobile apps
We won't cover the updates to Adobe's more design-specific tools like Illustrator CC, DreamWeaver CC and Muse CC here, but the new features are summarised in this blog post.
Mobile apps Shape CC, Color CC, Brush CC and Photoshop Mix are also now out on Android as well as iOS.
Pricing and availability
The Creative Cloud 2015 updates are available now. New Photoshop subscriptions start at $9.99/month; other individual apps start at $19.99/month; and subscriptions to all the creative tools start at $49.99/month.
Read Adobe's blog post announcing the Creative Cloud 2015 updates