Thursday, August 4th, 2016

Posted by Jim Thacker
Allegorithmic launches new free student licence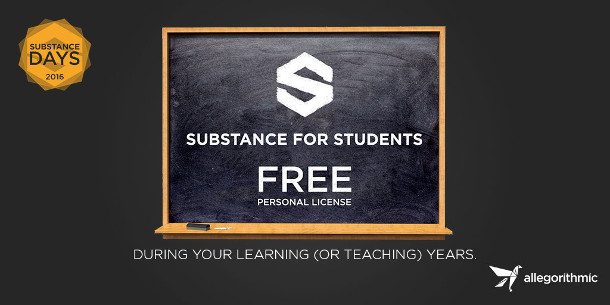 Allegorithmic has unveiled a new free student licence of its texturing applications Substance Painter and Substance Designer, due for release on 4 August 2016.
The announcement was made during Allegorithmic CEO Sébastien Deguy's keynote at Substance Days 2016.
Same feature set as the standard editions, and qualifies for free updates
According to Allegorithmic, the two applications will be packaged as a free student pack, available to anyone in full-time education at a suitable training institution.
Students will be able to upload their student ID to get a download code for the software.
The student versions will have the same feature set as the commmercial editions, and will qualify for free updates when they are released, so long as the user remains in full-time education.
Although Allegorithmic's newsletter refers to the licence being for "personal use", in a Q&A session later during Substance Days, the company implied that it could also be used for commercial work.
Availability
The free student edition of Substance Painter and Substance Designer will be released on 4 August.
For non-students, Indie licences of both applications, intended for artists and studios earning less than $100,000 per year, cost $149; full Pro licences cost $590.
Updated 27 July: The free student licence will also include Substance B2M, Allegorithmic's software for generating the texture maps required in a PBR shading workflow from a single photographic source image.
An Indie licence of Substance B2M normally costs $99; a Pro licence costs $149.
Updated 4 August: The free Substance Education licence of Substance Painter, Substance Designer and Substance B2M is now available. It's valid for one year for both students and teachers at qualifying institutions.
Allegorithmic has also announced new pricing of the Substance tools for educational institutions themselves. You can find more details about both offers via the link below.
Read more about the free student licences of Substance on Allegorithmic's website