Monday, July 18th, 2022

Posted by Jim Thacker
Chaos releases Chaos Vantage 1.8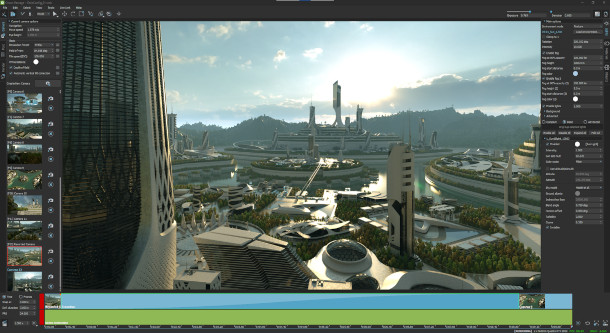 Originally posted on 2 December 2020. Scroll down for news of the Vantage 1.8 update.
Chaos Group has released Chaos Vantage, its new tool for exploring large V-Ray scenes in real time.
The software, previously known as Project Lavina, makes use of the RT cores in current-generation Nvidia RTX graphics cards to generate an interactive real-time, fully ray traced view of the environment.
It is available free until June 2021 September 2022.
A new tool for scouting very large architectural scenes in real time
First shown as a tech preview at Siggraph 2018, and released in public beta this summer, Chaos Vantage is pitched as a tool for exploring large 3D scenes in a fully ray traced environment.
Although there are potential uses for visual effects and animation – for example, scouting virtual sets – the main target market is architectural visualisation.
Potential use cases include simply viewing very large architectural scenes like massing models, scouting camera positions for offline renders in V-Ray, and generating real-time previs-quality animations.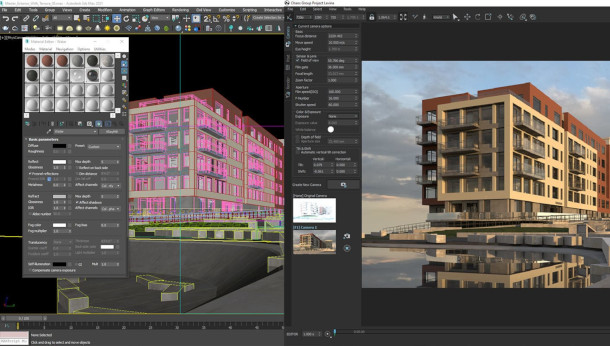 Renders scenes imported in .vrscene format and live-links to 3ds Max
Chaos Group's pitch for using Vantage over other real-time rendering solutions – particularly Unreal Engine, which is free for this kind of work – is ease of use.
Rather than having to convert scenes created for offline renders into a form suitable for use in a game engine – still a time-consuming process, despite tools like Datasmith – Vantage can render the original versions.
It imports scenes in .vrscene format, the scene file format supported in the standalone edition of V-Ray and most of its key editions, including V-Ray for 3ds Max, Cinema 4D, Maya, Modo, Revit, Rhino and SketchUp.
As well as navigating the scene, using game-like controls with automatic collision detection, users can perform simple edits inside Vantage, moving, transforming, duplicating, hiding or deleting objects.
Vantage also live-links to 3ds Max, with changes made to a scene inside Max updating in Vantage in real time, enabling the software to function as a ray traced viewport.
Doesn't yet support all advanced features of V-Ray scenes
However, that doesn't mean that imported scenes will necessarily look identical in the two applications, since Vantage doesn't currently support all of the features of the .vrscene format.
Coverage varies according to host application: in 3ds Max, most light types, V-Ray Sun, the physical camera, and most basic materials and maps are supported.
Features not currently supported include mesh lights and V-Ray Ambient Light; advanced settings for shadows and the physical camera; and some key materials like VRayDirt and VRayDistanceTex.
Designed specifically for Nvidia's RTX hardware
Unlike V-Ray GPU, V-Ray's own built-in GPU renderer, Chaos Vantage has been designed from the outset for real-time ray tracing – and for Nvidia graphics cards.
The application makes use of the RT hardware cores in Nvidia's current-gen GeForce RTX, Titan RTX and Quadro RTX GPUs to accelerate ray tracing operations.
Whereas V-Ray GPU, like most conventional DCC tools, uses Nvidia's OptiX API for RTX acceleration, Vantage takes the same route as Unreal Engine, using Microsoft's DXR (DirectX Raytracing).
The initial release "averag[es] 24-30fps on a consumer-grade Nvidia RTX card at HD resolution".
Clearly, that will depend on the scene being viewed, but Chaos Group claims that Vantage can "handle billions of polygons without any loss in detail or significant decrease in speed".
Chaos Vantage's animation system, shown in a video recorded during the original Project Lavina betas.

Built-in animation editor creates simple camera animations
As well as simply exploring scenes, Vantage can be used for rendering in its own right.
The software includes its own animation editor, making it possible to create simple camera animations by setting camera positions and transitions between them.
Chaos Group describes the output as being suitable "for presentations or previsualization purposes", rather than as an alternative to final-quality rendering in V-Ray.
New since the beta releases: motion blur and two layers of environment fog
If you've been following our coverage of the original beta releases of Project Lavina, there are also a few new features in Chaos Vantage.
One of the biggest is support for motion blur and denoising in offline renders: both for still images and animations, which can now be rendered in .mp4 and .mkv format.
Users can also now record the viewport in real time in .mp4 format.
Vantage also supports environment fog – it is now possible to use two fog layers with independent settings – and LUTs, with support for colour space settings for LUT files.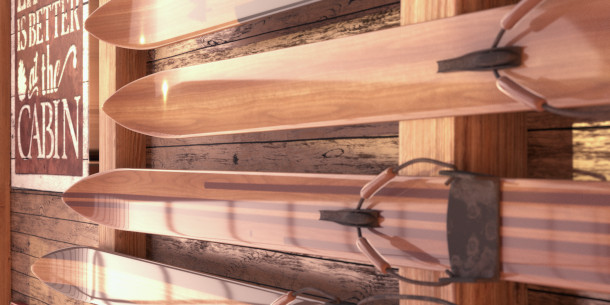 Updated 19 April 2021: Chaos Group – now simply 'Chaos' – has released Vantage 1.2. The update adds support for the clear coat in the standard V-Ray Material, and for glossy Fresnel reflections.
Other changes include support for importing multiple cameras from a .vrscene file, and for exporting .png files with an alpha channel.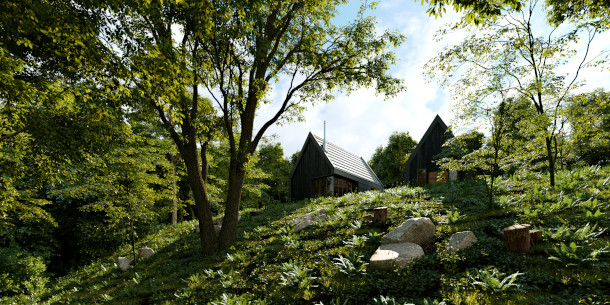 Updated 24 May 2021: Chaos has released Vantage 1.3, adding support for VRay2SidedMtl, V-Ray's two-sided material, and for animated camera parameters from an imported .vrscene file.
In addition, Vantage now incorporates Nvidia's AI-trained GPU-based OptiX denoiser, also integrated into V-Ray itself, for reducing noise from viewport renders.

Updated 21 June 2021: Chaos has released Vantage 1.4, adding support for VRayMultiSubTex, and new texture randomisation options for V-Ray's Triplanar and UVWRandomizer maps.
Vantage also now supports two key third-party material-randomisation tools: CG-Source's MultiTexture plugin and the Forest Color map for iToo Software's Forest Pack.

Updated 10 December 2022: Chaos has released Vantage 1.6, adding support for stock materials from Chaos Cosmos, the firm's new online library of architectural assets.
The update also adds support for batch rendering, introducing a render queue for both still images and animations; and for importing and exporting FBX, OBJ, 3DS, PLY, STL, TER, Collada and glTF files.
Since we last wrote about the software, Vantage 1.5 introduced a new Place mode for the Move tool for snapping objects onto surfaces, and command-line support.
Chaos has also further extended the end of the period during which free one-year licences are available – initially June 2021, then December 2021 – until 15 June 2022.

Updated 30 May 2022: Chaos has released Vantage 1.7.2, adding an auto-exposure system.
Vantage 1.7, which shipped in March, added a Clay mode for materials, support for global ambient occlusion, plus an Animated Geolocation mode for the Sun light, for timelapse animations.

Updated 7 July 2022: Chaos has released Vantage 1.7.3 and 1.7.4.
The updates, which actually came out last month, are mainly bugfixes, but they also made Vantage compatible with V-Ray 6, the latest version of the render, the 3ds Max edition of which has just shipped.
Vantage is also now included as part of Chaos's new V-Ray Premium and V-Ray Enterprise subscriptions, introduced alongside V-Ray 6 for 3ds Max.

Updated 18 July 2022: Chaos has released Vantage 1.8.
Changes include a new cloud system for the Physical Sky environment model, V-Ray having got its own procedural cloud system in V-Ray 6.
The update also adds Filmic Tonemap, Hue/Saturation and Contrast colour corrections to the Post tab; five new composition guide overlays; and support for animated textures.
Performance improvements the option to pause rendering after reaching a specified sample level; and an experimental ray termination option to raise frame rate by reducing sampling quality.
It is also now possible to stream textures into a scene to reduce memory usage.
Pricing and system requirements
Chaos Vantage is available for Windows 10 only. To use it, you need a Nvidia RTX GPU and Nvidia driver 436.02 or newer. The software is rental-only.
Although free one-year licences have now ended, it is still possible to download the software on a free licence valid until 21 September 2022.
Updated 11 July 2022: Chaos had previously said that subscriptions will eventually cost $389/year, but told us that pricing is "to be determined yet", and that it is "working on some major features for version 2".

Read an overview of features in Chaos Vantage on the product website
Read a full list of features in Chaos Vantage in the online documentation