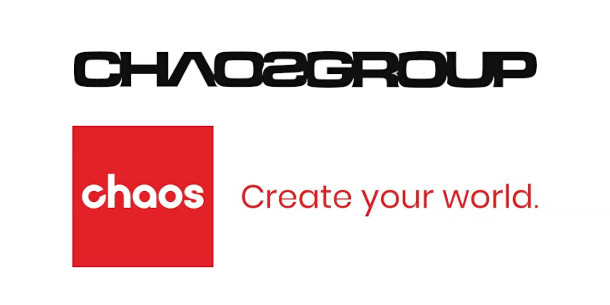 Before and after: the old (top) and new (bottom) brand identities for the firm that created V-Ray.

V-Ray developer Chaos Group has rebranded itself as plain old 'Chaos'.
The change of name was announced in a livestream earlier today, alongside free online arch viz asset library Chaos Cosmos and software releases V-Ray 5 for Revit and V-Ray 5 for 3ds Max Update 1.
New name, new logo, and new(ish) URL
As well as dropping a word from its name, Chaos Group has rolled out a new logo for the company and its key products, designed by arch viz and brand design studio Uniform.
Each is based around a solid-coloured square containing a simple vector form, unifying what was previously a quite disparate set of brand identities.


The new V-Ray logo is pretty much the same as the old one for the renderer, slightly simplified and enclosed in a square, but the one for fluid simulator Phoenix FD – now simply 'Phoenix' – is substantially reworked.
Chaos Vantage, the firm's new tool for exploring V-Ray scenes in real time, also gets its own logo, as do Chaos Cosmos, cloud rendering service Chaos Cloud, and material library VRscans – now Chaos Scans.
The branding can be seen on Chaos's website – or rather, websites: to match its new name, the firm also owns the www.chaos.com domain, although at the minute, it just redirects to www.chaosgroup.com.
No new look for Corona Renderer
However, the rebrand does not seem to extend to Corona Renderer, Chaos's other production renderer, which it acquired in 2017, along with developer Render Legion, now Chaos Czech.
At the time of writing, the Corona logo remains unchanged, as does its product website.

Visit Chaos – formerly Chaos Group – online
Tags: asset library, Chaos, Chaos Cloud, Chaos Cosmos, Chaos Czech, Chaos Group, Chaos Phoenix, Chaos Scans, Chaos V-Ray, Chaos Vantage, Corona Renderer, new branding, new logo, new name, new website, Phoenix, Phoenix FD, rebranding, Uniform, V-Ray, VRScans