Thursday, February 28th, 2019

Posted by Jim Thacker
Chaos Group launches Chaos Cloud online rendering service

Chaos Group has launched Chaos Cloud, its new 'push-button' cloud rendering service.
The platform, originally known as V-Ray Cloud, is intended to simplify the process of launching and monitoring cloud render jobs, and is directly accessible from within nine editions of V-Ray.
Chaos Group also plans similar integrations with Corona Renderer and Phoenix FD in future.
Intended to simplify cloud rendering, and minimise the need to re-upload data
First launched in early access last year, Chaos Cloud is described as the product of "five years of R&D and an extensive beta program that saw users render six million frames and over 500,000 jobs".
Chaos Group pitches it as "the easiest cloud rendering service with the best possible user experience", intended to simplify cloud rendering to a near-one-click process.
Users can launch cloud renders from directly inside V-Ray, then monitor and control render jobs from a standard web browser, from both desktop and mobile devices.
Less standard features include online-storage-based technologies, SmartSync and SmartVault, intended to minimise the need to upload unnecessary data to the cloud.
SmartVault is a "secure database" that tracks asset "fingerprints", removing the need to re-upload assets that have previously been uploaded as part of other scenes, even when named differently.
SmartSync is designed for situations in which users are iterating on a single scene, confining the data re-uploaded to those parts of the scene that have actually changed.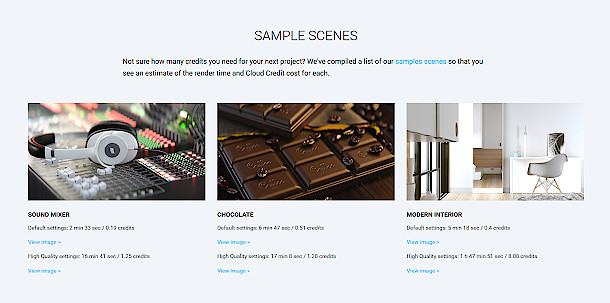 Priced on a credit basis rather then per processor hour
Presumably reflecting the fact that online storage is a key component of the platform, Chaos Group has opted for a system of all-in-one render credits, rather than more conventional per-GHzh or per-OBh pricing.
That raises the question of how easy it will be to estimate how many credits a job will require, and of how competitively it is priced against third-party online render farms.
However, Chaos Group has compiled a set of standard test scenes of various types and resolutions, and is also offering new users 20 free credits to help them to test their own scenes.
The service is available at a single flat rate: there is currently no option to pay more to use a higher-spec online instance, or for a priority rendering job.
Integrated with most key versions of V-Ray, but little support for GPU rendering at present
Rendering itself is handled V-Ray Standalone, with data uploaded to the cloud in .vrscene format.
That makes it possible launch a render directly from any edition of V-Ray that supports .vrscene export: 3ds Max, Blender, Cinema 4D, Houdini, Maya, Modo, Revit, Rhino and SketchUp.
However, it also means that third-party plugins that aren't compatible with V-Ray Standalone aren't supported in cloud renders: something that Chaos Group tells us primarily affects 3ds Max users.
The firm says that it plans similar integrations with its other software – 3ds Max and Cinema 4D render engine Corona Renderer and fluid simulation tool Phoenix FD – in future.
Both progressive and bucket rendering are supported, as are both the CPU and GPU render engines – although the latter is really supported in name only at present.
Scenes set up using the V-Ray GPU engine will actually render in the cloud on the CPU – that is, in 'hybrid' mode – and progressive renders will be forced over to bucket mode on V-Ray GPU.
GPU rendering is also currently restricted to V-Ray GPU in V-Ray Next Update 1 or later, so any scenes created using older versions of V-Ray will be rendered with newer editions of the software.
Pricing and system requirements
Rendering via V-Ray Cloud requires Chaos Group's client app to be installed on your host machine. It is available for 64-bit Windows, Linux and Mac OS X 10.9 and above. The app itself is free.
Render credits are available in bundles of 100 to 50,000, with prices ranging from $1/credit to $0.55/credit. You can find a pricing table here.

Read more about Chaos Cloud on Chaos Group's website (Includes a link to download the client app)
Read Chaos Group's online FAQs about Chaos Cloud pricing
Read Chaos Group's online technical FAQs for Chaos Cloud
(Includes full details of which host applications and types of render jobs are currently supported)