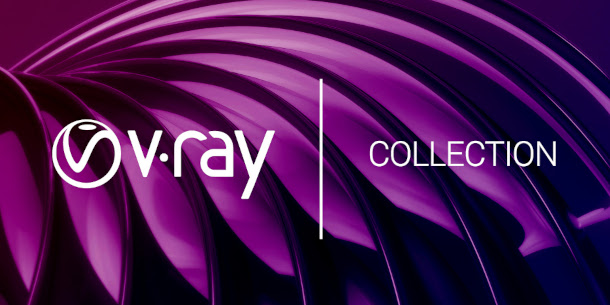 Chaos Group has launched V-Ray Collection, an all-in-one $699/year subscription that provides access to the firm's key software applications and online services via a single floating licence.
Subscribers get access to 11 editions of the V-Ray renderer, both editions of fluid simulation tool Phoenix FD, real-time scene exploration tool Project Lavina, assets from VRScans, and Chaos Cloud render credits.
Both single-edition subscriptions and perpetual licences remain available.
An all-in-one subscription to V-Ray, Phoenix FD, Project Lavina and VRScans
Like Chaos Group's V-Ray Education Collection, launched earlier this year, V-Ray Collection provides access to most of the firm's software for a year, including all of the updates released in that period.
Like the educational version, it includes both editions of Phoenix FD, plus most of the main editions of V-Ray.
This time, both V-Ray for Blender and Nuke are included, alongside 3ds Max, Cinema 4D, Houdini, Maya, Modo, Revit, Rhino, SketchUp and Unreal Engine: the only missing editions are form.Z and Katana.
Unlike the educational version, the full collection also includes Project Lavina, Chaos Group's work-in-progress tool for exploring V-Ray scenes in real time.
Subscriptions also include access to scanned materials from the VRScans library – the need for a separate render licence for VRScans has just been removed – and 20 Chaos Cloud render credits per year.
As with single-product licences, V-Ray Collection licences only come with a single render node, although it can be used with any edition of V-Ray.
Trade-in deals for existing subscriptions and perpetual licences
V-Ray Collection works out cheaper than either individual subscriptions to V-Ray and Phoenix FD or two individual V-Ray subscriptions, so there's good reason for existing multiple licence holders to switch.
Users can trade in either existing annual subscriptions or perpetual licences, although trading in a perpetual licence only gives you a 15% discount, and invalidates the old licence permanently.
Chaos Group is pushing the Collection pretty hard in its online store – if you click the Commercial Products link, it's the only option shown by default – but single-edition licences remain available.
Pricing and system requirements
V-Ray Collection is available on a rental-only basis, with subscriptions costing $699/year. You can find system requirements for the individual applications in Chaos Group's online documentation.

Read more about V-Ray Collection on Chaos Group's website
Read the online FAQs for V-Ray Collection
Tags: 3ds max, Blender, Chaos Cloud, Chaos Group, Cinema 4D, fluid simulation, Houdini, Maya, modo, nuke, perpetual licence, Phoenix FD, price, Project Lavina, real time, rendering, Revit, Rhino, scene exploration, shot layout, SketchUp, subscription, system requirements, Unreal Engine, V-Ray, VRScans