Thursday, January 13th, 2022

Posted by Jim Thacker
Epic Games releases Twinmotion 2022.1

Originally posted on 9 November 2021. Scroll down for news of the stable release.
Epic Games has released a public preview of Twinmotion 2022.1, the next major update to its Unreal-Engine-based real-time visualisation software.
New features include a hardware-agnostic path tracing render engine, improving the visual quality of the viewport display, plus built-in HDRI skydomes, and support for point cloud data.
An easy-to-use tool for visualising CAD data
Created by French visualisation studio KA-RA, Twinmotion was desgned to enable architects with limited 3D experience to create still or animated visualisations of their buildings.
It imports hero models in a range of standard 3D file formats, or via live links to CAD applications. Users can then create background environments from a library of stock assets, and assign lights.
Atmospheric properties – including clouds, rain and snow, and ambient lighting based on geographical location and time of day – can be adjusted via slider-based controls.
The software was acquired by Epic in 2019, and initially made available for free, before being re-released commercially last year with an aggressive new price point.
New in Twinmotion 2022.1: work-in-progress new GPU path tracing render engine
The big change in Twinmotion 2022.1 – for Windows users, at least – is the new path tracing render engine.
Users can toggle between path tracing and the existing rasterisation render engine, trading visual quality against interactivity in the viewport display.
In the initial release, path tracing is still a work in progress, and does not support several key materials and rendering features, including decals, caustics and volumetric light effects.
Like its counterpart in Unreal Engine, the path tracer is based on DXR (DirectX Ray Tracing), so it should run on current-generation GPUs from both AMD and Nvidia.
Mac support is some way off: while Epic has implemented Apple's Metal API, "we have not implemented [its] ray-tracing functions because Apple has not released any hardware accelerated ray-tracing support".
According to the hardware requirements, Epic is now working on its own solution, but does not expect it to be available when it officially rolls out native support for Apple's M1 processors in "early 2022".
Other new features: HDRI skydomes and support for point clouds
Other new features include integrated HDRI skydomes as an alternative to Twinmotion's dynamic sky system.
Users can choose whether the sky dome affects scene lighting, adjust the intensity of the effect; and can force the sun position in the scene to match that of the sun in the skydome.
In addition, Twinmotion now supports point cloud data in a range of common file formats, including LAS, LAX, PTS, XYZ and TXT; plus E57 on Windows.
The change should enable users to import 3D scans from laser scanners, and light, surface and render them inside Twinmotion: point clouds support decals, receive lights, and cast shadows.
However, it isn't possible to edit the point clouds directly inside Twinmotion, at least in the initial release: you can find a list of current limitations here.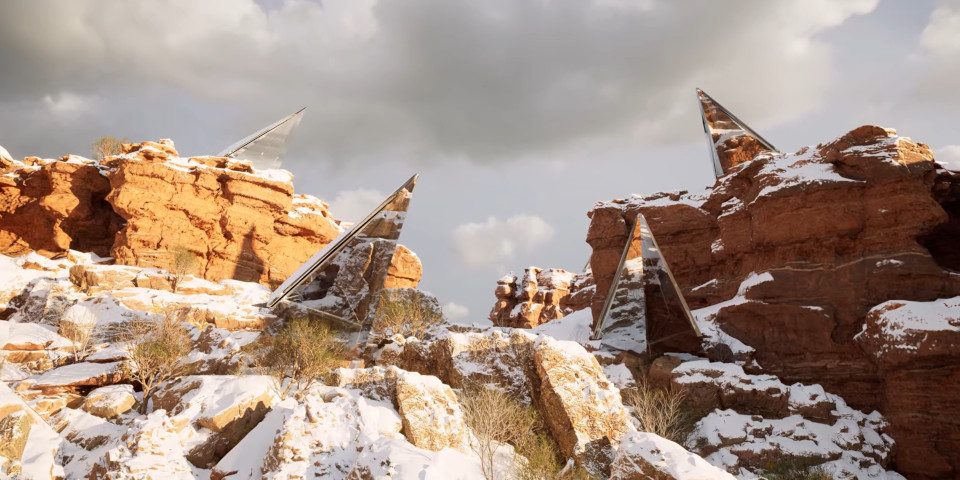 Workflow improvements include support for 3Dconnexion's SpaceMouse on Windows systems
Workflow improvements include a new minimal interface option, which completely frees the viewport of UI elements, with users still able to select, move or delete objects via keyboard shortcuts.
Other changes include support for subsurface scattering in the snow shader, exposure of all PBR channels for decal textures, and new virtual-reality-specific render quality settings.
Windows users also get native support for 3Dconnexion's SpaceMouse line of 3D input devices.
In addition, 3D plants and decals from the Epic Games-owned Megascans library are now available within the Twinmotion asset library, although currently limited to 2K resolution.
The asset library also gets 150 new readymade 3D furniture models.

Updated 13 January 2022: Epic Games has released Twinmotion 2022.1.
As well as the features listed above, the release brings Twinmotion Cloud out of early access, and makes it available to users with trial or educational licences as well as full commercial licences.
Previously known as Presenter Cloud, the system enables users to package projects as standalone executables running on GPU instances in the cloud. Clients can then view the projects in a web browser.
As well as the desktop Chrome, Edge and Firefox browsers, the system now supports Chrome, Firefox and Safari on iPads and other iOS devices, and Chrome on Android tablets.
Users also get a new option to create and share Panorama Sets: sets of 360-degree panoramas rendered from different points in a scene, between which viewers can teleport.
They are intended as an alternative to fully navigable scenes better suited to viewing on lower-spec devices, or over slower internet connections.
In addition, Twinmotion's Datasmith Exporter plugins can now synchronise files from multiple CAD and BIM tools – including Revit, Rhino and SketchUp – in the same Twinmotion scene.
Pricing and system requirements
Twinmotion 2022.1 is available for Windows 10 and macOS 10.14.6+. Integration plugins are available for CAD and DCC apps including 3ds Max 2016+, SketchUp Pro 2019-2021 and Unreal Engine 4.26-4.27.
New licences have an MSRP of $499. The software is free for students and educators.
There is also a free trial edition of the software which caps export resolution at 2K, but is otherwise fully featured, and non-time-limited.

Read an overview of the new features in Twinmotion 2022.1 on the product blog
Read a full list of new features in Twinmotion 2022.1 in the online changelog