Epic Games has released Twinmotion 2021.1, the latest version of its Unreal-Engine-based real-time visualisation software.
The release increases integration with Epic's other products, adding an experimental new plugin for importing Twinmotion scenes into the Unreal Editor, and integrating part of the Megascans asset library.
Other changes include new preset non-realistic render styles, updates to lighting and materials, and an experimental new system to share standalone projects authored in Twinmotion Presenter in the cloud.
An easy-to-use tool for visualising CAD data
Created by French visualisation studio KA-RA, Twinmotion was desgned to enable architects with limited 3D experience to create still or animated visualisations of their buildings.
It imports hero models in a range of standard 3D file formats, or via live links to CAD applications. Users can then create background environments from a library of stock assets, and assign lights.
Atmospheric properties – including clouds, rain and snow, and ambient lighting based on geographical location and time of day – can be adjusted via slider-based controls.
The software was acquired by Epic in 2019, and initially made available for free, before being re-released commercially earlier this year with an aggressive new price point.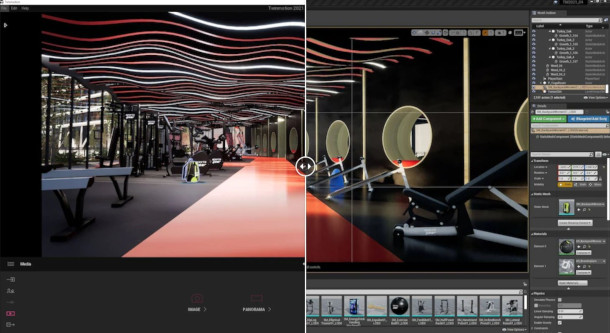 New in Twinmotion 2021.1: import Twinmotion Scenes into Unreal Engine for finishing
The latest release strengthens Twinmotion's integration with Epic Games' other products: particularly UE4, via Twinmotion Importer for Unreal Engine, a new plugin for importing scenes into the Unreal Editor.
Epic pitches it as enabling architects to develop preliminary concepts for visualisations themselves inside Twinmotion, then pass them on to specialist artists to be refined inside UE4.
The plugin, originally released last year, and still officially in beta, should preserve most of the key features of a Twinmotion scene, including assets, materials, layer hierarchy and lighting.
However, some advanced features are still not supported, including weather effects, time of day and location-based lighting, camera effects, and some asset types from the Twinmotion library.
New Datasmith-based importers planned for other CAD and DCC tools
Workflow for the new Twinmotion Importer is based on that for Datasmith, Epic Games' toolset for importing CAD assets into Unreal Engine.
The company has also now begun adding Datasmith Direct Link support for other software.
The functionality, which syncs geometry and BIM information between an external CAD or DCC application and Twinmotion, is ultimately intended to replace the software's existing integration plugins.
In 2021.1, the only app to get the new importer – provided in parallel with the old plugin – is Revit.
The new importer makes it possible to sync multiple Revit files with the same Twinmotion project, but currently does not convert objects and materials to their native Twimotion equivalents automatically.
Megascans scans and materials now available via the Twinmotion asset library
In addition, Epic has made some of the assets from its Megascans library of real-world 3D scans available to access inside Twinmotion, beginning with the 3D Assets and Surfaces categories.
The library, which Epic bought in 2019 with original developer Quixel, is already free for use with UE4.
Artists can now browse Megascans assets and surface materials from directly inside the Twinmotion asset library, then download them from the cloud to store and use on a local machine.
Other Megascans content, including 3D plants, decals and brushes is currently not available via the asset library; and the resolution of texture maps is currently capped at 2K.
Presenter Cloud lets clients view Twinmotion projects via a web browser
Other key changes in Twinmotion 2021.1 include Presenter Cloud, an experimental new system for sharing content created with Presenter, Twinmotion's system for packaging projects as standalone executables.
The system, which shares projects running on GPU instances in the cloud, is intended to enable clients working on lower-end hardware to view Twinmotion content via a standard web browser.
It's being rolled out progressively, and is currently available only to users with paid commercial licences, although students and educators using free licences should get it in future.
The file size of shared projects is capped at 2GB, and the number of people accessing a shared file is capped at 100.
Presenter files also now support Phasing, the multitrack timeline-based toolset for visualising the construction schedule of a building added in Twinmotion 2020.2 last year.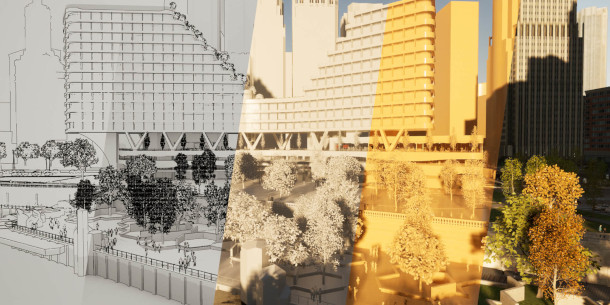 New non-realistic rendering styles, plus updates to materials and the asset library
Other changes in Twinmotion 2021.1 include six new readymade non-realistic technical rendering styles, available both inside Twinmotion itself and in Presenter.
They include hidden line and shaded hidden line renders; and wood, metal and clay materials.
The update also introduces support for heightmaps as well as normal maps in Twinmotion's materials, and makes it possible to change the tint colour for vegetation, for both trunks and leaves.
The built-in asset library gets 140 new assets on top of the Megascans content, including trees, gym furniture and posed human figures. Users can also now bookmark favourite assets in the library.
New, more stable project file structure – but not backwards-compatible with Twinmotion 2018
In addition, Epic Games has changed the underlying data structure for geometry in Twinmotion projects.
The update improves "overall performance and stability", at the cost of increasing the time taken to open a project file for the first time, and is not officially backwards-compatible with Twinmotion 2018 and earlier.
Pricing and system requirements
Twinmotion is available for Windows 10 and macOS 10.14.6+. Integration plugins are available for ArchiCAD 19+, SketchUp Pro 2017+, Revit 2017+, Rhino 5+ and RikCAD 9+.
New licences have an MSRP of $499. The software is free for students and educators.
Twinmotion Importer for Unreal Engine is compatible with Twinmotion 2020.2+ and Unreal Engine 4.26.

Read an overview of the new features in Twinmotion 2021.1 on Epic Games' blog
Read a full list of new features in Twinmotion 2021.1 in the online changelog
Tags: 3d character, 3D figure, 3D material, 3D scan, 3D tree, animation, arch viz, ArchiCAD, architectural visualization, asset library, BIM, CAD, clay shaded render, compatibility breaking, construction schedule, DAE, Datamsith Direct Link, Datasmith, DWG, engineering, Epic Games, export Twinmotion project to Unreal Engine, FBX, free educational licence, Game Engine, heightmap, hidden line render, integration plugin, lighting, limitations, material, materials, Megascans, new features, non-photorealistic rendering, not backwards-compatible, OBJ, Phasing tool, plant model, Presenter Cloud, price, product design, real time, rendering, restrictions, Revit, Rhino, RikCAD, share project in the cloud, SketchUp, SKP, stock asset, stock character, stock vehicle, system requirements, Twinmotion, Twinmotion 2020.2, Twinmotion 2021.1, Twinmotion Importer for Unreal Engine, Twinmotion Presenter, UE4, Unreal Editor, Unreal Engine, visualization