Monday, May 13th, 2019

Posted by Jim Thacker
Epic Games buys Twinmotion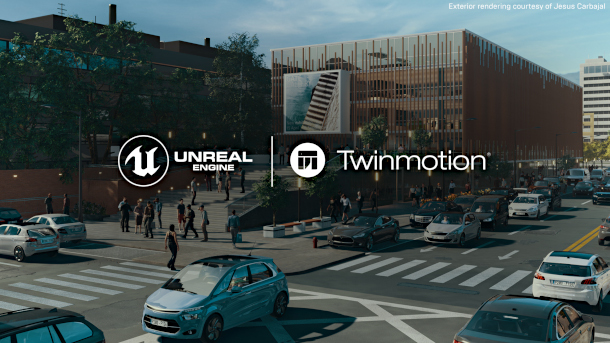 Originally posted on 13 May 2019. Scroll down for updates.
Epic Games has acquired real-time visualisation tool Twinmotion from current owner Abvent, along with its entire development team. No financial details of the deal were disclosed.
Abvent remains an independent company, and continues to develop and market its other software.
Epic has now made a slightly modified version of Twinmotion 2019 v2, which sold for €1,650, free to download until November 2019, and free to use in perpetuity.
An intuitive way for non-experts to create photorealistic architectural visualisations
The buyout is the second change of ownership for Twinmotion, which was originally created by French architectural visualisation studio KA-RA, then acquired by Artlantis developer Abvent five years later.
The software is intended as a simple way for architects with limited 3D rendering experience to create still or animated visualisations of their buildings.
It imports hero models in a range of standard 3D file formats, including OBJ, FBX, DWG, DAE, SKP and C4D, and there are live links to Revit and ArchiCAD, plus the option to import BIM data.
Users can then create background environments from a library of stock assets, and assign lights.
Atmospheric properties – including clouds, rain and snow, and ambient lighting based on geographical location and time of day – can be adjusted via slider-based controls.
There are brush-based systems for editing topography or adding animatable vegetation to a scene, and a Bezier-based system for pathing animated crowds or traffic.
The software includes a camera editor and a set of standard post-process effects for offline visualisation; or visualisations can be created as VR experiences and navigated using HTC Vive or Oculus controllers.

Aimed at CAD users, rather than DCC experts
For Twinmotion itself, Epic Games seems like the obvious choice for a new owner, the development team having switched over to Epic's Unreal Engine as a core renderer in Twinmotion 2018.
In an email conversation with CG Channel, Epic Games general manager Marc Petit praised the "visionary leadership" of KA-RA founder Raphael Pierrat, and said that Epic now planned to grow the dev team.
For Epic Games itself, which also develops its own competing Unreal-Engine-based visualisation solution, Unreal Studio, the situation is rather more complicated, although the acquisition of Twinmotion does enable it to reach a different part of the market.
Petit contrasted Unreal Studio's user base of "people who are familiar with digital content creation products" like 3ds Max or Maya with a wider target market of CAD users, "particularly users of Revit, ArchiCAD, SketchUp, Allplan, Vectorworks, AutoCAD [and] ZWCAD".
"Unreal Studio is for visualisation specialists in AEC firms," he said. "Twinmotion is aimed at different users: those who [do] visualisation occasionally and need a tool that is straightforward and immediate to use."
"The vision for Twinmotion is to remain a highly valuable companion to 3D model creation and analysis tools – exactly what PowerPoint is to Word and Excel."
Free to download and use until 2020: no details of future pricing yet
Another complicating factor is the fact that Unreal Studio is available for free while the software is in beta, which may have contributed to the decision to make Twinmotion free to download for the same period.
Updated 12 November 2019: Epic Games has now announced that Unreal Studio will never become a paid-for service: instead, its Datasmith toolkit will be integrated into Unreal Engine itself.
The free version has all of the key features from Twinmotion 2019 v2, the last commercial release, but lacks the option to browse the BIMobject library from directly within the software.
Branded objects have also been removed from the built-in asset library and "in most cases" replaced with generic ones. You can read a full list of differences in the online FAQs.
Epic says that anyone who downloads the software before November 2019 will "be able to keep using this version forever at no charge, with no royalty and no strings attached".
The firm plans to announce new features and pricing "at a later date", with the next commercial release planned for "around November 2019".
Updated 12 November 2019: The new version of Twinmotion, Twinmotion 2020, is now due to ship in the first quarter of next year. The software will remain free to download until then.
Petit didn't comment specifically on the direction of future price changes – at €1,650 (around $1,855) for a single licence, Twinmotion fell midway between rival products like Lumion and LumenRT – but commented that "we want it to be affordable for everybody in the firm and for firms of any size".
"We see an enormous potential for a product like Twinmotion, and making it widely available to the community will help us understand how to evolve it forward," he said.
Pricing and system requirements
Twinmotion is available for Windows 7+ and macOS 10.12+. The software is free to download until 2020. The integration plugins are compatible with ArchiCAD 19+ and Revit 2017+ and are also free.
Read Epic Games' official announcement about its acquisition of Twinmotion