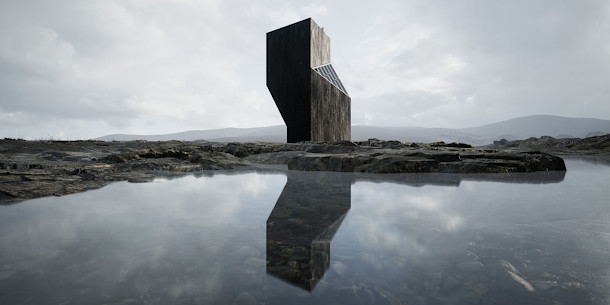 A visualisation still created using the beta of Unreal Studio by visualisation artist Pawel Mielnik. Epic Games has now extended the beta period for Unreal Studio, making the tools available free until November 2019.

Originally posted on 18 September 2018. Scroll down for news of a further extension to November 2019.
Epic Games has extended the beta period for Unreal Studio, its new real-time visualisation platform, by 10 months, making the tools available for free until September 2019.
The beta was originally due to close this November, with Unreal Studio then shifting to a rental-only model.
Epic investment in the architecture and design markets
Launched in beta earlier this year, Unreal Studio is intended to provide architects and designers with a more user-friendly way to import assets into Unreal Engine for visualisation.
As well as Unreal Engine itself, the platform consists of Datasmith, Epic Games' toolset for importing 3ds Max scenes and CAD data, and a set of readymade materials.
Since the launch, Epic has released updates to Unreal Studio alongside Unreal Engine itself, and has been focusing heavily on AEC and industrial design on Unreal Engine Online Learning, its free training platform.
According to the firm, over 100,000 users have registered for the beta so far, set against 6.3 million users for Unreal Engine as of July 2018.
So why make Unreal Studio free for another year?
According to Epic, by extending the free beta, it is "inviting even more creativity and empowering developers to help shape the future of Unreal Studio".
Whether that means there are specific features it wants to introduce before rolling out the platform commercially is open to debate.
While Datasmith already supports the native formats of many key CAD and architectural design tools, there are still some big packages on Epic's roadmap, including AutoCAD and Revit, plus Cinema 4D and Maya.
However, it may simply be that with Unreal Engine use reportedly rising fast, Epic can afford to keep Unreal Studio free a bit longer to secure its market share.
While Unity, the main alternative to Unreal Engine, does have its own specialist CAD import tools, they're provided by third-party developer PiXYZ Software, and are currently commercial products.

Updated 13 May 2019: Following Epic Games' acquisition of real-time visualisation software Twinmotion, both products have now been made available free until November 2019.

Pricing and availability
Unreal Studio is available as a free open beta. The beta is now scheduled to run to November 2019, after which it will become a subscription-only service, priced at $49/month, but billed as an annual subscription.
Unlike Unreal Engine itself, the EULA doesn't require you to give Epic a cut of the revenues of any commercial products you create with it, provided that they're non-interactive, like rendered animation.
Datasmith runs on Windows 7+ only. The Unreal Engine editor runs on Windows 10, macOS 10.13.5 or Linux.

Read Epic Games' blog post announcing that the Unreal Studio beta is being extended
Read more about Unreal Studio on Epic Games' website
(Includes a link to register for the open beta)
Read Epic Games' online FAQs about Unreal Studio
Tags: beta, beta ends, beta extended, CAD, Datasmith, Epic Games, free, PiXYZ Software, release date, system requirements, UE4, Unity, Unreal Engine, Unreal Engine Online Learning, Unreal Studio