Thursday, November 8th, 2018

Posted by Jim Thacker
Epic Games releases Unreal Studio 4.21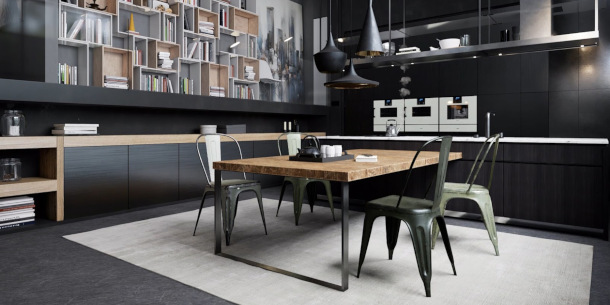 Image: Line Creative
Epic Games has released Unreal Studio 4.21, the latest version of its real-time visualisation platform, adding support for native Revit, VRED and Deltagen files, and improving translation of 3ds Max materials.
The update also builds on new features in Unreal Engine 4.21, including a geographically accurate sun positioning system, and a new 'Pixel Streaming' system for product configurators or shared design reviews.
A more streamlined way to import CAD data into Unreal Engine for visualisation
Launched earlier this year, and still currently in beta, Unreal Studio is intended to provide architects and designers with a more user-friendly way to import assets into Unreal Engine for visualisation.
As well as Unreal Engine itself, the platform consists of Datasmith, Epic Games' toolset for importing and processing 3ds Max scenes and CAD data, and a set of readymade materials.
In Datasmith: support for Revit files, better 3ds Max material conversion, new model preparation tools
New features in Datasmith in Unreal Studio 4.21 include support for the native file formats of Revit, VRED and Deltagen, plus DWG and Alias wire files.
Translation of 3ds Max materials has been improved, with support for the "most commonly used" 3ds maps, and improved BRDF matching for V-Ray materials, particularly metal and glass.
3ds Max material graphs can also now be converted directly to Unreal graphs on export from Datasmith.
There are also new tools for processing CAD models for better real-time performance, including jacketing, for removing unseen elements, and defeaturing, for removing unnecessary details.
In Unreal Engine: geographically accurate sun positioning, new Pixel Streaming system
The update also builds on the new features in Unreal Engine 4.21 itself.
Those particularly relevant to visualisation work include a 3ds Max-style sun positioning system, enabling users to set up sun lighting matching a specific real-world geographical location and time of day.
There is also a new Pixel Streaming system, which enables artists to host a packaged Unreal Engine application on a local machine or cloud instance and stream the viewport directly to clients' web browsers.
Clients can then interact with the application without needing to install specialist software.
Suggested use cases include product configurators and training applications. Epic has also developed a project template designed for multi-user design reviews, either on the desktop or via VR.
Pricing and availability
Unreal Studio is available as a free open beta. The beta is now scheduled to run September 2019, after which it will become a subscription-only service, priced at $49/month, but billed as an annual subscription.
Unlike Unreal Engine itself, the EULA doesn't require you to give Epic a cut of the revenues of any commercial products you create with it, provided that they're non-interactive, like rendered animation.
Datasmith runs on Windows 7+ only. Then Unreal Engine editor runs on Windows 10, macOS 10.13.5 or Linux.
Read a full list of new features in Unreal Studio 4.21 in the online release notes